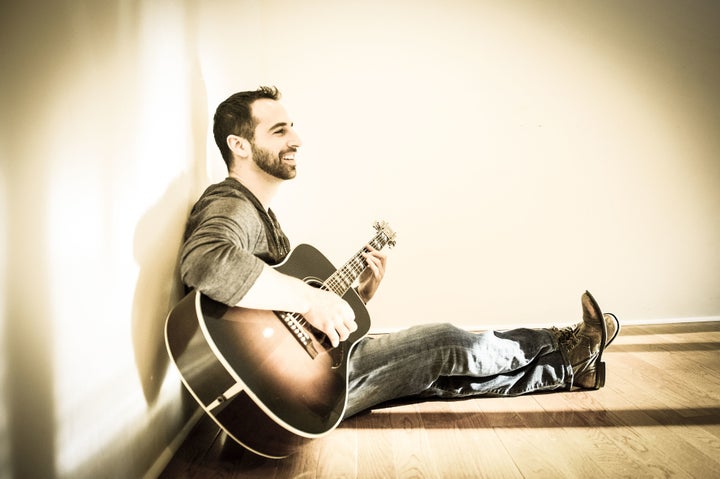 My Silent Bravery (MSB) is dropping a new music video today. It's called "Got It Going On" and it is totally dope. And Huff Post has the exclusive premiere right here, right now. "Got It Going On" is the first single from MSB's forthcoming and highly anticipated album, Willing To Try.
My Silent Bravery is the music project; the guy behind the project is Matt Wade, who hails from Boston. When he was young, Matt came to the realization that selfishness is a false boon. Ever since then, Matt has tried to "pay it forward," thus inspiring others to do the same.
Stylistically, MSB is probably best described as pop-rock, music with one foot in rock and the other in pop. It's a smoother, more mitigated brand of rock or, if you prefer, pop music with a beefed up sound. I liken commercial pop music to a skinny teenager and rock to a professional bodybuilder, which means pop-rock would be between the two extremes: a buff teenager, who eschewed the hypertrophic-look. In other words, pop-rock is pop music with sleek muscles.
"Got It Going On" is a superb, upbeat pop-rock song that starts off with a guitar and a funky groove. The melody is infectious, reflecting a strong funk influence and perhaps just a bit of reggae. Wade's vocals are crisp and clear, emanating humor and a bright, sparkly feel. And when he goes quasi-falsetto, it's just GREEAAAT, as Tony the Tiger would say. The vocal harmonies excel, radiating the lavish feel of an entire choir. In addition, there are some hip hop-like vocal effects introduced in just the right places that really supercharge the song.
The lyrics are simple, fun and full of hooks. "Woke up with my headphones on / Just singing my favorite song / Oh yeah, the hangover's gone." And let's face it no one can resist singing along with "I got it going on," especially when the melody is so exuberant and entertaining.
The video for "Got It Going On" has it going on! It's simply splendid. The video opens with wet squeaking sounds, the kind you get when you wipe the moisture off your bathroom mirror after taking a really hot shower and steaming the room up. A group of hot women in bikinis wash a car on the driveway of a house in an upscale neighborhood. Across the street, two dweeby-looking guys are doing yardwork, wearing spandex shorts. Meanwhile, down the street, a skinny dreadlocked dude sleeping on an air mattress on lawn wakes up. He is wearing a tiger-striped speedo. His dog, a cute pug sleeps next to him. When the women behold the pug, they go all ga-ga over him. They invite the pug into their inflatable pool, then they barbecue. Later, when the fun is over, the young women are asleep in the yard and the pug runs back home.
The overall effect of the song in combination with the video is pure, unadulterated enjoyment. The music exudes cool amusement, has a contagious melody and features Wade's energetic vocals. The video caricatures stereotypes found in modern advertising and most people's love of dogs. The song and the video complement each other perfectly.
My Silent Bravery has it going on! This song, produced by Jim McGorman, should be a hit; and the music video, directed by Kurt Zendzian, should garner millions of hits overnight.
Find out more about My Silent Bravery here.
Related
Popular in the Community