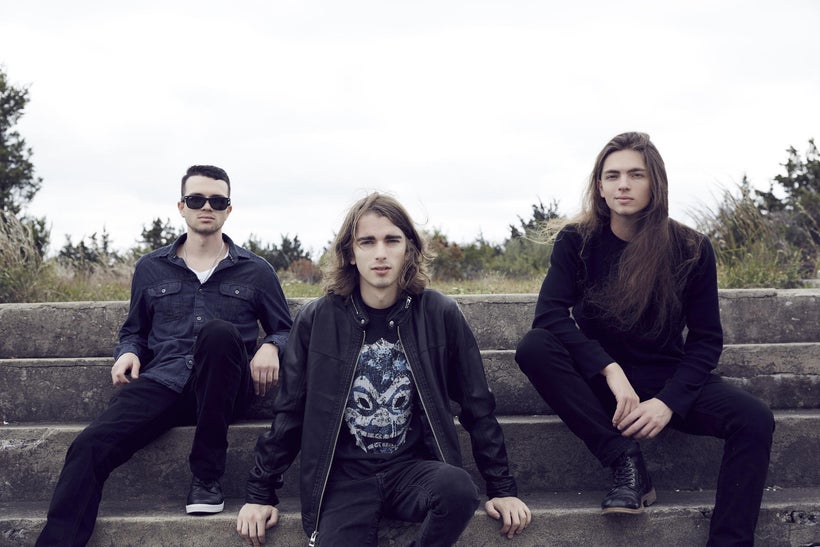 The Gray Vines premiere their new single and music video today, called "See Me." And it's hecka-buff! Hailing from New Jersey, the band is made up of Jake Hoffman on guitar and vocals; Casey O'Connell on bass and vocals; and Jordan Bowen sits in the pocket and provides "even more vocals."
Brought into being by Jake Hoffman, The Gray Vines became a reality when Hoffman hooked up with Bown and O'Connell via the internet. Connecting musically almost immediately, the trio realized they had something going on. So they recruited producer Marc Swersky and engineer/mixer Joseph DeMaio, and spent three days and nights in Shorefire Recording Studios pumping out a collection of heady, distinctive alt rock songs.
"See Me" opens with raucous in-your-face punk guitar riffs, dirty and grinding with gut-wrenching energy. Then Bowen's crisp high-hat enters, as if counting it down to the music's blast off. And boy does it! The bass and drums enter and the alt rock/punk-flavored melody rockets into the dynasphere with a visceral punch to the solar plexus. Wham!
The rhythm rumbles and shakes with the force of a grand mal seizure, while Hoffman's vicious guitar rides atop, emanating thrumming, wailing Jovian licks. When the chorus takes off, a wall of muscular harmonics assaults and batters the atmosphere, creating palpable, visible sonic disturbances that defy gravity.
Hoffman's growling, defiant vocals deliver unruly tones and fierce colors of supercharged pandemonium, like mayhem and anarchy blending into a singular dogged commotion. It's a voice full of wicked mists and lingering fierce dynamics, custom-made for raw post-modern alt rock.
They lyrics present the proximity of the universally vast gulf between the haves and have nots.
"Just give it away / You got more than you need / You're throwing a fit / When they've got people to feed / I'm calling spit / You send it outward bound / You tell 'em to sit / You try to keep them down / You cry when your stack is shrinking / They cry when they're dying / Think of all the things you choose to see / See me!"
The video depicts powerful images of struggle and defiance, opening with the band playing in a surreally lit studio, followed by images of protest and conflict between the mass of humanity and the henchmen of governing authorities.
"See Me" is visceral and presses with intoxicating energy. The melody lights the air aflame with ravenous dynamics, as the pounding rhythm rattles your bones. The Gray Vines are superb, eschewing the cotton-candy essence of pop music for the bellicose power of hard-hitting alt rock. Keep an eye on The Gray Vines. They're on fire!
This post was published on the now-closed HuffPost Contributor platform. Contributors control their own work and posted freely to our site. If you need to flag this entry as abusive,
send us an email
.