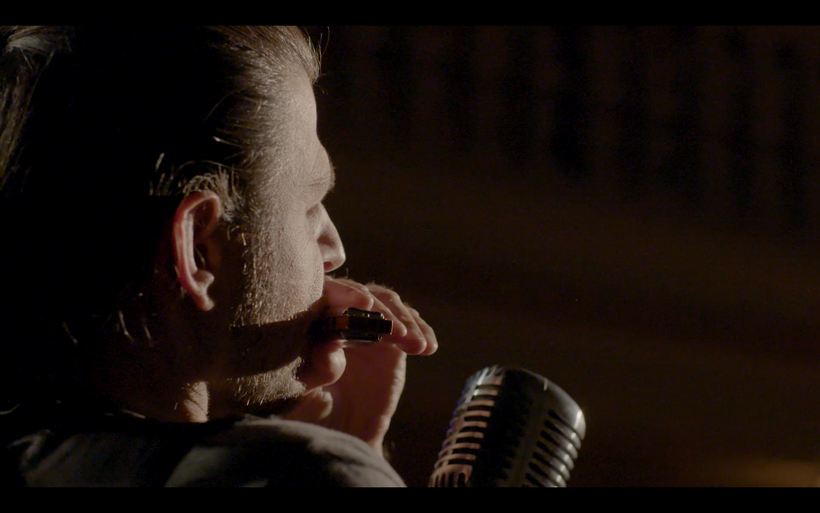 The NaveBlues release "Sitting On Top Of The World" today, a cover of the country blues tune by Walter Vinson and Lonnie Chatmon, recorded in 1930 and, in 2008, entered into the Grammy Hall of Fame. Hailing from Norway, The NaveBlues blend elements from rock, indie, funk, alt rock and the blues into a flavor of blues rock that's inspired by the past, but predicated on the future.
The front man for The NaveBlues is Nave Pundik, whose talent on the harmonica is nonpareil. Pundik manipulates his instrument with the precision of the schemes of forgotten monomaniacs, providing entirely new sonic vistas for aural pleasure and emotional speculation.
"Sitting On Top Of The World" begins with a crawling, howling harmonica that puts listeners' insides in the grip of full winter, followed by a rich, dusky tenor oozing a concentrated blues flavor that's cogent enough to interpose a sheen of perspiration on your forehead. A rambling, bluesy piano drives the nastily effortless melody, as Pundik's thick seeping vocals exude an unctuous oily essence, piercing the listener's diaphragm with an odd tickle of emotion, centered somewhere in the lungs. When Pundik's harmonica again wails, it's like something at once noun and verb, an embedded richly opulent, yet raw and savage simmering sound, that approaches the vampiric, sucking the life from your body.
Pundik's rendition of the lyrics exude a stochastic resonance deploying a wildly exotic blues complexity that's big, with a sensual, more alive than alive sonic projection rife with desolation and woe.
"One summer day / She ran away / She's gone and left me / She's gone to stay / Yes, now she's gone / But I can't worry / Cuz I'm a sittin' on top of the world / Had worked all summer / I had worked the fall / I had worked the Christmas / In my white overalls / Yes, now she's gone / But I can't worry / Cuz I'm sittin' on top of the world."

Candidly, The NaveBlues' version of "Sitting On Top Of The World" blew me away. Listening to Pundik's moaning, keening harmonica is equivalent to hearing fierce annular shock waves spinning about your ears. It approaches a religious ecstatic experience.
The video amalgamates classical ballet with a thrumming, insistent blues melody, providing a sublime aural and visual nexus of music and dance. A ballerina sits in an empty dance hall, waiting for inspiration. Nave Pundik's objective is to arouse the ballerina to gracious, elegant movement. As she lingers, anticipating the music, Nave's harmonica breaks the eloquent silence, searing the atmosphere, triggering the ballerina to dance.
On the one hand, the video is austere and starkly bleak; on the other hand, it emanates a cool and proto-punk feel that's gorgeously surreal.
I say without any doubt or hesitation The NaveBlues have it going on! The molten, delicious braying of the harmonica and the sinuous piano provide a wickedly sensuous melody. And Pundik's miraculous voice seethes with exhaustion and tribulation. Frankly, if you miss this song, you're doing yourself a supreme disservice.
Calling all HuffPost superfans!
Sign up for membership to become a founding member and help shape HuffPost's next chapter
This post was published on the now-closed HuffPost Contributor platform. Contributors control their own work and posted freely to our site. If you need to flag this entry as abusive,
send us an email
.