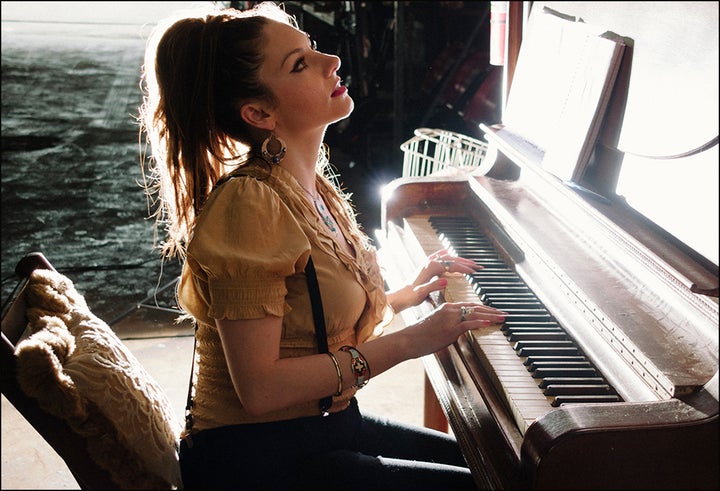 "This Kiss" is the new music video from Sarah Ragsdale. And Huff Post has it first! "This Kiss" is from Sarah's forthcoming album Whimsical Romance, slated to drop in October. Proceeds from the first three weeks of the release of the audio track "This Kiss" will be donated to the Animal Legal Defense Fund.
Stylistically, Sarah's music blends pop, jazz, blues and folk influences into a sound that Sarah refers to as "Ragstime." She developed her unique sound while performing live in Europe, Asia, Africa and America. Her music is defined by catchy, piano-driven melodies that vary from highly visceral to quaintly old-school.
"This Kiss" starts off with a tinny, antiquated sounding piano, followed by Sarah's clear, strong voice. The groove evokes a funky, jazz beat set in a contemporary pop matrix. The melody rides on the jazzy piano and flows brightly with a relentless ebullience that gets your hips to twitching and your toe tapping. Soft, yet crisp background vocals that sound a bit old-school add oomph and depth to the tune. And even though the background vocals emanate an archaic flavor, there's a modern zest and tang to them that makes them work. In fact, anything else would seem out of place. Instead of the usual guitar or piano solo that, frankly, would imbue the song with mundane mediocrity, Sarah skips it and replaces it with a great brass solo that glimmers with sonic colors.
The primary ingredient to "This Kiss" is Sarah's delightful voice, a potent instrument of expression, full of a vigorous coloration and persuasive enthusiasm that's remarkably contagious. Listening to her simply makes you feel happy and optimistic about life, probably because of the declarative projection of her inner gusto through her voice.
The lyrics to "This Kiss" reflect the buoyancy, intimacy and importance of something as simple as a kiss. "Your kiss is on my list / You're so incredible edible / I want a love like this / If you want to know what I'm looking for / It's in your kiss." As Sarah sings the lyrics, the song takes on a charming, flamboyant grace so extraordinary that it seems to have a vitality of its own.
The video is stylish, but avoids assuming any hint of becoming artificially stylized. Shot in the city of Baltimore, the video exudes a retro sense that's captivating. Dressed in polka dots, wearing a ponytail, Sarah capers through a variety of city scenes jotting down notes on a pad of paper. She kisses a puppy, rides a bicycle and plays keyboards on the sidewalk, all the while singing blissfully about the power of love and this kiss.
"This Kiss" has it going on! It's a fun song about the tantalizing sovereignty of a kiss. The melody is memorable and infectious, the lyrics are easy to sing along with and Sarah's voice exhibits bright, clear sonic tones that are wonderfully spellbinding.
Find out more about Sarah Ragsdale here.
Popular in the Community