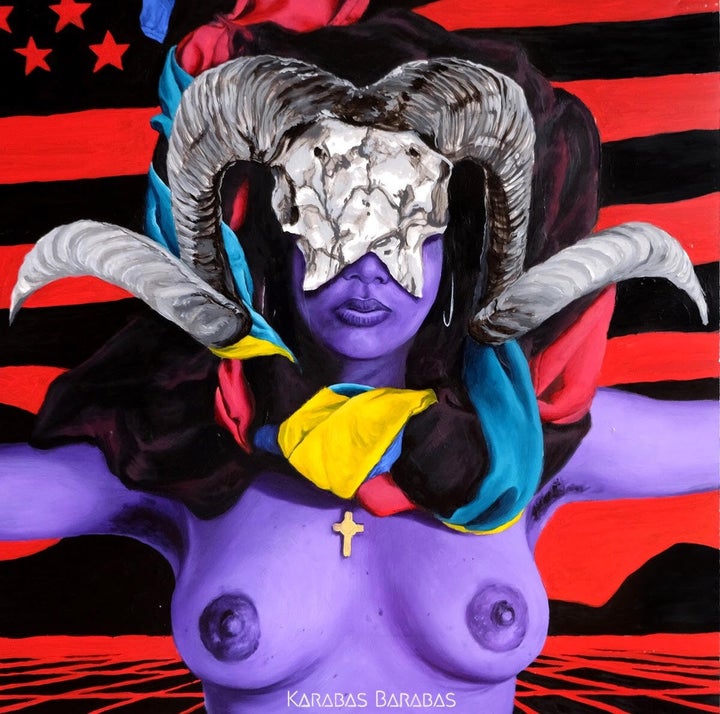 Political statements certainly aren't new in Rock Music--anyone who's attended a Roger Waters tour can attest to that--and todays Exclusive Music Video Premiere, from psychedelic Brooklyn rockers Karabas Barabas, while perhaps less complex than some, is a thought provoking query on the role of public figures in defining political responsibility. The song, "Sexy Guy," off of their December 22 release The Return of the Sexy Demon (which was produced by the legendary Steve Albini), is unique to be sure, with echoes of such influences as Mr. Bungle and flashes of Foxy Shazam, but it's infinitely catchy with an infectious, chant like quality. Says enigmatic front-man Phranque Gallo about the message behind "Sexy Guy":
"While the sexy demon ran amok, Cheney's minions crept back into power. As a result Karabas Barabas fought back with the anthem "Sexy Guy;" it is a call to action to stop Cheney's genocide."
The video opens on an empty hallway and a lone, casually dressed man in a dark (werewolf?) mask before cutting to a heavily tattooed white man at a desk wearing a crudely cut out Donald Trump mask; there follows an implied "Deal" in the works, complete with the now ubiquitous white orb (though the video was filmed prior to the May Saudi Arabia visit.) While the details of the 'deal' are vague, we know it's something sinister; the interaction has an almost classic gangster feel complete with the mysterious masked character kissing 'Trump's' ring. The band rounds out their statement with interwoven shots of them performing "Sexy Guy" and the two always disguised members donning the masks of controversial former US presidents Richard Nixon and Ronald Reagan. As with all of their songs, their lyrics are simple with a clear call to action.
Find out more about Karabas Barabas here.
Popular in the Community