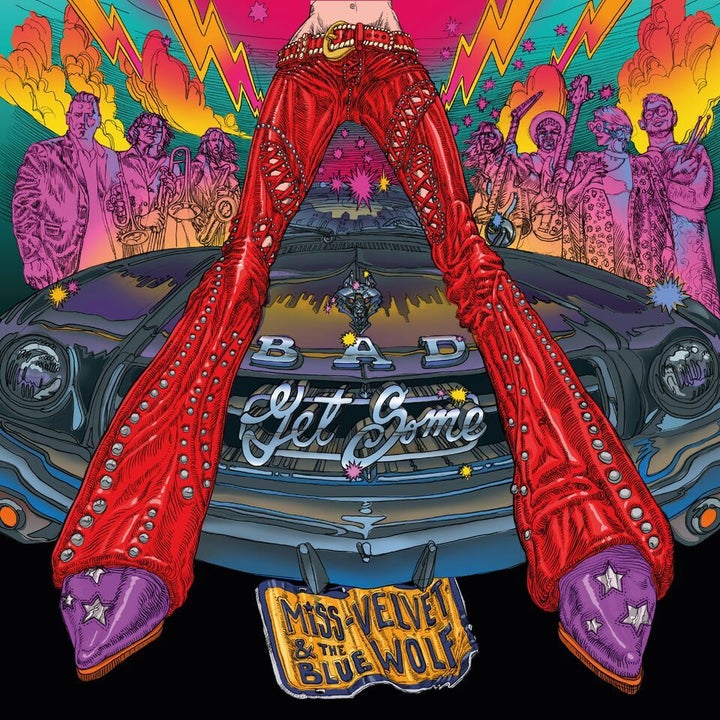 Miss Velvet and The Blue Wolf premiere the music video for "Dare" today. And it's lit! The song is from the band's recently dropped album Bad Get Some on Isotopia Records. The band is made up of Constance Hauman, Nick Carbone, James Jones, Henry Ott, Jehiah Bray, Trevor Neumann, Dan Levine and, of course, Miss Velvet on vocals.
After live shows in New York and Austin, Miss Velvet and The Blue Wolf traveled to Estonia and Finland, where they performed at the Jogevatreff Festival, Helsinki's Elmun Baari, Tallin's Philly Joe's and the Auguusti Blues Festival, followed by opening for The Wallflowers at the 10th anniversary concert at Montauk's Surf Lodge.
The band's sonic style blends the potency of indie rock with the piquant pungency of funk, resulting in a raw, edgy sound that's proximate, commanding and irrepressible.
Bad Get Some comprises ten tracks. The title track opens the album, delivering a funky rock melody emblazoned with bright horn accents and scratchy wah-wah guitars. The groove pulses powerfully, as Miss Velvet's high-octane vocals sear the ether. "Dare" begins with a thrumming bassline and thumping kick drum, followed by Miss Velvet's exotic, blistering voice. When the bluesy/psychedelic melody ramps up, Miss Velvet's vocals rocket up into the dynasphere with the force of an atomic hurricane.
"Summertime" offers a swampy bluesy version of Ella Fitzgerald's renowned song. Miss Velvet's spellbinding voice spirals over the music with gorgeous, nastily tight buff energy that boils and sizzles like writhing gravitational fields. "Like You Do" throbs with a hefty bass underscoring the funky R&B rock melody. Glowing vocal harmonies inject the tune with Mafioso energy.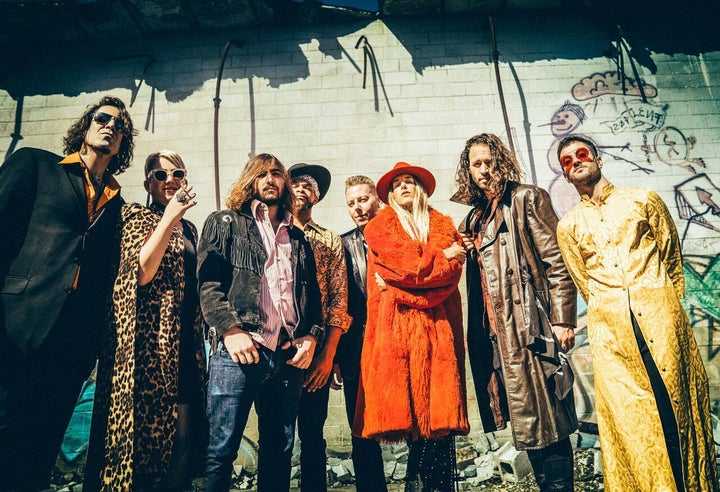 "Love Train" packs a resonant rock melody infused with funk-a-delic aromas radiating a glorious core of full-spectrum dominance. Knotted muscular vocal harmonies give the tune a brawny essence that tumbles with declarative briskness. A spectacular dirty guitar solo wails with quasi-asphyxiating supremacy. "Edge of the Line" combines funk, rock and jazz flavors. The beat is crisp with clout and I love the Thor-like pop of the snare and the braying horns.
"Velvet Door" rides a pulsating groove supplying the bluesy jazz rock melody with a superstructure that's relentless and stylish. "Drowning" starts off with psychedelic discharges of pigmentation flowing into a bluesy melody oozing ozone colored tones and reverberating residual oomph from the piercing shrill cry of the guitar.
"Rain" travels on a funky R&B melody swelling with low-key hooks of rictus-like sensations. A scrumptious trumpet chaffers up pulverizing tones as Miss Velvet's rasping voice flourishes wildly infectious storming urges. "Run" emanates glowing radioactive energy that leaks hi-rez savage lozenges of scorching heat, like large-scale gamma emitter.
Miss Velvet's voice is the highlight of the album, exuding raw fierce annular shock waves surging with ferociously goosed up textures and timbres steeped in a preservative of rum. It's a wickedly powerful voice, the kind of voice that causes visible disturbances in the air, ripping, slicing and dicing with industrial-strength passion.
All I can say is, "Yowza!" Miss Velvet and The Blue Wolf are cap-a-pie prodigiously talented. The melodies are phenomenal, the rhythms are combustible and Miss Velvet's voice contradicts the nonexistence of the phlogiston. Bad Get Some and "Dare" blew me away.
Popular in the Community