Patrick Liotard-Vogt is a 25- year-old with big ideas, and a bank account to finance them. The Swiss media mogul earned his stripes this week when he bought out Harvey Weinstein's shares in the members-only online social community ASMALLWORLD and became the company's Chairman. Here Liotard-Vogt discusses his first encounter with Weinstein, life as a jet setter and his heritage of entrepreneurship at Nestle.
Sabine Heller: How did you and Harvey Weinstein first meet?

Patrick Liotard-Vogt: We met at the AMFAR benefit in Cannes last year. I walked up to him and said, "Hey, I want to buy your shares in ASMALLWORLD" to which he responded, "you need to show up with a lot of money, which I don't think you have." I laughed and said, "I think I have ten times more than you do."

SH: What was it like to make a deal with him?
PLV: I like Harvey. He's very open. I read in the press that he can be difficult, but he was great with me.
SH: Was he a tough negotiator?
PLV: Yes, he was. He is a good strategist, but fair.
SH: Do you have plans to see him again?
PLV: We're planning on having dinner soon.
SH: So why did you want to buy his shares?
PLV: ASMALLWORLD has been around for seven years and the concept is proven. That said, I still see a lot of potential in terms of building the network, improving the technology and adding more services.
SH: How is the concept proven?
PLV: For starters, it's still around. If you look at other social communities, they appear and then disappear. ASMALLWORLD has been able to preserve its market position for more than seven years. The membership is growing. It has gained 60% of members in the last 12 months.
SH: For a community that has historically prided itself on the exclusivity factor and the quality of its membership, how is growth a sign of success?
PLV: Every new person in the network is connected to existing members, so the group continues to share similar values. If you look at the whole world, 500,000 members is nothing. There's quite a lot of room for expansion.
SH: Given the difficulties social networks have had making money, why do you feel ASMALLWORLD is a good financial investment?

PLV: My experience with social communities has always been positive. The communities I have invested in are highly profitable.
SH: Where do you think the ASW brand stands today and how do you think it has changed from 2004 when it was the online stomping ground for the international jet set?
PLV: I've been a member since 2004, and I liked what it stood for then but I do think the brand is more widely recognized now. It's now travel lifestyle oriented.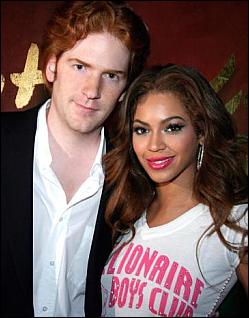 Patrick Liotard-Vogt with Beyonce Knowles
PLV: I live in Zurich, Switzerland but I'm getting an apartment in New York. I'm an active investor and I'm excited to be hands on with ASW.
SH: How many other companies are you involved in?
PLV: There are 40 in total. I serve as the Chairman of Poken (www.doyoupoken.com), a social business card company. I'm also the CEO of The World's Finest Clubs (www.finestclubs.com), which is where I see the most synergies with ASMALLWORLD. We work with the best clubs around the world and sell memberships for 2,000 euros a year that provide members free access to clubs, concierge services, reductions on 5 star hotels and upgrades.
SH: With photos of you and different starlets floating around people must think you're quite the jet set playboy.
PLV: I have an intense lifestyle and travel a lot. In fact, I do meet many stars. So yes, I jet set, but it's my job so I don't think I qualify as a classic jet setter.
SH: Are you single?

PLV: No
SH: Do you go out all the time? What are you favorite clubs?
PLV: I used to go out a lot, but not anymore. I prefer a good dinner with friends. My favorite clubs are Baoli in Cannes, Naza in Copenhagen, GreenGo in Gstaad and Babies in Munich.
SH: How much do you sleep?
PLV: On average 4-5 hours a day.
PLV: At the moment I just work. I have so many different projects. I may wake up, work on ASMALLWORLD and then the World's Finest Clubs and then go to my real estate projects. There is so much diversity in my work that I don't need much else. I read a lot--French literature mostly, and I walk. That's where I get my ideas.
SH: Where did you grow up?
PLV: I grew up in Switzerland with my parents, sister and brother. I went to boarding school at Le Rosey.
SH: Do you have a good school story?
PLV: We used to run away a lot in boarding school. The funniest story was probably when we were on a field trip to Paris. I escaped from my hotel room on the 4th floor by tying bed sheets together and climbing down. We then went clubbing at Les Bain Douche, and of course, it was hard to get in. I could have used a Finest Clubs Membership then. We were caught on the way back to our rooms.
SH: What's the most important lesson you've learnt from your family?
PLV: There's a saying from Voltaire's Candide: "Il faut cultiver notre jardin," the essence of which points to the importance of taking care of your inner values. If you have that in order, you can be strong in the face of day-to-day stresses.
SH: You've led a life of privilege. Are you spoiled?
PLV: Not at all. I come from a family that is more about being successful than being rich. We always learned that if you give something you have to get something. My great grandfather was the CEO and Chairman of Nestle. He started at the bottom and worked his way up. That's very motivating.
PLV: I love my life. I love working with all these young, creative people. Like with ASMALLWORLD, I got here on Sunday and there's been a great vibe. I have that with all my start-ups.
SH: Tell me about being rich and 25
PLV: I've worked more than a lot of people. I work hard, and I allow myself a comfortable life but, in the end, it's important to maintain a good balance.
SH: Would you say you are old for your years?
PLV: People often say that I'm older. I tend to think so too.
SH: With all the glamour that accompanies your lifestyle, are you ever nervous that people are using you?
PLV: Of course. The thing is that you need to be more intelligent than they are. Ultimately, it has to be a win-win situation. Everyone needs to be happy.
SH: How do you know who to trust?

PLV: I have my close friends and I've had them for the last ten years. I've also been in hard situations, and they were there for me. You trust those who are there for you when you're in trouble.
SH: How do you want to be remembered?
PLV: As an entrepreneur who motivated people and led them to success. I'd also like people to say I was fair, and held important values like trust and generosity.
PLV: Many people look to the future but forget to live. It's important to live and love now.
SH: What's the most important advice anyone has ever given you?
PLV: I get a lot of advice because I surround myself with people who know more than I do. The best advice in the last few months came from my father. He said to maintain liquidity because there will be good deals available.
SH: What's something that people don't know about you?
Calling all HuffPost superfans!
Sign up for membership to become a founding member and help shape HuffPost's next chapter