 New Orleans Mayor Mitch Landrieu would have been at the Democratic National Convention this week, but Hurricane Isaac changed those plans. He was kind enough to find time to address my questions on the city's response to Isaac, and the lessons learned from a Category 1 that lingered over the region for days: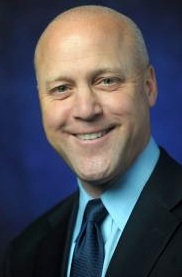 KDB: With Hurricane Isaac impacting ports, tourism and oil prices just before a holiday weekend, what are some examples of how quickly our region bounced back from these setbacks?
Mayor Landrieu: We were able to bounce back fairly quickly in the City of New Orleans because we had a good plan in place and because the federal levee system worked as it was designed. It's hard to know what a hurricane will bring -- every storm is different -- but chances were good that Isaac would be a wind and rain event that would knock out power for some time and cause wind-related damage. It turned out to do just that, but because it also stuck around longer, it caused slightly more damage than we thought it would.
Despite widespread outages throughout the city, power stayed on for most of the French Quarter and Central Business District. The majority of our hotels stayed open through the storm, and we had a lot of activity at restaurants and attractions that still had power. Once the storm passed, we were able to get teams out quickly to access the damage and begin the process of cleanup and recovery.
In large measure because we were prepared, the city had nearly 98 percent hotel occupancy this weekend. Isaac struck late Tuesday and sat over New Orleans for more than 50 hours. The winds didn't die down until Thursday. By the next day, we were welcoming visitors back to the city. The airport was back up and operating on Friday, and the Southern Decadence Festival went on as planned in the Quarter over the weekend. Amtrak went back to a full schedule over the weekend, and our convention schedule resumed this week. We have a resilient business community that was ready to get back to work. This community has weathered the effects of 9/11 because tourism and travel took a hit, Katrina, Rita, Ike, Gustav, the BP oil spill, the Great Recession, and now Isaac. We're pretty battle-tested.
KDB: That we are. Did lessons learned from communication efforts during Hurricane Katrina impact the city's response system in place during Hurricane Isaac?
Mayor Landrieu: Yes, absolutely. This time, the emergency operation teams on the federal, state and local level were embedded with each other so the communication and coordination was much better. President Obama and his team was tremendous, on the phone with us daily. FEMA was on the ground from the outset. The U.S. Army Corps of Engineers was embedded with us. And we had major support from the National Guard. State departments and local agencies were also much better coordinated. We activated the Emergency Operation Center before the storm and kept it operating 24/7 until we were assured that people were out of harm's way. We also operated our 311 hotline around the clock for residents to call to report problems and get information. I don't think we could have handled this storm as well as we did without that coordinated effort.

KDB: How would you rate the first post-Katrina test of the $14.5 billion dollar Hurricane and Storm Damage system of levees, floodwalls and pump stations?
Mayor Landrieu: We owe the American people a great debt of gratitude. The $14.5 billion levee protection system worked exactly as it was supposed to. That's a great story from this storm. This federal investment not only protected New Orleans, but secured a region that provides this nation energy security and national security.
At the same time, we have a number of residents living outside the levee protection system, in low-lying areas in like Venetian Isles and Irish Bayou, that suffered major flooding and devastation from Isaac. That tells us that we have more work to do to ensure more of our residents are protected. We're focused now on helping these citizens recover from this storm.
KDB: Power's been a big issue post-Isaac. With the power back out in parts of New Orleans on Tuesday due to an Entergy substation issue in the Central Business District, how would you reassure citizens that energy issues can and will be addressed?
Mayor Landrieu: I can assure residents that I'll continue to be very aggressive with Entergy about getting power restored to the entire City. We will do the same with all public and private entities involved in storm operations and response. Perhaps more important than anything else is that City departments and public and private companies communicate and set expectations with the public.
KDB: Looking ahead, how will the lessons learned from Isaac be applied to the next Tropical Storm or, God forbid, hurricane?
Mayor Landrieu: Every time you have a storm, and you look back and analyze your plans and response, you find that there are things that could have been done better. I'm sure that will be the case with this storm. There were also lessons learned for any resident who thought that a Category 1 hurricane was harmless. Everyone should realize now that even this type of storm can have devastating consequences, and, if they choose to stay in the city, they have to prepare for any and all situations. The good thing is that most people heeded our warnings and the city is headed back to normalcy.
Our residents are very resilient, and they are better prepared than before Katrina. I hope we will use this opportunity to get even better.
Popular in the Community