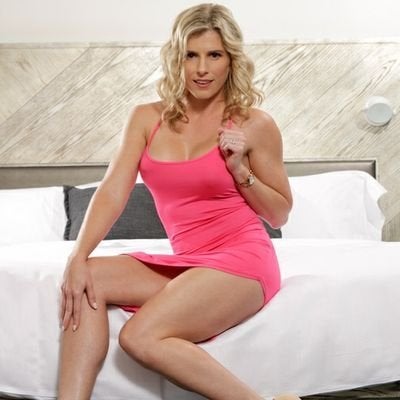 Sen. Ted Cruz likely won't earn the vote of this porn star—no matter how many "likes" she gets from his Twitter account.
Cory Chase, the adult film actress featured in a porn video that was "liked" by the senator's Twitter account Monday night, says she's been inundated with Twitter notifications and messages from fans since her video earned the approval of Cruz's account. And while Chase said she leans republican, Cruz's stance on her industry—as Texas solicitor general, he once tried to ban the purchase of sex toys in the state--means she likely won't be casting a ballot for him should he make another run for president.
"He's against the whole notion of what I do," Chase said in an exclusive interview Tuesday.
A South Florida resident, Chase said she has been without electricity since Saturday due to Hurricane Irma, even as thousands of fans flock to view her work online. She said she finds it ironic that Cruz, a married father of two and an evangelical Christian, is at the center of this porn-related controversy.
"Not only does he not want people to watch porn and buy sex toys, but he himself is not even paying for his own porn, if it's true," said Chase, whose industry has been disrupted by the rise of free porn sites, which cut heavily into the profits of performers. "Of course, most politicians are hypocritical. In that aspect, most people in general are very hypocritical [about porn]. They say it's dirty, but you look at their search history and of course it's there."
Chase said people have said her appearance in the video—particularly her style of clothes, before they come off—bears a resemblance to that of Cruz's wife, Heidi.
"Apparently, it looks like his wife," the actress said.
Cruz's spokeswoman, Catherine Frazier, took to Twitter after the incident, writing that "the offensive tweet posted on @tedcruz account earlier has been removed by staff and reported to Twitter."
Chase has been starring in hardcore porn videos for more than 13 years. Her work has been featured on porn sites like Brazzers, and Reality Kings, but she said she now focuses most of her time on creating custom videos through her website http://corychasefetish.com.
Chase said she is one of the few adult film stars who leans to the right, but that she considers herself a "middle of the line" moderate.
"I do have more of a republican view about things, which is very different in this line of work," Chase said. "I'm for making money as much as I can."
Still, she said: "Most likely, I would not vote for [Cruz]."
Chase said she hopes the attention Cruz has drawn to her helps drive interest in and sales of her work—especially in light of the impact Hurricane Irma had on her life.
"Oh god, yes, I hope so. I need it right now."
Kevin Deutsch is an award-winning criminal justice reporter and author of two books: The Triangle: A Year on the Ground with New York's Bloods and Crips, and Pill City: How Two Honor Roll Students Foiled the Feds and Built a Drug Empire. He previously worked on staff at the New York Daily News, The Miami Herald, Newsday, The Palm Beach Post, and The Riverdale Press. Deutsch specializes in journalism about street gangs and drug trafficking and has received multiple prizes for his writing about crime and national news events, including an Associated Press award for justice beat reporting. Lots of competitors hate his work, but that's their problem.
Calling all HuffPost superfans!
Sign up for membership to become a founding member and help shape HuffPost's next chapter
This post was published on the now-closed HuffPost Contributor platform. Contributors control their own work and posted freely to our site. If you need to flag this entry as abusive,
send us an email
.