The Simpkin Project will drop their new album on September 29, called Beam of Light. In the interim, the band offers up Beam of Light Mixtape highlighting excerpts of their new songs. The mixtape is excellent! And Huff Post is premiering it right here, right now!
Stylistically, the Simpkin Project is best described as West Coast reggae rockers. But there's more to their sound than just reggae. They incorporate elements of Latin jazz, R&B, Americana, country and gospel into their sound. The various elements are layered upon a foundation of unprocessed reggae rhythms, giving their sound a distinctive inimitable flavor that makes it sui generis and attractive. The reggae bottom acts as an incubator in which the other influences nurture, mature and flourish. In addition, the Simpkin Project abstains from singing in Jamaican Patois or Jamaican English. This abstinence gives their music remarkable color.
The mixtape contains twenty tracks, in the following order: "Some things don't change;" "Hustling;" "Everything you want;" "Never forget;" "Solidarity live;" "Lose control;" "It's only nothing;" "Perfect harmony;" "Dub on tall;" "The worlds on your shoulders;" "Showtime;" "Beam of light;" "Many rivers;" "If you really want it;" "I'll be there;" "Coming home;" "Check yourself;" "Dub monger;" "Passion;" "Try to understand."
"Some Things Don't Change" mingles an Americana influence with a subtle reggae rhythm. "Hustling" carries an organic reggae progression, along with a smooth melody that rides the keyboards and guitars. The groove is cogent and enthusiastic. And the vocals slide silkily over the melody. "Everything You Want" emanates an even reggae groove and melody that's guitar-driven, with vocal harmonies that add a bright layered effect to the melody. The guitar solo exudes lots of fuzz buster as a kind of sonic shading.
"Never Forget" rides a roots reggae groove that establishes a catchy melody that gets your shoulders and head to moving. The lead vocals are crisp and backed by charming vocal harmonies. "Solidarity" is a reggae tune with a Latin jazz feel inherent in the guitars. A persuasive melody underlies the laid-back vocals; and the guitar accents not only add acquiescent harmonics, but ooze a bossa nova flavor. "Lose Control" starts with a blues-infused reggae intro, that segues to a steady reggae groove. The melody is tantalizing, yet subdued.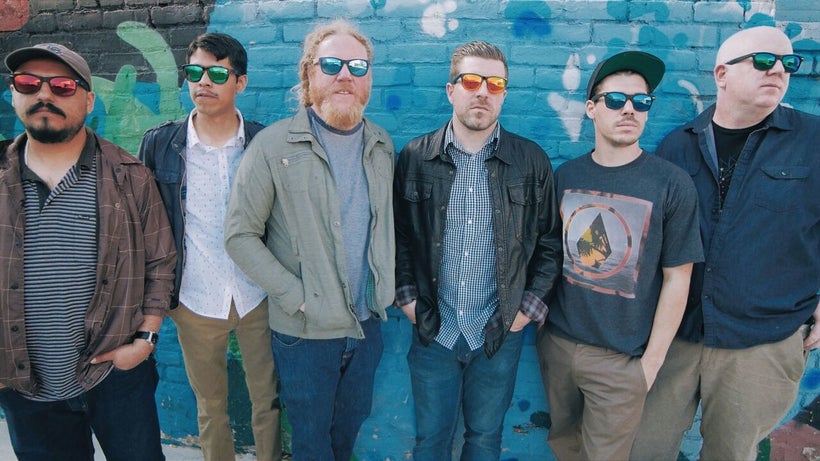 "It's Only Nothing" rides on a light, crisp melody featuring excellent guitar inflections. The vocals are honeyed and flowing. "Perfect Harmony" goes back to a roots reggae feel for its melody, heavy with sidestick percussion that complements the rhythm. The vocal harmonies are genteel and crystal clear. "Dub On Tall" begins with layered resonant guitars, and then transitions into a dub rocking reggae melody chock-full of reverberating instruments and vocalizations. "The World's On Your shoulder" gives life to a stylish reggae melody and articulate vocal harmonies. The tune is elegant and placid as it progresses with exaggerated delicacy.
"Showtime" features a nimble reggae groove and bright horns that add drawling intonations, along with a shifting feel. The saxophone solo really provides the tune with vitality. "Beam Of Light" is the title track of the band's forthcoming album, slated to drop in September. A contagious melody supports antiphonal vocals that add a stellar duplicative nuance. "Many Rivers" begins with a religious-sounding organ, and then the reggae groove jumps in, as the shimmering melody is established. The vocal harmonies emanate a gospel-like tone that works well with the reggae rhythm.
"If You Really Want It" conveys a reggae groove and traditional melody tinged with an R&B feel. Once again, the Simpkin Project demonstrates their talent for vocal harmonies. "I'll Be There" stresses a gospel sensibility that's carried on a reggae melody, providing the tune with secular and simultaneously pious ambiance. "Coming Home" takes on an Americana/country western flavor set in a reggae matrix. The result is a delicate melody pregnant with an earthy aura. "Check Yourself" exhibits a dub step influence, as the beat is strong and rapid, with a melody that gallops on the keyboards.
"Dub Monger" combines psychedelic pop with a slow reggae rhythm that peals with energy and reverberation. It resembles a reggae version of the Beach Boys' "Good Vibrations," which means it has kaleidoscopic pizzazz. "Passion" reflects gospel-like vocals traveling on a reggae melody. The tune parades a definite devout flavor. The last track on the mixtape is "Try To Understand," a country-flavored reggae piece, with a graceful, simple melody that is inherently pensive and philosophical.
The Simpkin Project has it going on! The mixtape demonstrates the band's ability to varnish stylistic modifications over an organic reggae rhythm, producing a gorgeously incomparable sound that is all their own. And if that's not enough, they leaven the sound with dazzling vocal harmonies, instrumental harmonics and contagious melodies. I can't wait for the album to drop.
REAL LIFE. REAL NEWS. REAL VOICES.
Help us tell more of the stories that matter from voices that too often remain unheard.
This post was published on the now-closed HuffPost Contributor platform. Contributors control their own work and posted freely to our site. If you need to flag this entry as abusive,
send us an email
.