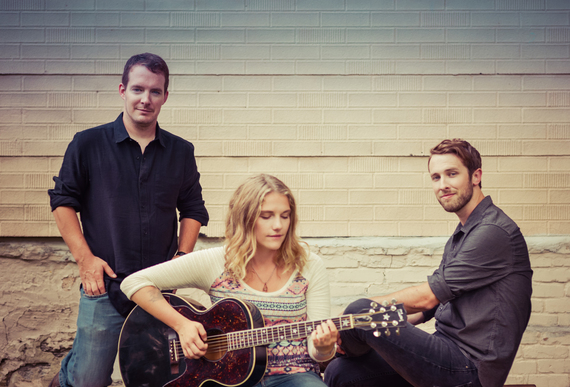 If you're a fan of American roots music - Mandolin Orange or Elephant Revival, for example - you must give a listen to the newest album by Dead Horses, a Milwaukee-based folk trio with a unique sound and even more insightful lyrics.
"Sometimes I wish I was a leaf, sometimes I wish I was a tall, tall tree...sometimes I wish I could be anything I'm not," goes the lyrics in "Golden Sky," the first track on "Cartoon Moon," set for release on Sept. 30, which features producer Ken Coomer (Wilco, Uncle Tupelo) with Noam Pikelny (Punch Brothers) on banjo.
Despite the melancholy echoes of the first few lines, the song is actually very hopeful. As the songwriter and lead singer Sarah Vos says, "People should listen to the new album because it's honest."
It's also beautifully varied, ranging from the second cut, "Red Pony," to "Ain't Got Time," which has a bluesy, New Orleans vibe. Fans of AOR will appreciate this album.
"I've been drinking from a dirty well ..." serves as a double-entendre, a cynical statement about our current society, according to Vos. "The inspiration behind 'Ain't Got Time' is it's kind of a social plea. Drinking from a dirty well, it's about water. It's metaphorical. It could be perceived as broad or specific. But water is an issue."
Like her favorite author John Steinbeck, Vos mirrors his writing as a simplistic take on the broader issues facing society today.
Vos' voice, paired with the bluegrass stylings of Peter Raboin's mandolin and guitar and Daniel Wolff's double bass, are chasing the dream together. "I love getting to do it with a group of people I like and working on a team," Vos says. "I have been playing music with Dan on the bass for over six years and Pete joined us about 3 and ½ years ago. We found each other pretty damned organically."
Vos adds, "It's more of a challenge to grab people's attention (today). We decided let's play music we believed in and try to connect with people and do that fearlessly. It's hard to pitch your art because it is what it is."
All I know is that I can't stop listening to this album.
But don't take my word for it. Take a listen for yourself.
The band has traversed much of America after the release of its sophomore album, "Space and Time" in 2014 - and they are playing with the aforementioned Mandolin Orange and Elephant Revival and can also be found on the main stages at the upcoming Bristol Rhythm and Roots Festival, Americana Music Festival and Red Ants Pants.
"Bluegrass roots Americana stuff is alive and well in the Midwest, it's just not in your face," Vos says.
No Depression writes, "... I chalk it up to Vos's exceptional songwriting. She has this uncanny way to turn a standard chord progression into something fresh and beautiful. It is simple, really. Just turn right or left at the exact moment to make a good song better. She does it consistently and with deftness. One chord and a verse or chorus becomes music magic."
And PopMatters writes "...its disenchanted folk mines a fertile ground that's bloomed for the past 50 years, and its slow crescendo works as well now as slow, sad crescendoes did for Bob Dylan and Joan Baez in days of yore."
Looking forward to what you think.
REAL LIFE. REAL NEWS. REAL VOICES.
Help us tell more of the stories that matter from voices that too often remain unheard.