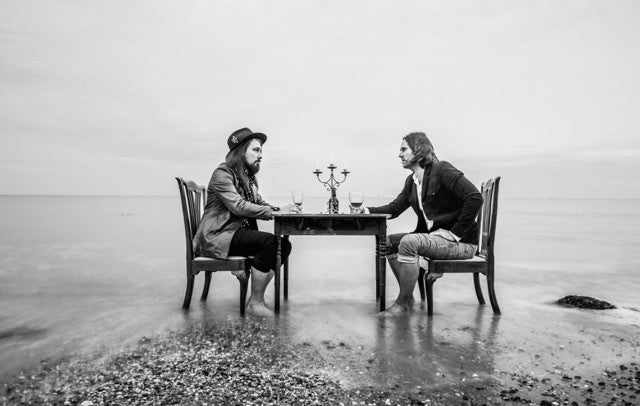 Today I am proudly premiering the new single from indie-folk duo, Percival Elliott. Entitled "Forever" it is the first track to be released off of their upcoming album Save Your Soul. Combining the most captivating elements of the indie-folk genre and tying it together with the band's signature style of hard-hitting piano melodies and soaring harmonies, Percival Elliott have delivered a song which is both compelling and poignant.
Hailing from the south coast of England, duo Olly Hite and Samuel Carter-Brazier united after discovering their mutual love for the likes of Jeff Buckley and The Beatles. Sharing the understanding that true friends can create something beautiful, the two wanted to articulate this belief through their music and have since been enchanting audiences with what has been described as 'neo-nostalgic melodies and honest lyricism'.
"Forever" beautifully highlights Hite's raw, celestial vocals and Carter-Brazier's warm encompassing guitar, which simultaneously ride atop the sweeping soundscapes of the string quartet. The track bleeds emotion with it's heartfelt, yearning lyrics about eternal love. Hite sings "We can be forever, like Bonnie and Clyde", reflecting on how love is timeless and will forever live on. "Forever" is an authentic, unpretentious single and successfully delivers audiences with the duo's aim of crafting a sound that will make the hairs on your neck stand up. "We want to make the listener feel alive" expresses Hite.
The duo's idea for their name is formed in memory of Hite's great grandfather, an inventor who created one of the first ice-cream emporiums in Brighton, UK. The idea of resurrecting the magic of Percival Elliott was conceived after they discovered a box of trinkets at the back of an attic. The forgotten time capsule was filled with Percival Elliott's mysterious inventions, engraved ice-cream paraphernalia, haunted photographs and time honoured war medals. Unveiling such treasures fuelled the duo's imagination and ignited their musical creativity into what it has become today.
If you like what you hear and you want to hear more, be sure to keep your eyes open for upcoming releases and future gigs. Follow Percival Elliott on their socials to be the first in the know, as this duo aren't something you want to miss out on.
Popular in the Community