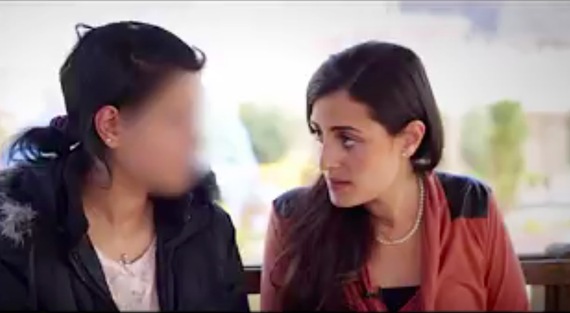 American lawyer and humanitarian Jacqueline Isaac -- who earlier this year helped bring a team of psychologists, counselors and clergy to traumatized young girls and women in Iraq who had escaped or been rescued from their ISIS captors after enduring months of torture and sexual abuse -- will testify before the House Foreign Affairs Committee Wednesday at the invitation of committee chairman, Rep. Ed Royce (R-California).
Billed as an unprecedented national examination of the subject and titled "Ancient Communities Imperiled: ISIS's War on Religious Minorities," Isaac will likely share with committee members some of the shocking stories of rape at the hands of ISIS militants she heard first-hand while in Iraq during the course of three trips between December, 2014 and March of this year.
At times, Isaac, vice president of a nonprofit organization called Roads of Success and a small group of American volunteers from the religious and clinical-psychology communities who went to Irbil, Mosul, and Iraqi Kurdistan found themselves less than an hour's drive from areas controlled by so-called Islamic State militants. In fact, Isaac insisted on being taken to bloodstained slopes of Mount Sinjar where the Yazidi population had been trapped and was almost wiped out by ISIS.
A limited air attack by U.S. aircraft stopped the Sinjar Massacre before the Yazidis were completely wiped out, but not before many died brutal deaths at the hands of ISIS militants. Hundreds of Yazidi men and boys were murdered by ISIS, while female Yazidis were kidnapped, raped and sold into sex-slavery.
"Hundreds of girls were raped," Isaac said in a documentary film about her last trip to Iraq produced and directed by San Diego filmmaker, David Macintosh. "Not once, not twice but multiple times by different men. They were purchased, sold, purchased, sold."
Some of the girls and women escaped ISIS captivity; a small handful were even rescued. It was these highly traumatized women and girls that Isaac's group came to help with intensive counseling.
"They are so hurt," Isaac said during my interview with her in late April. "At the same time, they are so brave and show amazing strength."
According to Isaac, who interviewed and counseled dozens of women and girls while in Iraq, girls as young as five were raped by ISIS and even some non-ISIS Iraqi men. Most of the girls and women Isaac helped were Kurdish-Iraqis and Yazidis, a distinct ethno-religious minority, with a religion and deity that are related to Christianity, Judaism and Islam. However, Yazidis believe they are descended solely from Adam, while the rest of humanity descends form both Adam and Eve.
"Although ISIS intended to destroy [them] through enslavement and torture, they could not capture their souls," Isaac, a southern California-based attorney of Egyptian descent, said in a recent interview. "These resilient girls are using their new found hope and dreams to display to the world that light can still radiate and breakthrough darkness."
Isaac shared an exclusive preview of remarks prepared for her testimony tomorrow with us. Here's a portion of what she will tell members of the House Foreign Affairs Committee about the horrors women and young girls are enduring in ISIS-controlled territories:
There are two basic reasons that the United States must do more in the fight against ISIS, particularly, when one considers the plight of innocent people in ISIS's group. First , it is in America's national security interest to see ISIS defeated, both as an idea and as a military movement. Second, the preservation of human life and property-especially of allies like the people of Iraqi-Kurdistan, Jordanians and Iraqi citizens- is commensurate with our highest ideals.

It is true the U.S. can not do everything at all places, at all times, but this crisis is different. We cherish ethnic and religious diversity; ISIS hates it. The U.S. wants peace and security for the entire region; peace for ALL law-abiding people, whether Sunni, Shiah, Kurd or from Iraq or Syria's many religious minorities. However, the present crisis may see entire communities purged from the land at the hands of ISIS.

What makes this situation particularly compelling is the role the U.S. has played in greater Iraq over the past decade; our good-will attempt to protect women, religious minorities and sectarian communities through security development, and education.
Unfortunately, at present, many of the tools we left behind to assist the Iraqi security forces have been appropriated by ISIS and are being used to terrorize the population. We can do more to stop this scourge.

It is imperative for the U.S. to assist the Iraqi-Kurdistan army now, not only to secure their own land, but to stop ISIS's terrorist acts and recruitment. It is in our national security to act now, and help remove this menace from the world.
Sister Diana Momeka, OP of the Dominican Sisters of Saint Catherine of Siena in Mosul, Iraq will also testify at the hearing, as will Hind Kabawat, director of the Interfaith Peacebuilding School for Conflict Analysis and Resolution at George Mason University and Katharyn Hanson, Ph.D., who is a fellow at Penn Cultural Heritage Center at the University of Pennsylvania Museum.
Related
Popular in the Community