Actor Bobby Steggert was fated to star in a revival of Ragtime, though "fate" might not be putting it strongly enough.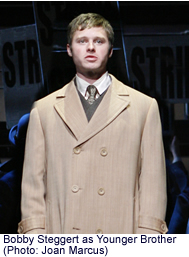 As a kid growing up in Maryland (high school valedictorian, by the way), Steggert was already doing professional theater. His first paying job? The Madison Square Garden spectacle A Christmas Carol, with music by Alan Menken and lyrics by Lynn Ahrens (whose next show would be the 1997-98 Tony winner Ragtime).
"I still have the beautiful handwritten note she gave to everyone in that show and that was some 15 years ago," says the 28 year old Steggert.
The summer before he moved to New York to study at NYU, Steggert had some assigned reading, including E.L. Doctorow's novel Ragtime. During orientation week, before classes even began, Steggert went to a Broadway show: Ragtime, featuring Audra McDonald in her Tony-winning performance. After serving as an understudy on Master Harold and The Boys, the director of that show encouraged Steggert to try out for his revival of 110 In The Shade starring...Audra McDonald.
"It's because of Lonny Price," says Steggert, who at one point foolishly thought plays were more serious and important than musicals but has made his name in the latter. "He had no idea that I'd ever sung. I studied musicals and certainly did them in high school. I'm certainly not a pop singer or a rock singer. I just loved the play The Rainmaker so much and I loved Audra as a performer so much so I thought I'd just go in. I guess my take on the character was what they were looking for. They said, 'Do you dance?' I said, 'Not so much.'"
Doesn't Steggert know that if a casting director asks if you can juggle or ride a horse or play the guitar you're supposed to say --
"I know, you're supposed to say yes. I'm learning," he laughs. "I was the only person who danced in that show so that was quite ironic. I could show up every day and just have a really good time. I don't think I realized the luck of that, getting to shine in a great part and have a really great actress playing my sister."
Steggert savors his luck now. After a string of critically acclaimed performances (including 110 In The Shade, which ran less than three months), he's in an honest-to-goodness hit with Ragtime. The panoramic tale of turn of the century America, it encompasses the lives of a privileged white family (with Steggert as the combustible Younger Brother), a hardworking and talented black couple and Jewish immigrants hoping to make their fortune or at least survive.
The box office isn't explosive yet, but with reviews like it received, the show is certain to be a front runner for Tony's Best Revival. Ben Brantley of the New York Times finds the revival superior to the original, adding, "Mr. Steggert, as a tentative rebel in search of a cause, provides a hot center of real pain." The New York Daily News gave it four out of five stars, saying "it's hard to argue with a revival as surefooted as Marcia Milgrom Dodge's strikingly staged and vividly performed redo." It also singles out Steggert as "terrific." Variety raves, saying, "this is big-brain, bold-strokes musical-theater storytelling at its most vibrant" and -- again -- notes Steggert's compelling intensity. Even the irascible John Simon of Bloomberg said it was "good to have Ragtime back on Broadway" and praised Steggert first among the cast.
But don't imagine that just winning charm is what won the critics over. Steggert may have the boyish handsomeness of a leading man but he's been consistently drawn to quirky, dark characters. Younger Brother is no different: unhappy living with his sister and her family, miserable at his job in a fireworks factory, he burns with passionate intensity that needs a focus. First it lights on gossip page tootsie Evelyn Nesbit, then the radical activist Emma Goldman and finally Colehouse Walker, the avenging angel demanding justice for the death of his fiance and the destruction of his car by bigots.
Steggert's biggest laugh comes when he simply blurts out to Walker that he knows how to blow things up. But that's exactly what he's good at, as shown even more explicitly in Doctorow's book, where Younger Brother's role as a terrorist and inventor of weapons of war is spelled out more clearly. Steggert brings that dark heart into his performance.
"The book is dark and satirical and sexual," says Steggert, who spoke with me by phone just before the show opened. "The musical is more sincere and more emotional but they're both equally fascinating and rich. There's not a better gift than getting to play people unlike yourself because you get to explore parts of yourself you rarely express. I think that's healthy and also very exciting as a performer. I just had to find my own anger and find my own sense of injustice in the world we live in today and there are so many examples of inequality and injustice."
Though Steggert had charm to spare in 110 In The Shade, his Off Broadway work showed Steggert's predilection for the offbeat. In the brilliantly designed and genuinely odd show The Slug Bearers Of Kayrol Island, Steggert played a man obsessed with instruction manuals to old and outdated appliances. (His best musical number involved reading those directions set to witty melodies.)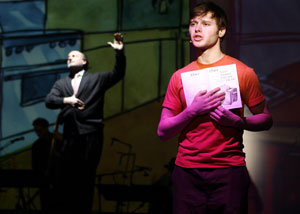 (Peter Friedman and Bobby Steggert in The Slug Bearers of Kayrol Island photo: © Carol Rosegg)
In Yank!, a very promising musical, Steggert had the lead role of a gay soldier who falls in love with a buddy during World War II but is rather passive and does some questionable things to survive (though he's so appealing in the role, you almost don't realize it until afterwards).
"It broke my heart because it's a project I care so much for," says Steggert, "and I've been in love with it for two years now. I'm incredibly close with the writers and the director and the choreographer and it's a role that means so much to me. It was a really bittersweet decision. I'm so happy Ragtime is resonating with audiences. It feels like it was a good decision. But leaving Yank! behind was really, really difficult. I know the show will succeed."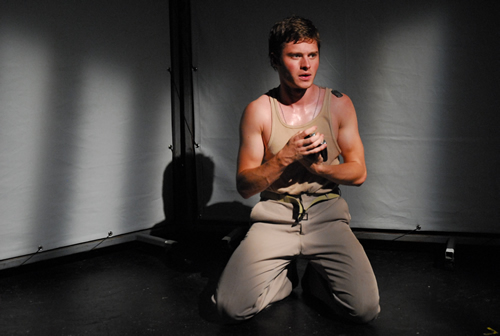 Now of course Steggert is focused completely on Ragtime.
"I am committed for a year," says Steggert. "It's been very relieving as I own an apartment and have a mortgage to pay. It's also very frankly intimidating because the show takes a great deal out of all of us vocally and emotionally and physically. I'm very committed to the story, to telling it fully and properly. I know it's going to be a very exciting year and it's also going to be a very exhausting one.
"I've been learning it's not even a good idea to really even speak on days off. I have much less social energy and certainly less ability to focus on other parts of my life and I'm hoping for a balance to come in the next few months. But it's what is most important to me and what I'm dedicated to and I'm willing to sacrifice those other things."
So for now Steggert will cheer on Yank! from the sidelines instead of center stage. And he tries to come down from the sad and angry place that performing Ragtime takes him by riding the subway home and listening to jazz like Dinah Washington on his iPod. And home will be quiet too because Steggert is "very single. I'm certainly open to the possibility but there's too much on my plate right now. Not this week? Not this year."
NOTE TO READERS: I was provided with house seats to Ragtime during previews in order to see Bobby Steggert's performance in the show before our interview. They were provided with the understanding that a story was in the works.
Calling all HuffPost superfans!
Sign up for membership to become a founding member and help shape HuffPost's next chapter