A healthy lifestyle is essential to sustaining one's relationships day to day. Not to mention the importance of oral hygiene, which, according to Sherri Shepherd, is one of the golden rules for enhancing her bond with husband, Lamar Sally, and son, Jeffrey, who all recently introduced the power toothbrush to their daily routine.
"One of the things that I do that I've found from being newly married is that my husband and I, we go in the bathroom and brush our teeth together. And that's when we talk about what's going on in the day, so we get to bond that way," she recently told The Huffington Post. "Another powerful moment for me is my son: I've been teaching him how to brush his teeth by himself, so he has his own power toothbrush. And he loves it because it's fun for him."
It's not a coincidence that "The View" co-host has converted from a regular toothbrush to a power toothbrush: she also is currently Oral-B's newest spokeswoman to promote the benefits of the power toothbrush.
"I am trying to inspire people to just take control of their oral health, because if we don't take care of our oral health, it affects so many different aspects of our lives. If your smile and mouth is not together, it affects your relationship, your self-esteem, your health," she explained. "So I'm really passionate about this. I am on the power toothbrush train and I'm asking people to try to using an Oral B power toothbrush. I just started using one and I cannot believe that I waited this long to use a power toothbrush. It's so much easier than using an manual toothbrush."
Having a pearly white smile has paid off substantially for the funny woman and television personality, who got engaged to television writer Lamar Sally over the holidays, on December 26, 2010. The couple tied the knot on August 13 in Chicago, making it her second marriage.
"Marriage is a great thing. I feel very blessed that I got a second chance to get this thing right. So we're having a really good time," she said. "He loves my son, my son adores him. Marriages are work, but I like the person. If you're going to go through the valleys and the hills, you want to figure out who you want to go through it with. So I got a good guy."
Prior to being swept off her feet, the "The Newlywed Game" host and Emmy Award-winner was married to comedian Jeff Tarpley. The couple separated in 2006 and divorced in 2009. As she revealed, her more recent trip down the aisle was more festive than her previous.
"When I planned my wedding the first time, my ex-husband and I, we were both struggling comics. I had a TV show that had gotten cancelled. Basically, I rented a wedding gown; the reception hall smelled like feet," she admitted. "Seriously, my bridesmaid bought 20 cans of Glade air freshener and made everyone wait because they had to spray it. It smelled like old people. We had a cake that was [made out of] foam, and it was like a cake that you couldn't cut into. It was really done on the cheap. So this time around, it truly was everything that both Sal and I dreamed about. I don't have one regret."
Although the nation has fluctuating divorce rates, Shepherd had no qualms about the institution itself. In fact, her rocky past has prepared the "30 Rock" actress for her current marriage. "I think that the children are the losers in this. I can't judge anybody because I got divorced," she added. "It was hard. I kind of ran out of steam. Hopefully with this [marriage], I say, 'Gosh, this is the person that I want to go through life with.' So I'm feeling that I'm willing to push through the difficulties with this marriage."
As one might expect, juggling the roles of television personality, actress, mother and wife is no easy task. However, the 44-year-old Chicago native managed to discover the perfect solution prior to tying the knot with Sally.
"A lot of it you have to figure out what is your priority," she explained. "My priority was [my 6-year-old son] Jeffrey. So I had to figure out: Was it going to take away from our time together? And that dictated what I could say no to and what I can say yes to. With 'The Newlywed Game,' I did it right after 'The View,' so I was home in time to read him a book and put him in the bed. And it was only for a short period of time. I didn't have anybody to help me watch him, so I had to say, 'No.' But it was okay, because I think when you say no to things that are going to distract you from your main purpose, then it brings in other things that you need."
Now that Shepherd has someone to contribute to her household, she shared a piece of advice from her close friend Niecy Nash. "Niecy Nash actually gave me a great piece of advice. She said, 'Date for your priority and not your preference.' And I would say that to a lot of my sisters out there, because we have this thing in our mind, 'He got to be light skin with green eyes and he have to have good hair.' Okay well, that may not necessarily work for you if you got a son.
"If your son has to go to the doctor, you need that man to be able to say, 'I'm going to meet you at the doctor's office.' Go outside what your comfort zone is. I got a man who worked two jobs to get my wedding ring, and this is a man who adores my son. So I got a man who respects my child as well as me."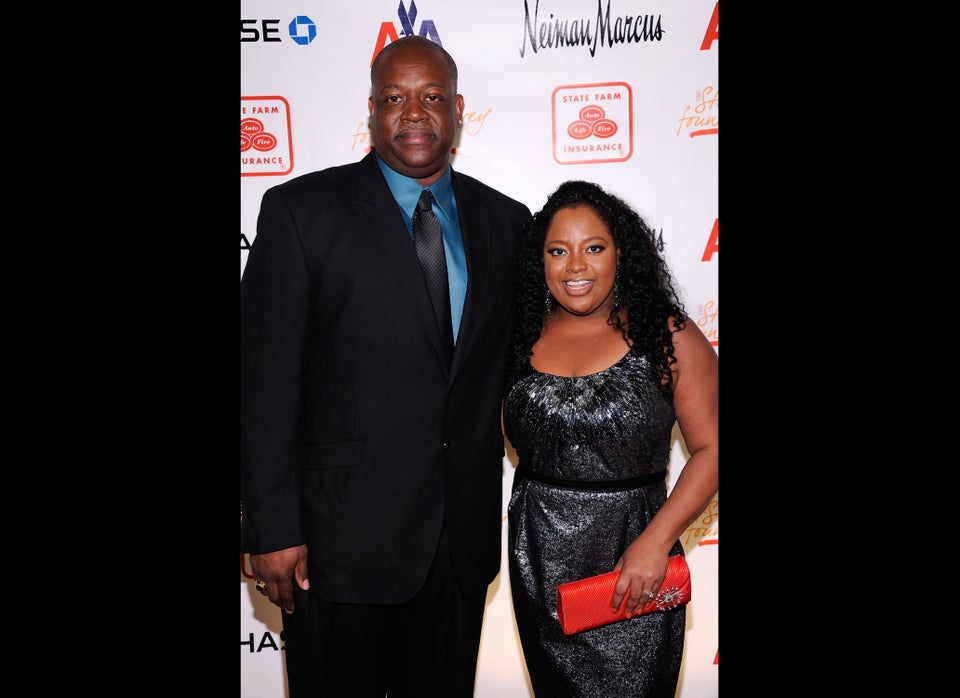 Sherri Shepherd Photos
Popular in the Community