I found out about Lindsay Smith's debut young adult novel, Sekret, the same way I find out about most of my favorite reads these days.
YA bloggers were buzzing about the book! Sekret tells the story of a young Russian girl who can read minds and gets wrapped up in Cold War espionage. In Sekret, the KGB are trying to develop spies with psychic powers, and she gets taken away, forced to join their ranks. It's a thrilling story with a supernatural twist, unlike anything else out there, and was one of my favorite books of the year so far.
And much to my delight, there's a sequel coming out.
SKANDAL, the sequel to SEKRET, will hit stores everywhere on April 7th, 2015. Roaring Brook Press was kind enough to share the cover with us. Check it out!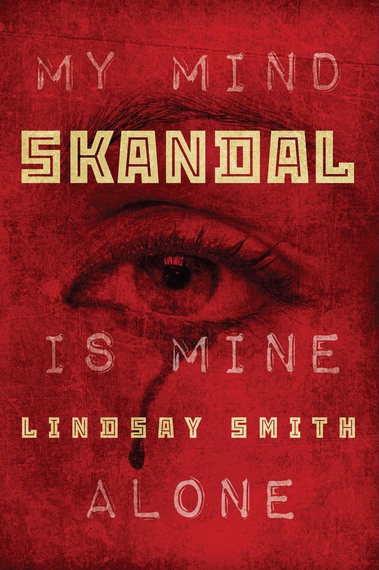 Lindsay also took a moment to answer some questions about Sekret, Skandal, and her upcoming projects.
With a starred review in Publisher's Weekly, praise from Elizabeth Wein, and an awesome book tour... Sekret made a pretty great splash! What can you tell us about that?
LS: It's been pretty overwhelming--in that wonderful, surreal way that makes me feel like I'm a doppelgänger who's just absconded with someone else's life, and any moment now they'll be showing up to reclaim it, and then we'll have a sword fight. But when I'm not feeling like an impostor, I am so incredibly humbled by all the enthusiasm and support Sekret has received. I loved going on the Fierce Reads tour with my fellow Macmillan Children authors because we got to talk about books with everyone, but I'll never get over having people want to talk to me about my strange Russian psychic spies.
What inspired your love of foreign affairs and all things Russian?
LS: I had a fantastic Russian teacher throughout school. She was a former US Army linguist whose enthusiasm for all things Russian--history, culture, art, music, and of course literature--was utterly infectious. I was fortunate enough to visit Russia in 1997, when the economy was in free fall, in 1999, when things were just stabilizing, and then in 2003, when Putin's iron grip was just starting to tighten. That transition--from authoritarianism to free-for-all back to authoritarianism again--fascinated me. Unfortunately, it's an all too common theme throughout Russian history.
Now this second book! Without spoiling anything, tell us a little bit about what readers can expect. I heard rumors about jazz lounges?
LS: Yes, SKANDAL features a smoky 1960s jazz lounge--possibly one of my favorite scenes I've ever written! Without spoiling much about the first book, I can tell you it also has new types of psychic powers, new threats to the precarious Cold War balance, a pretty crazy chase scene, and of course, loads more secrets to reveal.
Any big plans for the release? Another epic tour, perhaps?
LS: Another tour is always a possibility! I can tell you that I have two more Sekret-related works of fiction on the way just before Skandal's release--one short story, which will be in the Fierce Reads anthology, stars Larissa and Ivan, who are some of Yulia's psychic comrades in the KGB program. I'm also working on a digital-only novella for early 2015. I can't tell you who it stars, but I can say that it involves opposing teams of psychics battling it out during the fall of Berlin in 1945
And afterwards, what's next?
LS: I have another, totally unrelated YA novel coming out in fall of 2015, also from Roaring Brook Press/Macmillan Children's. DREAMSTRIDER is sort of a mashup of Inception and Graceling--a high fantasy adventure featuring espionage (of course) and a strange dreamworld that holds the power to both destroy and save the characters' real world.
Related
Popular in the Community