"I was a Republican intern under Senator [Lowell] Weicker, who was probably the most liberal Republican ever. He didn't vote party lines," says the bass-baritone Pittsinger, who has taken over the lead role of Emile de Becque while the Tony-winning Paulo Szot fulfills prior commitments. Pittsinger plays the role through January 25 and again from March 10 through April 12.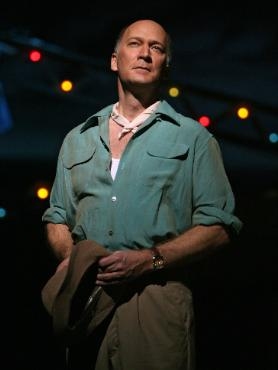 (Photo: Joan Marcus)
His brush with movers and shakers didn't end in DC, where Pittsinger's father worked as a guard at the Tomb of the Unknown Soldier. Back in his home state of Connecticut, "I was a waiter at the Griswold Inn which is the oldest continuously run inn in the United States, since before the war for independence. The owner would have me on his restored Alden - this beautiful sailing yacht - and I would serve dinners to his guests and bring out the brandy and cigars. Ella Grasso was governor at that time and she was quite a hoot. She would be on board and I would sing sea chanties and show tunes."
Was there a crowd-pleasing favorite he always performed?
"Usually, some of the blue mountain ballads, like 'Shenandoah,' explained Pittsinger. "When you're out on the boat watching the sunset in a cove just off the Atlantic and the current is runnin' by you and you're blowing smoke rings with a cigar, it's pretty easy to have 'Shenandoah' be a show-stopper."
But politics and even the arts weren't his first love: for Pittsinger, that would be soccer. "I was really hoping to get to Europe that way," says the performer, who played center half on a team at the University of Connecticut that were national champions his freshman year and turned out a number of pros. But a skiing accident threw a spanner in the works and he explored both politics and singing before deciding he had to give performing a shot. His parents, unlike most, urged Pittsinger not to be practical.
"Washington was always a very special place to us," says Pittsinger, who spends time chatting in his dressing room which he hasn't even had time to fill with personal mementoes since he just took over the role. "My dad worked the Eisenhower inauguration. He was very proud of that and it carried him through his life. More important than being practical was being committed. He said, 'Just go for it. You'll know it soon enough. You'll either bear it or you won't.'"
Pittsinger soon flourished, from his time at Yale under the tutelage of lifelong friends Doris and Richard Cross to a flourishing career in Europe where Pittsinger has always had a higher profile and been in demand.
His career has taken Pittsinger all over the world, not to mention many highlights at New York City Opera and the Metropolitan Opera. He'll be performing in Antony & Cleopatra at NYCO early next year and like all top-notch opera singers, he's booked years in advance at second homes like the Florida Grand Opera in Miami and houses overseas. But this is his first time on Broadway and Pittsinger is savoring it. He originally auditioned for the role, losing out to his friend Szot, whom he's performed with over the years.
"They had a great, a great Emile in Paolo, someone I've worked with and adore," says Pittsinger. "I was so happy for him because it gave him a chance for some name recognition. It's not like it was 15 years ago when if you crossed over, suddenly you weren't legit. Today, the quality of voices on Broadway is as good as it's ever been. A few months went by and then Paolo won the Tony and I was sitting in my hotel in Florida and was sort of duly impressed and proud of him and envious at the same time and that's the honest truth."
So when they called and asked Pittsinger to play the role of Emile while Szot was on leave, he didn't hesitate -- even though it literally meant he had to pay for the pleasure of doing it. (Since classical performers are scheduled long in advance, Pittsinger apparently had to pay the Metropolitan Opera to be let out of his commitments to seize this opportunity. Pittsinger is loathe to discuss this and prefers speaking happily about Florida Grand Opera, which freed him, knowing how important it was to Pittsinger and how it could only raise his profile.)
South Pacific hasn't been revived since its original Broadway smash engagement some 50 years ago and the reason was always given that the heroine's feelings about interracial marriage somehow dated it. But this acclaimed production proves nothing could be further from the truth -- perhaps one reason it's one of the few shows on Broadway doing stellar business.
"It's anything but dated," says Pittsinger. "It's as relevant if not more so today. First of all, we're a country at war. We have a mixed race President. [It deals with] the culture clashing of morality and what's acceptable to whom and how we tend to be more puritanical in this country. Here's an example: Emile De Becq thinks it's more important to him that he tell Nellie everything about him and that he's killed a man than the fact that he has children of ethnic descent."
For Pittsinger, the show is even more personal.
"There are so many parallels," he says. "I have an ethnic wife. [Pittsinger is married to singer Patricia Schuman.] I have twins. I've been more at home outside my country than I have been in my country." He laughs. "I haven't killed anyone, thank God."
An avid reader of nonfiction like Stephen Ambrose's telling of the Lewis & Clark expedition (a great idea for a musical, he says), Pittsinger sees politics interwoven throughout the show and indeed society. A practicing Episcopalian, he could be described as an "Eisenhower Republican" and calls himself conservative on fiscal issues and very liberal on social issues. He draws more parallels between the show and today -- such as the battle over same sex marriage and how it's affecting his church.
"[Openly gay bishop] Gene Robinson did something for the church and we don't know yet what it is," says Pittsinger. "It'll play out. It could be the Episcopal Church will set the tone for the Catholic Church in the future."
The future for Pittsinger is clear: he's got commitments for years to come, ranging from roles he's just growing into to old favorites and recitals. But clearly Broadway is beckoning and he'd love to tackle everything from Kismet to Carnival. He loves the quiet emotional moments as much as the big musical numbers and South Pacific is filled with them, from the smile that steals across his face in the opening scenes when Kellie O'Hara as Nellie Forbush sings "A Cockeyed Optimist" to the finale where he returns after being lost in battle to find Nellie mothering his children.
"I don't think I've ever felt so honest as an actor. You're inhabiting the character whereas in opera you're not always doing that. You're not always inhabiting the character when you're playing Mephistopheles," he explains. That final moment -- when they clasp hands under a table while eating -- is as far from operatic as it gets and Pittsinger loves it.
"That's a tough scene," he says. "I remember the first time we did it. It was hard because she doesn't know I'm there. She's trying to speak French [to the children] and then she says, 'I need you to mind me and listen to everything I say because I love you very much.' Oh God," he says, reliving the emotion the scene brings out. "And then you have to come out and you don't know what's going to come out because your throat is [constricted].
"It's rare in opera and I'll tell you why it's the exception and not the rule. It doesn't mean there aren't great performances. But everything is done in time - in a key signature everything is laid out for us and we have to be with the orchestra and the conductor. Everything is expressed over time. If I'm going to say 'I love you' in a song, that song can last eight minutes. But if you say it to her or you ask her to marry you, it's just the moment and that moment has to pack the wallop. You don't have the aid of music for your timing or anything. So what do you do? The only thing you can do is just believe it and deliver it just like you were delivering it in your own life."
Popular in the Community