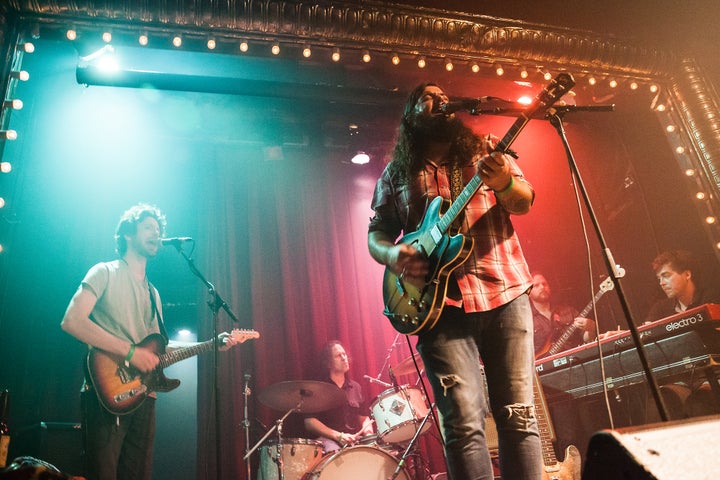 I met up with Sean Walsh, the singer/songwriter who fronts the band The National Reserve, at Skinny Dennis, a honky-tonk bar in Williamsburg, Brooklyn. Recently signed to Ramseur Records, The National Reserve finished recording their debut full-length album, which should be released in early 2018.
Although you probably haven't heard of The National Reserve yet, they have been working hard to get ready for you. Walsh, a native of Union County, New Jersey, moved to New York City about 12 years ago and has been playing with different formations of The National Reserve for the past decade. For the past four and a half years, they've played a four-hour set nearly every Friday night at Skinny Dennis.
Skinny Dennis is not a large space, but it has a lot of character. Featuring live country/roots music every night of the week, it is also clearly a neighborhood hangout spot, even in the middle of a Wednesday afternoon.
Walsh explains that about five years ago, he felt like he was "going through a little bit of a rut" with his music. Then he read Levon Helm's book This Wheel's on Fire, about Helm's experiences with The Band. That book "got me going," Walsh remembers. "I thought, man, these guys played in bars and learned to be a band the old school way, play all the time, get really good at playing, get your band really tight. And the biggest lesson for me was just playing in a bar every night for people that you don't know, that don't really care that you're playing, and getting them excited about it."
Walsh points to the corner between the bar and the window as he explains: "We play in that corner over there, every Friday night. Usually two guitars, organ, bass and drums."
The bartender happens to walk by as Walsh describes the band's standing gig and enthuses: "I work every Friday night. It's the one thing that gets me to work. I have them on my Spotify and everyone is like, are you listening to National Reserve before you go in and listen to National Reserve all night?" She laughs and asks, "What's wrong with that?"
For the record, there is absolutely nothing wrong with that. Creating that kind of enthusiasm is exactly what Walsh is trying to accomplish with The National Reserve.
"Everyone wants to have a good time," Walsh tells me. "Nobody goes out wanting to have a bad time. So if you facilitate the good time for people, if you're genuine and you just like what you're doing, then eventually you'll find your place. If you're really good at what you do, people will latch on to it. That's what I've noticed at our Friday night gigs here."
Walsh continues, "[Helm's] book was a big influence on me because I realized that all of the musicians that I really liked, that I really respected, and I think were real true-blue working musicians, most of their upbringing was playing bars. You look at the Beatles, The Band, or anyone, Leon Russell, they just played gigs. I'm pretty confident that we can get on a stage with anyone and play with them now. We've just played together … with the guys I'm with now, I think we've probably played at least a thousand hours with them, just in this room."
I ask Walsh to describe the kind of music that The National Reserve plays. His answer is quick: "We're fans of a lot of different things, but I'd say we're a rock and roll band. Old R&B and rock and roll and Blues and Country and gospel, we're fans of all that stuff, and if you throw it into the pot it's just rock and roll."
Walsh and I discuss the folly of placing labels on music and I bring up the diversity of the 2017 Rock and Roll Hall of Fame inductee class—Pearl Jam, Yes, ELO, Journey, Joan Baez, and Tupac Shakur.
"I think rock and roll is an attitude or a vibe," Walsh explains. "Tupac is rock and roll, the same way that I think Bob Dylan is punk rock."
It's a good thing that Walsh brought up Bob Dylan, because I was having such a good time talking to him about music that I'd almost forgotten why we were hanging out at a bar in Brooklyn on a Wednesday afternoon. The National Reserve has recorded their take on Bob Dylan's "It Takes a Lot to Laugh, It Takes a Train to Cry," from Highway 61 Revisited, which was released 52 years ago today, on August 30, 1965. Fun fact: the track includes Brian Mitchell of Levon Helm's Midnight Ramble Band on organ. You can hear The National Reserve's take on this classic song here:
It turns out that Bob Dylan set Walsh on his musical path. "I was really big into punk rock when I was a kid, but somebody gave me Blonde on Blonde when I was 17, and I hadn't really looked into Bob Dylan before that, and I remember listening to Blonde on Blonde and thinking 'holy shit, this is more punk rock than anything I'm listening to.' It felt like a middle finger. It felt defiant, the music felt defiant. It felt like nobody had ever done that before."
"Same with Highway 61. It was like punk rock but eloquent. Like punk rock poetry. So I think part of the reason that we play that song ['It Takes a Lot to Laugh, It Takes a Train to Cry'], is that Highway 61 and Blonde on Blonde absolutely changed the whole trajectory of my life, shaped what I do now and what I want to do from now on. Hearing those two records was like, 'okay, I want to play music, forever.' I was 17 and I didn't really know what I wanted to do and had to decide if I wanted to go to college or not, but these records really reached me and changed me, and I thought if I can only do that for one or two other people, that would be a life worth living."
If you're in the New York City area, check out The National Reserve while they're still playing Friday nights at Skinny Dennis so you can tell your friends later, "I knew them back in the day." If you aren't in or around the City, their tour dates can be found on their website and stay tuned for more information on their debut album. Everybody wants to have a good time, and Sean Walsh and The National Reserve are ready to bring it.
Related
Popular in the Community