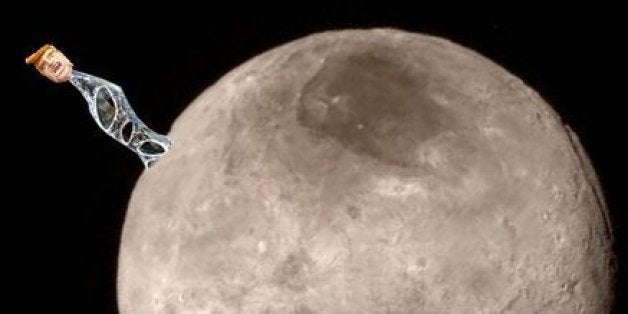 From three billion miles away, NASA's New Horizons spacecraft is sending us breathtaking photographs of the dwarf planet Pluto.
But have you seen the picture of a Trump Tower rising right up from its surface?
When I phoned the Donald to ask him how on earth he'd managed to get it up from so many miles away, he said, "Jim, I'm the master of the universe. I can do anything."
And what does he plan to do with his Plutonian tower?
For one thing, he'll hold his victory party up there as soon as he wins the presidency. And after that Pluto will be his Camp David.
But there will also be room for others.
Suites with stunning views of the Sputnik Planum will be available for 25 million dollars a night, including space travel (the round trip will take 18 years). Mexicans and other rapists, criminals, and drug dealers need not apply. And there will be no place either for would-be "war heroes" who were wimpy enough to get themselves captured.
In fact, Trump's Pluto Tower will be a shining refuge for anyone and everyone who is so fed up with immigrants and phony "heroes" that he wants to get three billion miles away from them.
The only drawback is that since no immigrants will be allowed on Pluto, anyone staying there will have to help with bedmaking, dishwashing, laundering, farming, garbage disposal, managing the septic system, and all the other chores required to run a big hotel--or in this case to keep the Trump Tower pumped.
And by the way, did you think I failed to realize that all visitors to Pluto would have to be considered immigrants? Not at all. When you book a suite at the Plutonian Trump Tower for a mere 25 million per night (per person, double occupancy), you and your partner will each get a Plutonian naturalization card that will plainly separate you from any wetbacks who might try to hitch a ride on the Trump spacecraft.
So book now, friends, and I'll see you on Pluto!
Calling all HuffPost superfans!
Sign up for membership to become a founding member and help shape HuffPost's next chapter