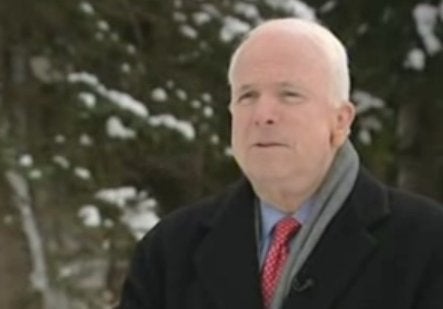 Two years ago, in an interview with James Rubin for Sky News, Sen. John McCain expressed a willingness to negotiate with the terrorist group Hamas -- the very group that McCain has been relentlessly using to smear Sen. Barack Obama over the last several weeks.
Rubin has written an op-ed in Friday's Washington Post about his exchange with McCain, and The Huffington Post has obtained exclusive video. Here's the key excerpt:
RUBIN: "Do you think that American diplomats should be operating the way they have in the past, working with the Palestinian government if Hamas is now in charge?"


McCAIN: "They're the government; sooner or later we are going to have to deal with them, one way or another, and I understand why this administration and previous administrations had such antipathy towards Hamas because of their dedication to violence and the things that they not only espouse but practice, so . . . but it's a new reality in the Middle East. I think the lesson is people want security and a decent life and decent future, that they want democracy. Fatah was not giving them that."
Video courtesy of Sky News
Given that exchange, the new John McCain might say that Hamas should be rooting for the old John McCain to win the presidential election. The old John McCain, it appears, was ready to do business with a Hamas-led government, while both Clinton and Obama have said that Hamas must change its policies toward Israel and terrorism before it can have diplomatic relations with the United States.

Even if McCain had not favored doing business with Hamas two years ago, he had no business smearing Barack Obama. But given his stated position then, it is either the height of hypocrisy or a case of political amnesia for McCain to inject Hamas into the American election.
UPDATE: The McCain camp has released the following response:
"There should be no confusion, John McCain has always believed that serious engagement would require mandatory conditions and Hamas must change itself fundamentally - renounce violence, abandon its goal of eradicating Israel and accept a two state solution. John McCain's position is clear and has always been clear, the President of the United States should not unconditionally meet with leaders of Iran, Hamas or Hezbollah. Barack Obama has made his position equally clear, and has pledged to meet unconditionally with Iran's leader Mahmoud Ahmadinejad and the leaders of other rogue regimes, which shows incredibly dangerous and weak judgment."
Popular in the Community