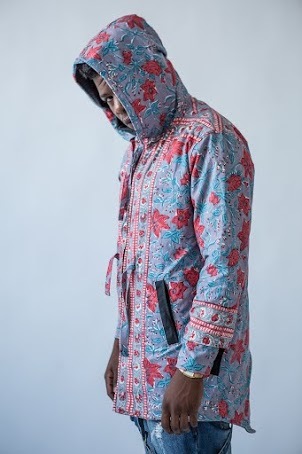 Photo by Dee Frosted
Chicago-based MC Mick Jenkins has collaborated with Supa BWE (of the trio Hurt Everybody) on a significant track that does not merely address issues of race and privilege in America - there is no reading between the lines here, no twisting of words - "Treat me (Caucasian)" is like a punch in the gut and leaves a lingering effect on the mind. Shot in Chicago, the video captures both Jenkins and Supa through the use of a split screen as they experience markedly contrasting interactions within their environments. Included in the video are recent images of police brutality, and coupled with lyrics such as, "All in your hood with my hoodie on/Skittles and tea/I'm like fourteen/treat me Caucasian," the video conveys the uncomfortable, moving, and challenging nature of the track.
As evidenced by his recent mixtape The Water(s) - which includes appearances by Joey Bada$$ and Jean Deaux - Jenkins is an artist who truly uses lyricism to paint the multiple dimensions of his outlook. I recently spoke with Jenkins about the track, writing, and his favorite poets.
J.L. SIRISUK: How has your day been?
MICK JENKINS: Pretty chill. A friend is in town, actually. It's her birthday today so we've been taking her around the city and doing a bit of shopping.
SIRISUK: That's cool. Did you do any writing today?
JENKINS: I'm always writing, actually. I write in a lot of different situations, even just from get-togethers or somebody having an event at a store front, or walking down the street. I just kind of write down lines all the time, things that pop into my head, and later when I dedicate time to writing, I arrange everything. Make them match, different lines and verses. That's what I kind of always do, keeping the poetry in my mind, because I'm just writing down my life.
SIRISUK: Growing up, was writing always something you enjoyed?
JENKINS: Absolutely. My mother was a journalist. I was always a creative writer. Yeah, it was instrumental in what I like to do. I was up for language arts a lot more than math any day so it was a vital part of my growing up.
SIRISUK: Who did you like to read back then?
JENKINS: I was a young kid. I read all the Harry Potter books. Catcher in the Rye was one of my favorite books. At that age there was a lot of reading that came from school. I started writing poetry in high school and from then I was looking at more interviews and video, talks with Toni Morrison. I wasn't reading as much, and now I pick up a book every once and a while. The last one I read was The Alchemist, actually. Like a month ago.
SIRISUK: I know you like poetry. Do you have a favorite poet?
JENKINS: There aren't too many poets, I mean in the realm of poetry, and not like rap or singing, which I actually feel are forms of poetry that I can speak intelligently about besides Langston Hughes and Shel Silverstein. I know their poetry, I did a lot of studying on Langston Hughes in high school and it just kind of stuck with me. So those would have to be my two favorites.
SIRISUK: I saw your video for "Treat Me (Caucasian)" and it's very powerful. You recorded this with Supa BWE. I want to know how this happened - how you guys came together on this song.
JENKINS: It was crazy because the first time they asked me to collaborate, I had never heard of who they were and I just checked out their music right there on the spot and then told them "no" right there, which I always felt was really cold. We're really good friends now. So many people really started liking their music around the city, it's really different. I met up with them at South by Southwest and we were just chilling and it was literally a joke. One of them from the group just said, "treat me Caucasian" and we were like "what?" and we started laughing. That was the end of it. Like two minutes later the thought hadn't left my head and I was like, "we could really do something crazy with a concept like that," and we got back to Chicago. They hit me up like a week later and already had chords and a bridge to go with it and we kind of worked, developed it, and carved it out and came up with something really, really dope. Yeah, that's how it happened. It was a joke at first and it was just an idea that was interesting for me and then we just built around it.
SIRISUK: Did you film the video in Chicago?
JENKINS: Yeah, all of it was shot in Chicago, actually.
SIRISUK: I know you moved to Chicago from Alabama when you were young. How old were you?
JENKINS: I was ten. My mother got really sick and our family had to step in to help. In 2000 was when I moved to Chicago.
SIRISUK: As a creative person, what can you say about your city? What's your relationship with Chicago?
JENKINS: I love Chicago. I think it's definitely a great city to do a lot of things in. It's a community for creating, it's very communal, but a lot of people don't know about the music side of the creative scene. I see Chance (the Rapper) any given day, I run into him randomly. I run into Alex Wiley. You see people all the time. We record out of the same places, and it's just not uncommon to walk in on someone's session and see another budding artist in the city, and that makes for really good music and competition camaraderie. I think Chicago is just like any other large metropolitan city - you know where to go, you know where not to go, you know where the violent areas are, you know how to act. All in all, Chicago is a great city.
SIRISUK: How do you feel when you're on stage? Do you ever get nervous?
JENKINS: Absolutely. I was explaining to someone the other day, it's not necessarily because there are a lot of people. It's really because it's live so I don't want you to misinterpret it or get the wrong feeling or not feel how I think you do because I fucked up. I think with performing, you have to perform to get better, making you more comfortable.
SIRISUK: In terms of going back to the track, what's something you can say about it?
JENKINS: For me it wasn't difficult to write at all once I started thinking about the concept. I have to say this first, when playing it for people - I think this is one of the most interesting things - a lot of people don't really like the idea of "Treat Me (Caucasian)." Just for an understanding of that, I don't necessarily want to be treated white but I just want equal treatment and I think that was an alarming way to make that statement. I think it makes the most sense with the first line that I say which is, "All in your hood with my hoodie on/ Skittles and tea/I'm like 14 treat me Caucasian." and we know that if Trayvon Martin was white, the situation would have gone a different way. So that's the idea of that message, because I feel like it wasn't very hard for me to write at all after I started thinking about that. Those words came kind of easy, and I think you can hear the aggression in the song from myself and Supa. These are things that we go about every day, so when I think about "oh, treat me Caucasian" when I don't get treated fairly and like lines come by second nature. I just kind of think about life for me and my friends and my people and my family. It was a liberating song for sure. I love performing it because people never really know how to act or what to do. I love it and I think its' effective in making people think about what we're talking about. Anything further than that, I couldn't say, I think that's really up to the individual.
SIRISUK: You used the word liberation. How do you feel when you write?
JENKINS: It just depends on the mood that I'm in, or how excited about what I'm saying. Sometimes it's just an expression of happiness or joy or excitement. If I'm with one of my boys or my girl, I just tap them and say "listen to this" and kind of gauge their reaction to it. It's like that moment when you're excited to tell someone something, and you tell them and they're like "oh, okay." I can give you the whole song right now but you don't have the same vision that I do, you don't know how it's gonna sound. There's so many things that are missing that I have in my head that I know I'm going to do once we get in the studio and you hear a song as raw as it is in those moments. It's really just me by myself with my own excitement and things that I do. It's my art, It's what I love to do
"Treat Me (Caucasian)" was produced by Supa BWE and Mulatto Beats and appears on the Hurt Everybody EP. For more information on Mick Jenkins, visit his Facebook page.