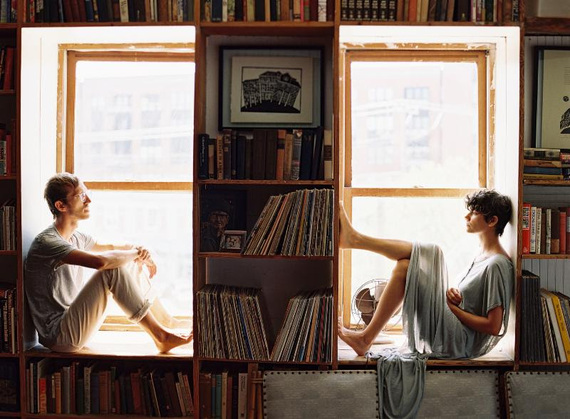 It's safe to say that in the cacophony that has been this political season, we are all looking for some peace.
"It's such a noisy time in history, people want something quieter," says Daniel Goans, one half of the duo that makes up Lowland Hum.
Indeed. And one need look no further than this husband-wife team, who just finished up their fourth release, "Thin," which is due out Feb. 10, 2017.
The other half of the duo, Lauren Goans, says that when it came time to record "Thin," they wanted to get back to their roots. "When we started doing music together, it was just the two of us," she says.
As the couple's sound palate grew, so did the band for a time in 2015. "Ultimately, we realized we wanted to make something more representative of just the two of us," Lauren continues. "I feel like it's a return to the way Lowland Hum began, but fresh and new because we are different people now."
Daniel adds, "This album incorporates some of what we achieved in our previous recordings but I'd say it's distilled or more focused."
And fans are in for a treat because they can watch the making of "Thin" in this exclusive video release right here, right now.
From the outset, this duo, who are originally from Greensboro, North Carolina, has written, arranged and produced their own music.
The Goans now call Charlottesville, Virginia, home and that's where they recorded "Thin" in a friend's attic and filmed the video in the couple's apartment.
"We filmed the video at home and at the attic studio because we wanted to give a picture of what our life was like during the season in which the album was made."
The audio from the video, which was produced by Pando Creative Co., was recorded in the place where the couple recorded "Thin," Daniel explains.
"We set up a microphone and asked each other questions about the process of the album and recorded the conversation. Lauren then edited the audio to combine our two accounts," Daniel says. He added that it is important to them that they each be represented in their creations and that the presence of each would augment and not diminish the voice of the other. The combination creates the whole that is Lowland Hum.
Lauren says, "Picking a name for yourself is weird. You want it to be of the same spirit. Then one morning I saw the two words, Lowland and Hum, together in my mind. I am a visual person. A lot of what we write about is hard to pin down. Threads buzzing with electricity connecting things. The name alluded to it. It's much more mysterious, kind of like songwriting. A lot coming from outside the creative process is mysterious. I think it came from beyond us."
The paired formed as a musical duo in 2012, not long after they were wed, and have released an album each year since. You may have had a chance to catch them at such festivals as Phuzz Phest in Winston-Salem, North Carolina, or Scythian's Appaloosa Roots Music Fest in Front Royal, Virginia, but their big break came when they caught the attention of NPR's Bob Boilen, whose team produces the now famous "Tiny Desk" concert series.
"That gave us legitimacy," Daniel says. "Nothing else has had that kind of effect."
Watch Lowland Hum's Tiny Desk concert here.
But what really makes these two click is making music -- together. "I wake up every day and say, 'Let's go, let's go, let's go. We really do just love it. I think we feel the most that we are where we are supposed to be when we are creating something together."
You can listen for yourself live when Lowland Hum opens for Josh Ritter in Charlotte, North Carolina, on Dec. 2 and in Richmond, Virginia, on Dec. 3 and with Mountain Chaser in Gettysburg, Pennsylvania, on Dec. 9. The duo embarks on headlining dates during the first part of 2017 to support the release of "Thin," according to their publicist.
Popular in the Community