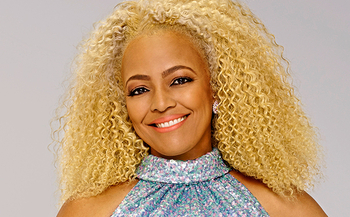 Bravo officially announced that award-winning actor and director Kim Fields has made the foray into the reality world by becoming a cast member of Bravo's #1 rated Housewives franchise, The Real Housewives of Atlanta. Fields will be joining the cast of: Kandi Burruss, Cynthia Bailey, Kenya Moore, Phaedra Parks and Porsha Williams. Noticeably missing from the lineup is Nene Leakes who announced that she would not be coming back to the reality show that turned her into a celebrity.
Fields is most recognized as roller-skating Tootie from the 1970's mega-hit show, Facts of Life and as the super, sassy Regine Hunter from the 1990's hit Living Single. Fields has been in front of the camera since she was 7 years old and continues to hone her craft as an actor. Her most recent acting credits are a Hallmark TV movie, For Better or for Worse, and motion picture, What to Expect when you are Expecting, starring Cameron Diaz. She has also been very busy behind the scenes as a sought after director and producer. She has directed successful televisions shows on TBS, BET and TVOne. Fields said, "I'm an actor, director, producer, entrepreneur, mom and wife."
It's because of Field's celebrated history as a "legit" actor and director that many have questioned her choice to join a sometimes tasteless, oftentimes embarrassing, generally degrading and always controversial reality show like the The Real Housewives of Atlanta. Fields said, "When there were rumors about me joining the The Real Housewives of Atlanta cast I was intrigued by how much chatter there was. I was humbled by how many fans were protective of me. Not the brand, but of me."
In this exclusive interview, a very candid and humorous Kim Fields opens up about her entertainment career, her decision to join The Real Housewives of Atlanta, The Real Housewives of Atlanta drama, and her family.
Tanya: Over the past few years you have taken on more directing jobs than acting. Are you still passionate about acting?
Acting is my first love. There are still so many characters inside of me that are waiting to come out.
You starred in Facts of Life for nine years and Living Single for six years. Do you stay connected with your cast mates?
Oh yes. Those are large chapters in our lives and reaching milestones and your co-stars are there to experience all of this with you. They become your family. I stay connected with everyone. When former cast mates, from both shows, come to Atlanta they come and hangout. Lisa Whelchel and I were working on a movie together for Hallmark and our kids played together. That was really cool. Erika Alexander swears that we named our son, Sebastian Alexander, after her because we were such good friends. So we let her continue to think that (laughing). I also stay connected with everyone through social media, Facetime and Skype.
You made guest starring appearances on many shows including a very memorable episode on the Fresh Prince of Bel Air where Will Smith tried to get you into bed. What was it like working with him?
Working with Will Smith was one of the highlights of my career. He is so talented and has a tremendous work ethic. We are still friends and I reach out to him and his partner to pitch ideas. He loves my mother. In fact, my mother was his son Jaden's acting coach for the movie Pursuit of Happiness.
Viola Davis gave a stirring acceptance speech during the recent Emmy awards. She spoke about the struggle women of color have in securing acting roles in Hollywood. Do you agree with Viola's statements?
There is a history in the shortage of opportunities for women of color and people of color verses our non-persons of color counter parts. I don't feel that I was often compartmentalized as an African- American actor, yet I am fully aware of the plight that actors, directors and producers of color face in our industry. I choose to focus on being proactive in creating opportunities for myself and others while acknowledging that we are not playing on a level playing field. The web, other digital outlets and technology have increased the opportunities for actors tremendously.
You are married and have two children. How do you balance your career and family?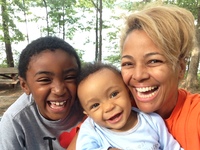 Yes, my husband's name is Christopher Morgan and we met in Atlanta. My two children are Sebastian and Quincy. I am 46 with a two year old and an eight year old. You'd think I would be a size two running after my kids like a do. There is no nanny. We have the occasional sitter. If my work causes me to be gone more than 2 days, the kids come with me. My husband and I are involved in school activities. Again this year, I am the Chair of the Black History Month events. The kids have lots of extracurricular activities too. We are 1000 percent hands on. We just make it work.
How does your husband deal with your celebrity?
I have an amazing husband who is a strong man of God. He is very dedicated to me and our family. We have been married for eight years and together for 10 years. It's not being easy being married to someone who has been in the public eye for over 35 years, but he has become very comfortable with it.
Is it more difficult to maintain privacy as a celebrity in light of the Internet?
The Internet is my scrapbook. The Internet can be a wonderful tool. But sometimes it's food and sometimes it's poison. It causes us to live a transparent life even though I am a private person. There is no hiding place although I have nothing to hide. You don't even have to be a celebrity for everyone to know your business.
What made you decide to sign on to The Real Housewives of Atlanta?
I've been asked for years to do a reality show. One of my criteria is that I would be given the opportunity to show a strong family unit. When they came to me to do the show, they said, "We love you. We love your light and we love your opinions and you can give them in your way." So far they have been great in letting me be me.
In order to be a part of the Housewives of Atlanta cast, the ladies live in the Atlanta area. What brought you to Atlanta from California?
There has been a tremendous growth in the entertainment industry throughout Atlanta. There are many opportunities in film, television and theatre. I was offered an opportunity to direct Tyler Perry's Meet the Browns. It was a time when I was thinking about leaving California anyway so it was a great fit.
What was it like to work with Tyler Perry.
I enjoyed working with him. We were family friends first. He is such a visionary. He is a game-changer. To be in Atlanta to witness his vision come to pass was wonderful. My directing Meet the Browns and House of Payne were great experiences.
How has your experience been during taping The Real Housewives of Atlanta?
Overall, its been an quite the adventure. Let me just say, it's been "different". But at this stage of my life I welcome - "different". This experience has awakened many creative voices in me. I love that I get to be me and not play a character. It has been an eye-opening experience to say the least.
How has it been working with the ladies in the cast?
For 14 years I was in an ensemble cast filled with women. I can surely navigate my way through this. Throughout the process, I've gleaned a little something from each lady. A pinch of each of them is in me. Kenya is very girly, ultra famine - in terms of her exterior. I say, yeah, I can do more of that. Kandi is straight forward - all the time. I'm a bit more diplomatic - sometimes to a fault. Yet I say, how can I use some of her candid style. Going out with ladies and having ladies night out has been very healthy for me. I give and give and sometimes I can't find me. I'm sure many moms and wives go down that same rabbit hole. I realized that I hadn't really had "me" time since 1998. Living Single was ending and I was going through a divorce, contemplating a move from Los Angeles, so I thought that since I was by myself I was having "me" time. But my sister said, "healing time" is not "me time". I realize that I was healing from a lot of pain and my faith was shaken. So I was just going through the motions of being happy. Hanging with the ladies helps me see that "me time" doesn't mean I'm a bad mom or wife. If fact, it recharges my battery to be a better mom and wife.
What is your take on your cast mates individually?
It's way too early to know how my relationships will pan out. In fact, we went on a trip and things got out of hand and I bounced. A cast member said, you have to stay, we are all in this together and I said, "I just met you, I don't owe you that!". I'm closest to Phedra because we have certain things in common at our core - our faith. We both also have 2 young boys to love and raise. Our kids have played together. Cynthia and I have the "married" thing in common although she is working through some challenges. She's also a model so we have the celebrity stuff in common. I find Porsha to be hilarious. She is in post-divorce mode and it seems to be a liberating place for her. Some may call it "wilin' out". I've been where she is. Kenya - it's way too early. She is the wild card.
I read online that Kenya directed, produced and starred in her own pilot. I would think that's common ground for you. Have you seen the pilot?
Yes. I've seen the pilot. I've seen worse. It's not that bad. She seems to get in her own way sometimes but that happens when you wear so many hats on a project. But, it has potential and the fact that she actually got it done is nothing to sneeze at.
The trailer recently released by Bravo shows you crying in one scene. What was that about?
I'm not an emotional person, but there have been touch points during the taping that have caused me to be uncharacteristically emotional. That particular scene I was talking about what I shared already - losing myself. I am an outstanding mother. I work very hard to be a dedicated wife. I am a stellar actress and I know that I am a fantastic director and producer. The evidence is when you see my sons and when I receive accolades for my work. So I knew who that person was, but I didn't know who "Kimmie" was. There have been real and very emotional moments for me.
In light of the pettiness, appalling antics and sometimes violent nature of The Real Housewives of Atlanta, what kind of drama will you bring to the series?
Maybe I'm bringing something different to this party. I can't and won't shake my home training and dignity. "Class" is in. As the younger generation would say, "Class in on fleek". Still, I'm not perfect and I can get aggravated. If you get me to my tipping point, I can become what my Living Single cast mates called me, Ruth- the ruthless, assassin child star. When you bring me your toxins, a detoxing has to happen!
Are you prepared to deal with the attacking and controversial conversations that are the breeding grounds for high drama on all of the reality shows?
I don't have the brain space to worry about, or strategize what I'm going to say in an upcoming conversation. I'm too busy worrying if I've missed my son's appointment, making sure by boobs aren't hanging to low, or what I will I feed my family for dinner. I don't have time to prepare for pettiness. What you see is what you get. My faith keeps me grounded. My faith causes me to hold myself to a higher standard. It takes a lot for me to reach my tipping point. Also, I don't take for granted the love and respect the public has for me. They've invited me into their living rooms for many years. They've experienced the highs and lows of my life. They don't view me as a stranger, they see me as their sister, niece or cousin and so, I will always be the Kim they know and respect.
What has been your most surprising experience with The Real Housewives of Atlanta?
I went into this with no real expectations or judgements. I didn't know anyone's history because I don't have time to read and watch the gossip. Now, if their drama was on Nick Jr. or Disney Channel, I would be up to speed. So when the ladies are sharing very personal and shocking information, I'm thinking, "Y'all know people can hear you and cameras are here" and "did you just say that out loud?". I promise you, every one of my reactions is real. But then I realized, this is their world. This is what made them famous. Their honesty and transparency is what their audience expects and what makes The Real Housewives of Atlanta a successful show.
Fashion is a big part of all of the Housewives shows. Will you be wearing couture.
I will be wearing "Kimtoure". I just made that up. I like it! I do not have an off-the-rack body type (laughing), so my fabulous designer and stylist, Victoria Shaffer, makes sure I'm putting my best foot forward. She has designed for legends in the business - so I'm good. Even this - the struggles I have with my body and wardrobe is a journey we'll share. Listen, I've been in the entertainment world for almost 40 years, but this reality game is on another playground. Still, I'm really excited to be playing in this space!
Other than being on The Real Housewives of Atlanta, what else are you working on?
My newest hat is that of an entrepreneur. I have a maternity line called Kicks and Giggles that will launch in the next couple of months. I will be launching two networks soon. I have taken copious notes from legends in the business over the years. There still remains a void for viewers and I've been blessed with a vision. My ideas have been validated and confirmed by industry giants who are willing to help a sista out. I am very excited about this next chapter of my life and career and I hope that my fans and friends come with me on this journey.

The Real Housewives of Atlanta premieres on Sunday, November 8 at 8/7c. To see more great pictures of Kim and her family, visit: IntheLoop.news or TanyaYoungWilliams.com
Popular in the Community