President Obama has done an outstanding job of granting clemency to deserving prisoners, fostering a better attitude toward returning citizens through criminal justice reform measures, and helping to end sentencing guideline disparities by implementing the crack cocaine and all drugs minus two legislature.
However, those who've served time in our nation's correctional facilities still struggle with employment, housing and educational opportunities because of their past criminal convictions. Being branded and stigmatized due to their incarceration, creating a barrier that's kept recidivism rates high. And one ex-con is trying to change the game up by asking Obama for a presidential pardon.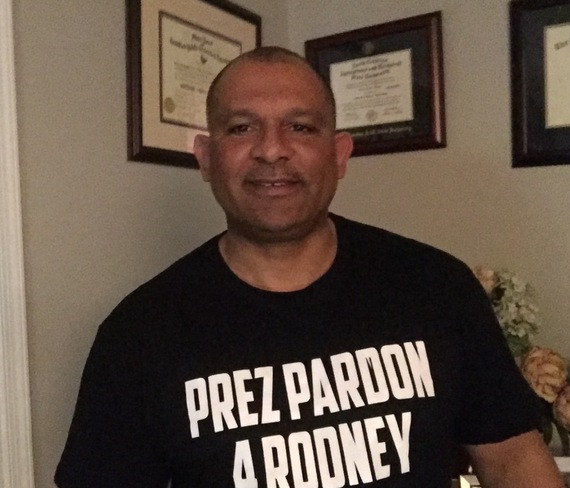 Meet Rodney White, a 51-year-old Richmond, Virginia native who spent 15 1/2 years in federal prison as a result of a first-time, nonviolent drug conviction for conspiracy to distribute cocaine, crack and heroin. Instead of becoming the failure that society dictated, White got out in 2007 and earned a bachelor's degree in Liberal Arts at the University of Richmond and then followed that up with a masters in Adult Education at North Carolina A and T State.
He now works at Danville Community College as a career coach and is very active providing guidance, help and resources to not only students, but other prisoners when they come home too. After being refused several job opportunities because of his felony conviction White decided to apply for a pardon to highlight the plights a returning citizens encounter.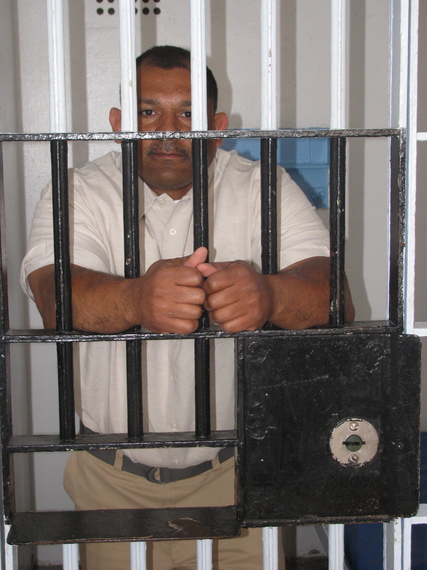 "A presidential pardon will allow me to have all of my rights restored as a United States citizen." White says. "Since I am a federal offender I must make my request to the President of the United States to be pardoned. Then I could move or live anywhere in the United States and be able to vote, serve on a jury, or hold public office if I choose."
When he started looking into getting a pardon White found that the process was very difficult. The application seemed a deterrent to the process. It wasn't something he could just complete and submit. He needed professional help.
"The process requires the completion of a 23-page application with multiple areas of information that must be completed on a .pdf formatted document that's not user friendly." White says. "I have Wake Forest School of Law helping me and the level of detail isn't something the average person would be able to complete and submit with any level of success. Success through this procedure would be like hitting the forgiveness lottery. Therefore, I have started the We the People Campaign in effort to get the White House to look at my pardon and the process.
"I believe that the document should be simplified and shortened. It should not take 23 pages of information to make this decision." White continues. "Additionally, the review process should start while a person is on supervised release and persons that have a successful supervised release should become candidates for pardons. This would surely create a motivation to do well on supervised release. As an example I did everything I could to get off paper early. I am not asking for a pat on the back for what I should have done as a responsible citizen. I am just asking that I be treated like a responsible citizen once I have paid my debt to society."
White's petition is not so much about him as it is about all the people that the justice system has failed upon their return. He wants to bring the issues he is dealing with to the forefront of the national conversation. Even if he doesn't get the 100,000 signatures needed for his petition, White is raising awareness concerning the stigmatization of ex-cons and how difficult the pardon process really is. If America is the land of second chances why is the act of paying your debt to society so hard to bring to a close?
"I have never hidden my criminal conviction. I am probably one of the few people that embrace it and put a prison picture on social media for all the world to see." White says. "I don't do it to create any level of controversy. I do it so that other returning citizens may have a greater opportunity. So, that people that know me and know the work that I do may give another returning citizen a chance and that other returning citizens may use my story to help them shape their own."
But P.S. Ruckman, Jr. a professor at Northern Illinois University, who runs Pardon Power, doesn't think a pardon will help White.
"There are some legal nuances and debates in the background." Ruckman says. "While a pardon my clear a record and end all official, federal governmental punishment / restrictions, there may be others (collateral consequences) lurking from professions or the states. This is why 'ban the box' initiatives are so important. Sadly, a commutation of sentence can be an amazing second chance in life for a prisoner. But the hurdles they face in re-incorporating themselves back into society as productive members can be enormous. These may be problems which cannot be solved, but they deserve our attention. I was invited the closed briefing on 'Life After Clemency' at the White House last month. It certainly dramatized how brutal the process of getting back on one's feet can be."
And Jeffrey Ian Ross, a Criminologist at the University of Baltimore, agrees with Ruckman.
"This individual needs to collect 100,000 signatures." Ross says. "I'm not sure there's enough people who are willing to sign. It was not as if he was wrongfully convicted. I also question how much a pardon of this nature, will assist him in securing work or a better job, in the future. Also I do not think that the current climate of presidential commutations will assist much. These are mainly directed to individuals who are behind bars who have served long sentences."
But White believes in clemency and second chances. He thinks now is the perfect time to raise these issues. He feels that ex-cons are treated as second class citizens and that their felony conviction marginalize their attempts to re-assimilate to society.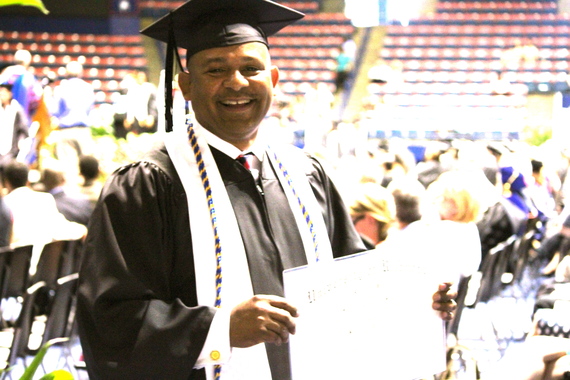 "I think that we need to look at the pardon process as being indicative of the many challenges that a returning prisoner must face. I spent 15 years six months in federal prison and after 9 years of freedom as an educator, mentor, father, and husband I still must seek forgiveness for a mistake a I made almost 30 years ago." White says. "We must improve our system of forgiveness as we have begun to review our system of justice. Since President Obama has been the first to enter a prison and speak with actual inmates I believe that he may do just a bit more before leaving office to help citizens like myself so at the very least we can have a more user friendly way of applying for the pardon process."
The president's clemency record is improving with 306 commutations to date and Julie Stewart from Families Against Mandatory Minimums thinks Obama is going to continue to grant commutations over pardons, releasing people from prison rather than restoring their rights.
"President Obama is prioritizing commutations over pardons- note that he has granted only 70 pardons during his presidency, fewer than any President since clemency stats have been recorded." Stewart says. "I think the President's focus on commutations makes it harder for a pardon applicant to be granted."
And so White faces an uphill battle, but he plans to submit his pardon application even though he didn't get the signatures. The deadline for his petition was May 12.
"I will still submit the pardon and hope that it is reviewed, but I would probably have a better chance of hitting the lottery." White says. "But just getting the word out is a tremendous win for me. I do want a Pardon, but I want even more for there to be jobs and education in our communities for returning citizens. If given the opportunity to hire or interview a returning citizen employers should give them the chance to prove themselves. The biggest change doesn't happen because a law of rule is changed. The biggest change is when we truly forgive those of us who return to society."
Calling all HuffPost superfans!
Sign up for membership to become a founding member and help shape HuffPost's next chapter