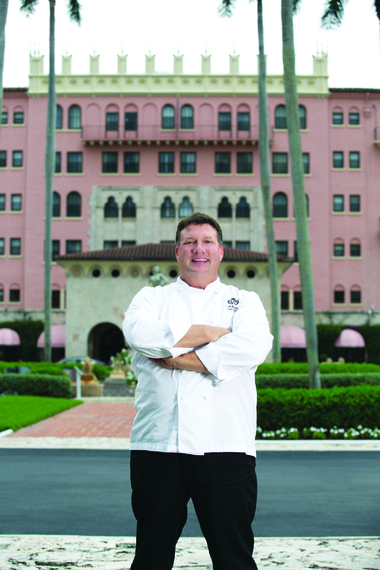 I met up with Executive Chef Andrew Roenbeck in the garden room of the Italian restaurant Lucca at the Boca Raton Resort & Club. Gregarious and friendly, Andrew is a strong presence at the resort, having worked there for 26 years, first starting out as Executive Sous Chef for 14 years before taking over as the Executive Chef. He oversees 178 cooks, 65 stewards and 15 area chefs at the 13 restaurants located throughout the resort, club and clubhouse.
Andrew attributes his job tenure to the specialness of the resort. "The longevity of the team here is abnormally long because it's such a dynamic place. There is flashy, newer competition out there, but they don't have what this resort has. Our guests and members and convention attendees are well-traveled, understand quality very quickly, and their expectation is high. So our job is to make sure that, even though we are a historic property, we are staying ahead of what the current trends are but weighing that against being too flashy."
He doesn't have a typical day but his job goes beyond what the job title suggests. "The reason why I can stay here as long as I have is because, truly, each week and each day there is something new. When you are dealing with that many associates, it's kind of like working at the United Nations. If you name the nationality, personality or temperament, we have it. You have to be as much of a chef as you do a financial planner, a guidance counselor, even a pastor at times. It's amazing what comes across the chef's plate here and to keep all the moving parts moving is unique."
Andrew has had many mentors during his career to prepare him for this role, including Steven Hall who ultimately convinced him to come to the resort. His job is very detail oriented, and there is a lot of precision that goes into creating what he calls the "boca twist". One example he gives is something he learned from mentor Kelly Vohs, who taught him that "a restaurant has to have something called MELT. It's music, entertainment, lighting, temperature. If one of those is off, you don't feel comfortable in the space and you won't want to go back to it, even if you don't know why. As an owner, you have to ask yourself if one of those things is off. So when we look at a restaurant, we want to make sure, before we open a restaurant, is the music and volume correct, is the temperature correct and does it need be adjusted throughout the night."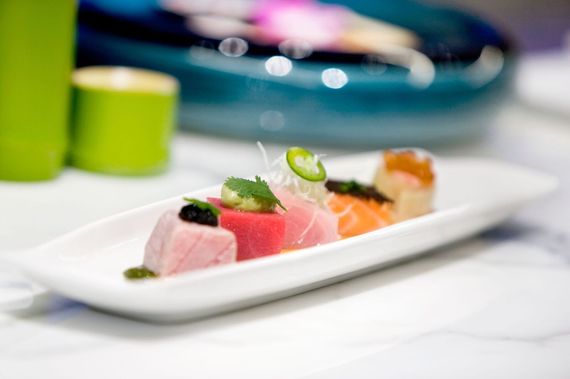 Andrew credits the resort with changing to keep up with the current times, yet keeping the strong traditions. He strongly believes in the individuality of each restaurant at the resort. "Every restaurant needs to swim in its own lane; there can't be crossover. I don't care if we have a number one selling dish - what you don't do is drop that dish into every menu at the resort." The menus change seasonally, four times a year, as do the drink menus. They source the food, whenever possible, using local farms for produce, including hydroponic farm Swank Specialty Produce, and four local fisherman to bring in the fish daily, and SeaGrille offers a list of "today's catch" of fresh fish which changes on a daily basis. The resort also obtain a good portion of their Kobe Wagyu beef from nearby Jackman Ranch, located in Florida, that raises its cattle free of hormones and antibiotics. Regarding the unique drink menu, Andrew comments that, "Eric Hammer moved specifically into the Director of Beverage role a year and a half ago because we wanted to make sure that we were focusing on the current trendy drinks, and the creativity that comes with that."
Lunch options are equally important to Andrew as they average 1500 lunches on the pool deck in three hours. He underscores that, even at lunch, "presentation is key", with the chopped salads being served in two oversized martini shakers (one upside down on top of the other), and entrees being served in stackable beach-boxes that were custom-made for the resort.
I ask Andrew to name a signature dish at Lucca. "One item that has been on the menu since day one, and we cannot take it off the menu or we are probably going to have a riot at the door, is the Scallops Piccata. It has a caramelized spaghetti sauce with sage and capers and golden raisins, and our beautiful scallops go on top." Any family recipes? "'My mother's potato salad " he says with a laugh, sharing that he often goes into the walk-in refrigerator to sample the daily prepared salad and make sure that it stays spot-on.
In terms of the best part of his job, "I love a good challenge. I love when we have events that are creative partners with us. When they are looking for the next, best great thing, and we can work within their budget to execute that in the event space or within the restaurants. You have to wear so many hats at a large property like this, you are constantly on the move. As Kelly Vohs would say, 'BTTY'. Better today than yesterday."
To find out more, click here.