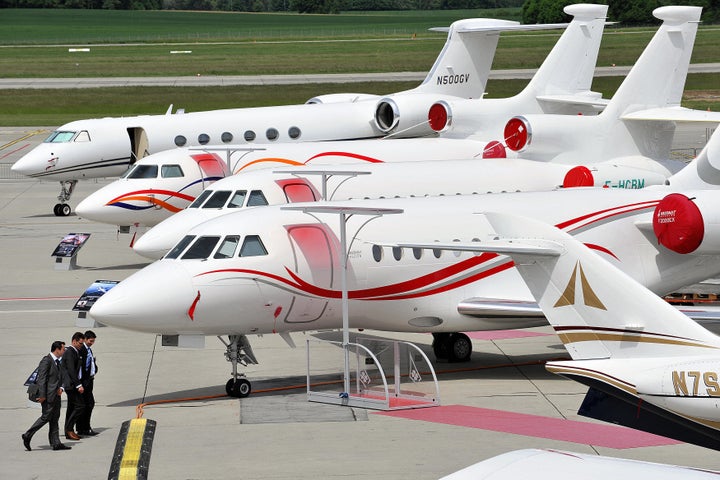 WASHINGTON -- CEOs at 299 U.S. companies earned a staggering $3.4 billion combined in executive compensation in 2010, a new study by the nation's largest labor union found.
Nearly 190 of those chief executives got a pay raise compared to their 2009 levels, the AFL-CIO noted in a report presented to reporters on Tuesday. The total amount of compensation represented a 23 percent increase from the prior year. In all, the sum of the salaries earned by those 299 CEOs equalled the combined average earnings of more than 100,000 workers in their respective companies.
The figures, which are part of the union federation's annual Executive PayWatch -- a searchable database examining publicly available payment information from S&P 500 Companies -- reflect what AFL-CIO president Richard Trumka called a culture of "runaway CEO pay." The numbers were presented as part of a larger pitch for Congress and the President to clamp down on executive compensation and protect the gains made on this front in the financial regulatory reform bill passed last year.
"The game is pretty rigged when it comes to the directors," said Trumka. "It is getting a little better because the spotlight that we have been trying to shine on this for 15 years is starting to get a littler brighter now. We are having a moderating effect. But I think if the spotlight were to go away the game would go right back to what it was before."
A request for comment from the U.S. Chamber of Commerce, which lobbies on behalf of business interests, was not immediately returned.
Under the financial regulatory reform bill, commonly known as Dodd-Frank, shareholders of publicly traded companies are given a say-on-pay vote on executive compensation. While the votes are not binding, union officials view them as a vehicle for spotlighting -- or at least embarrassing -- executives who earn vastly disproportionate wages compared to the rest of their work force.
Among those CEOs highlighted in the AFL-CIO's presentation were Viacom CEO Philippe Dauman (who was awarded salary, stock and other benefits totaling $84.5 million during just nine months of 2010), Occidental Petroleum CEO Ray Irani (who was paid more than $76 million in compensation) and Abercrombie and Fitch CEO Michael Jeffries (who earned more than $36 million). According to the AFL-CIO report, the average pay of the 299 CEOs would cover the salaries of more than 700 minimum-wage workers.
"The levels of pay that we are seeing today are simply unacceptable," said Brandon Rees, Deputy Director of the AFL-CIO's Office of Investment.
Outrage over an imbalance in compensation levels is nothing new for the union federation. The 12 million-member AFL-CIO has been putting out Executive PayWatch studies since 1997. Since then, compensation for CEOs has soared dramatically.
At various points, different remedies to curb rising CEO pay have been proposed, including advocating that companies that receive federal funds should be subject to actual caps on executive salaries. Now, however, proponents of limiting CEO pay have scaled back their ambitions, pushing transparency and the subsequent public shame as key remedies.
"This is a particularly important time for shareholders and anybody who wants to hold CEO's accountable, because the regulations are being written right now… and [companies] are doing everything they can to try and dilute those regulations," said Trumka. "[Any] spotlight that can be put on them right now and their efforts to try to dilute the law and go back to business as usual for Wall Street is very, very helpful."
UPDATE: J.P. Fielder, a spokesman for the U.S. Chamber of Commerce, sends over the following reaction to the AFL-CIO's push to tackle CEO pay.
The Chamber feels that corporate executives' compensation should be based on a balance of individual accomplishment, corporate performance, adherence to risk management, and compliance with laws and regulations, with a focus on shareholder value. The government should not pick winners and losers.
Support HuffPost
The Stakes Have Never Been Higher
Related
Popular in the Community