While we all sit mesmerized by the latest embarrassment to America coming from the Trump campaign, we need to remember that winning an election requires positive action on behalf of your candidate. You don't win because the other guy loses; you win by persuading people to vote for you. And then you have to work to get out that vote on and before Election Day.
I want to mention some of the many dedicated volunteers who have been working in support of the Clinton campaign. People like my filmmaker friend, Fiona Dawson, and her cohort in Executive Women for Hillary (EW4H), have been doing their part to get out the vote for Secretary Clinton.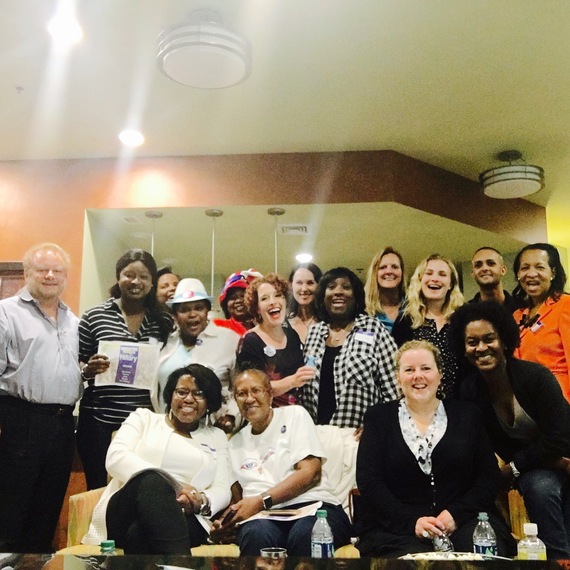 Fiona, whom I will discuss later, was invited to join by Sarian Bouma, an author (Welfare to Millionaire) and motivational speaker retired from running an award-winning small business. Sarian describes her involvement based upon EW4H's work "on issues that affect women as we fight for advancement and equity in the workplace." Her work in improving the lot of women-owned small businesses inspired her to join with other women to promote Hillary's policies and her candidacy, and she currently serves as the State Co-Chair covering Maryland, Virginia and the District.
Sarian invited Fiona, a multi-media director, producer and writer whose latest project is Transgender at War and in Love, an Emmy-nominated film. She's been a major leader in the LGBT community for over a decade and one of the pivotal actors in bringing open trans service to the United States military. Her film is part of "TransMilitary," a media platform for transgender service members, and a video project that set out to contrast the lives of American transgender military personnel and their British counterparts.
Her efforts, now driven from her home in Silver Spring, Maryland, are dedicated to overcoming stigma and discrimination, and fit beautifully into the LGBT policy agenda of the Clinton campaign. I spent an evening watching Sarian and Fiona teaching and inspiring a group of women (and the occasional stray man) to be effective communicators to undecided voters. These women needed no coaxing themselves to support Hillary; they were there to learn the most effective tools to win over the rare undecided voters and millennials who, new to the political process, are still nursing their wounds over Bernie's loss to Hillary for the Democratic Party nomination.
There are many ways to speak to millennials; I've tried them all. Some are willing to listen, others will argue and refuse to budge. What Fiona, speaking for EW4H, brought to these eager activists was the strategy of active listening - listening carefully, speaking little, and then, based on your interlocutor's concerns, offering reasons to vote for Hillary.
When I asked Fiona how she got involved with Sarian, she responded with the following, where she also explains her commitment to Secretary Clinton and, more importantly, America:
I became a U.S. citizen in 2008 so I could exercise my right to vote. I was a Hillary Clinton supporter before an Obama supporter, so it didn't cross my mind that I wouldn't get involved in her campaign this year.
When I asked Fiona what role her sexual orientation, if any, plays in her choice of advocacy, she replied:
Yes, I'm bisexual, but I've identified as being an immigrant and a woman for much longer than either of those. The dimensions of my diversity are important to acknowledge, only simply to be visible in our efforts for inclusion. However, I'm an American who values life. I could not live with myself if I didn't give all I have to elect Hillary Clinton for President.

I was participating on a diversity panel at the DNC in Philly this year, where I met Sarian Bouma who invited me to join her in being a DMV State Co-Chair for Executive Women for Hillary (EW4H). I jumped at the chance to be a part of an organized, likeminded, national group of women volunteering for the campaign. Yes, we're going to elect Hillary, but we're also forming friendships and business connections as we work together. We're inspiring one another and expanding the diversity of our social circles. I love that the organization is made up of people from many different races, ethnicities, countries of origin, industries, first languages, and probably sexual orientations.

We're now within a month of Election Day I enthusiastically invite anyone -- regardless of sex-assigned-at birth or gender -- who wants to wake up November 9th knowing come January 2017 we will be saying, "Mrs. President," to join EW4H. It could well be the shortest, but the most critical and most satisfying, volunteer job you've ever done in your life.
So while you cleanse yourself from the latest Trumpist filth, and explain to your children how a bully who brags about assaulting women can be a candidate for President and supported by 35-40% of your fellow Americans, take some time to work to get out the Democratic and democratic vote. As President Clinton said at the Convention in July,
Your children and grandchildren will thank you.

REAL LIFE. REAL NEWS. REAL VOICES.
Help us tell more of the stories that matter from voices that too often remain unheard.