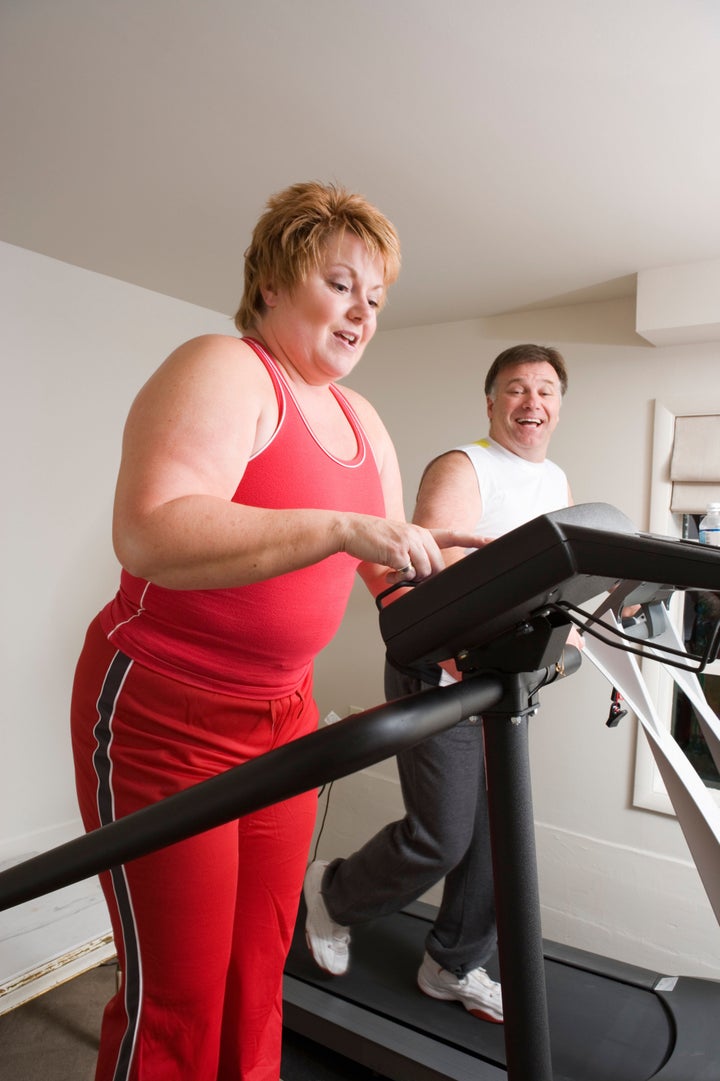 NEW YORK (Reuters Health) - Even fairly modest amounts of exercise can help older obese women lower their blood pressure numbers, a new clinical trial suggests.
In a study that randomly assigned 404 women to exercise or not, researchers found that lower-intensity activity -- walking on a treadmill or pedaling an exercise bike -- curbed what's known as exercise blood pressure.
That refers to blood pressure levels during physical activity, including daily routines like walking around a store or climbing stairs.
While it's normal for blood pressure to rise when we're active, steeper increases have been linked to a heightened risk of heart disease -- independent of a person's usual blood pressure at rest.
So the new findings, the researchers say, reinforce the importance of staying physically active.
"Try to keep finding ways to fit more physical activity into your life," said lead researcher Damon L. Swift, of the Pennington Biomedical Research Center in Baton Rouge, Louisiana.
It's familiar advice. But the findings, reported in the journal Menopause, strengthen the case for exercise, say the authors, because they come from a well-designed study in which sedentary women were randomly assigned to exercise or stay inactive.
The fact that exercisers showed a blood pressure benefit suggests that the exercise, itself, deserves the credit.
For the study, Swift and his colleagues recruited 404 women ages 45 to 75 who were overweight or obese, sedentary and had higher-than-normal blood pressure.
They randomly assigned the women to one of four groups: three that exercised at different levels for six months and one that stuck with their usual lifestyle.
In one exercise group, the women got the equivalent of what experts generally recommend for most adults: about 2.5 hours of moderate activity per week.
A second group got only about half that amount of exercise, while the third worked harder -- equivalent to almost 4 hours of moderate activity per week.
In the end, all three exercise groups showed improvements in their exercise blood pressure. In the most-active group, systolic blood pressure (the "top" number) dropped by an average of about 14 points.
But the least active group was close behind, shaving 11 points off their systolic blood pressure.
Exercise did not change the women's blood pressure at rest, however.
But since high exercise blood pressure may put a strain on the heart, lowering it -- even without effects on resting blood pressure -- might do the heart good, according to Swift.
And even people who do not have full-blown chronic high blood pressure may have abnormal exercise readings.
"One of the things we saw was that even among women with pre-hypertension, a good portion had abnormally elevated exercise blood pressure," Swift said.
'IT DOESN'T TAKE A LOT OF EXERCISE'
At the study's start, 204 women had pre-hypertension -- higher than 120/80 millimeters of mercury (mm Hg), but lower than the threshold for high blood pressure, which is 140/90 mm Hg. Of those women, about 40 percent had abnormally high exercise blood pressure.
According to Swift, the bottom line for current couch potatoes -- men and women of all ages -- is that it doesn't take a lot of exercise to see potential health benefits.
"A lot of people think of exercise as this big thing that will take up a lot of their time," Swift said. But simple things like a walk around your neighborhood can fit the bill, he noted. "You don't have to go to the gym."
And don't get discouraged if you fail to shed pounds, Swift said. In this study, women who exercised did not lose weight, but they did lower their exercise blood pressure and boost their overall cardiovascular fitness levels.
It is always wise, however, for sedentary overweight people to have a check-up with the doctor before becoming active.
"It's good to know if you have a condition that could be aggravated by exercise," Swift noted.
SOURCE: http://bit.ly/xpRSqs Menopause, online December 12, 2011.