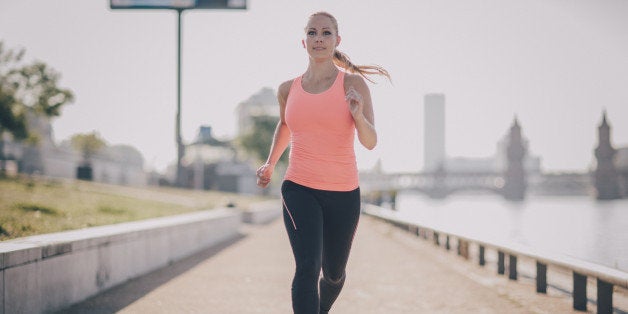 Exercise could alleviate a common side effect of breast cancer treatment, according to a new study.
The study, presented at the San Antonio Breast Cancer Symposium, shows that doing 150 minutes a week of moderate intensity aerobic exercise and twice-a-week supervised resistance and strength training helped to alleviate joint pain systems for women with a certain kind of breast cancer as they took drugs called aromatase inhibitors.
People with stage 1 to 3 hormone receptor-positive breast cancer -- which is the type of cancer nearly 70 percent of newly diagnosed breast cancer patients have -- are recommended to undergo treatment for five years with aromatase inhibitors after receiving surgery or another primary treatment. But as many as half of people taking aromatase inhibitors report joint pain, and some even stop taking the medication because of this pain.
"These results are a promising first step in developing clinical interventions that can improve AI-associated joint pain and, in turn, AI adherence, breast cancer survival, and quality of life," study researcher Melinda L. Irwin, Ph.D., M.P.H., an associate professor of chronic disease epidemiology at the Yale School of Public Health and co-leader of the Cancer Prevention and Control Research Program at the Yale Cancer Center, said in a statement.
For the study, Irwin and colleagues assigned 61 postmenopausal women diagnosed with stage 1 to 3 hormone receptor-positive breast cancer, who were taking aromatase inhibitors and had joint pain, to the exercise regimen. Researchers compared their joint pain symptoms with 60 other women who had the same kind of breast cancer and took the same drugs, but who were not assigned to an exercise regimen.
The more the women exercised, the less pain they had. For instance, women who attended 80 percent or more of the supervised strength training classes reported a 25 percent lower pain score. But women who attended fewer than 80 percent of these classes only experienced 14 percent lower pain scores.
Women who improved their cardiorespiratory fitness through the moderate intensity aerobic exercise by 5 percent had 29 percent lower pain scores, versus a 7 percent decrease in pain scores among women who improved cardiorespiratory fitness by a smaller amount.
"The intervention also induced favorable changes in body weight and cardiorespiratory fitness, factors that may be linked to incidence and severity of AI-induced arthralgias," the researchers wrote in a study abstract (arthralgia is the medical term for joint pain and stiffness). "Further work is needed to determine whether exercise leads to increased AI adherence and possibly better outcomes in women with breast cancer."