Exercise or ... browse the Internet?
Facebook, YouTube, Twitter and surfing the Web are becoming a popular pastime among Americans. Is the Internet getting in the way of people taking time to exercise?
Thousands upon thousands of people across the country were asked, "If you do not exercise regularly, what is the main reason why?" The Normal Bar interactive survey reveals that the No. 1 reason why people choose not to exercise is that "They don't have the time to exercise." Seventeen percent of 22,000 people said they were too tired and more than 30 percent said they just they didn't have enough time.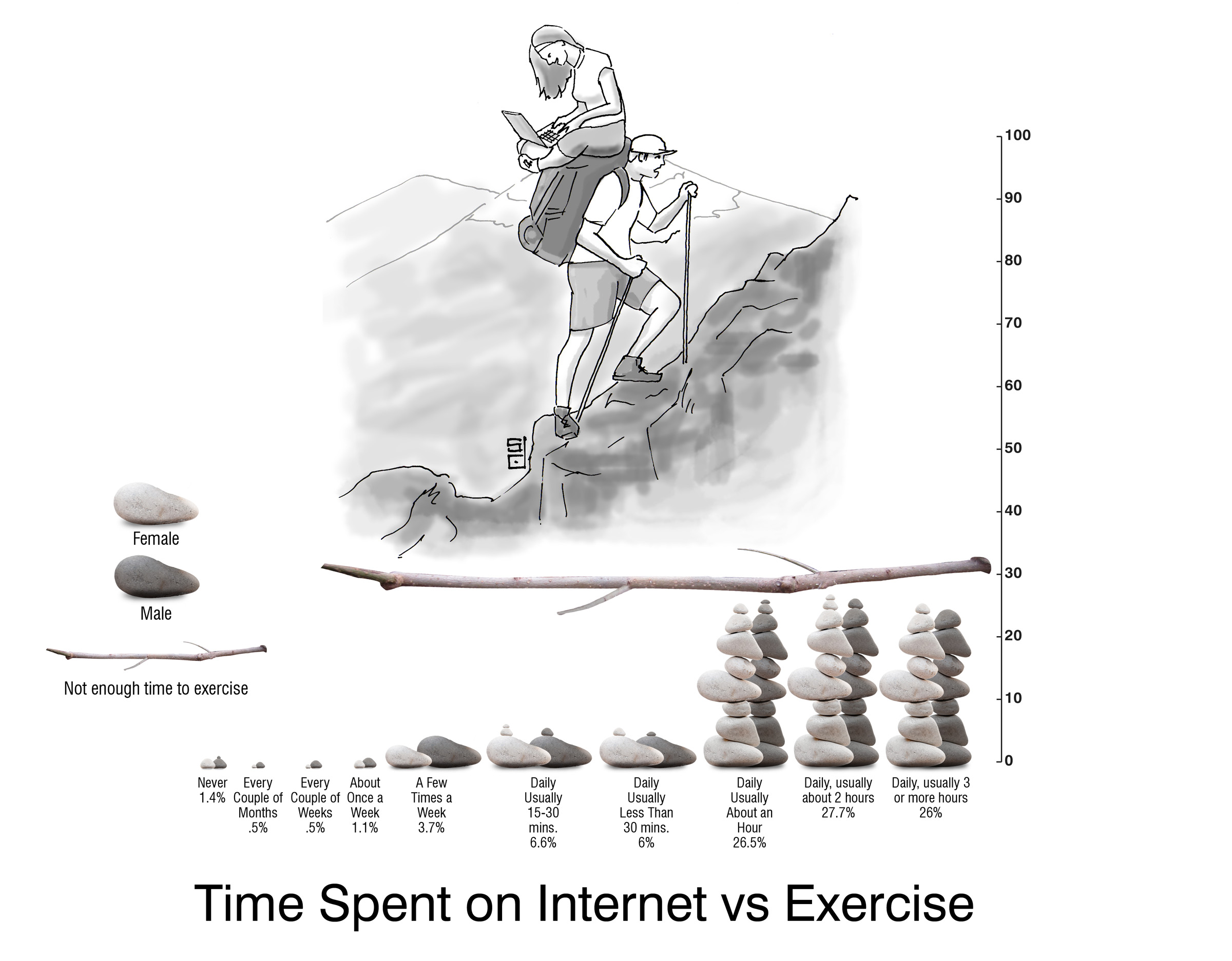 Not enough time? I don't think so! The same people were asked, "How often do you go on the Internet for pleasure?" Eighty percent said they typically spend more than an hour a day, seven days a week, on the Internet for fun. Twenty-six percent answered that they spend more than three hours a day on the Internet daily!
Clearly, it's not about not having the time or even finding the time to exercise, it's about how people choose to spend their time. People would rather browse the Internet than exercise.
Nell Stephenson, a 10-time Ironman triathlete, with four appearances at the World Championships, states, "Unfortunately, many people have become completely disengaged from physical activity. They've reached a point where it feels like a chore; something they have to do to appease their doctor or as part of a short-lived weight loss attempt. They choose activities they know they do not enjoy and then, not surprisingly, don't tend to stick with them for the long term."
So, what does it take to motivate someone to work out on a regular basis? More than 30 percent of respondents answered that "having somebody hold them accountable, (trainer, friend, co-workers)" would do the trick.
Another question the Normal Bar asked: "If your partner chooses not to exercise, how does this effect your decision to exercise?" Twenty-seven percent were less likely to exercise if their partner did not and another 30 percent said they were less likely to exercise if their friends chose not to exercise. Nell said she believes that "surrounding yourself with people who choose not to exercise, can be contagious -- another reason why it's important to build a support group and challenge each other towards a goal."
What else might get people to the gym? The second most popular motivator that the Normal Bar found was finding a great exercise program. Twenty percent of people thought they would be more motivated if they "found a program they could enjoy." Surprisingly, age and gender had little to no effect on the results.
So here's the deal: Try holding yourself accountable by challenging a group of friends or co-workers to have better fitness and health. People are quick to let themselves down when it comes to a commitment to exercise, but not so quick when it comes to a commitment to a friend, trainer or co-worker. Challenge a group of employees, co-workers or friends to cut out all processed food and sugar for 14 days, along with doing 20 minutes of exercise a day by trying a different fitness activity each day. Maybe even try different fitness programs together. Most facilities have a free class for people to try. The choices are endless ... yoga, biking, running, walking, swimming, pilates, racquetball, tennis, hiking, rock climbing or CrossFit. Check out local fitness facilities near you. You can even add an extra level of fun to your challenge by having each person pitch in $25 that will be awarded to the winner of the challenge. If everybody sticks with the 14-day challenge, use the money to do something fun. Being held accountable by each other will ultimately bring everybody one step closer to better fitness and health!
How much time do you spend on the Internet vs. exercise? Weigh in by participating in the Normal Bar Survey.
For more information about the Normal Bar Survey, click here.
Related