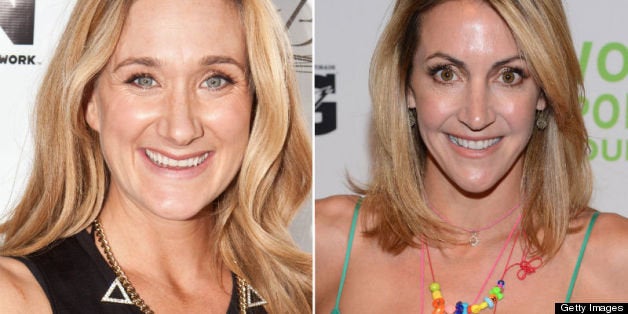 In early March of this year, I had the opportunity to attend a panel discussion in Los Angeles moderated by ESPN's Ramona Shelburne, featuring the highly-decorated Olympic athletes Kerri Walsh Jennings, three-time Olympic gold medalist in beach volleyball, and Summer Sanders, winner of four Olympic medals in swimming, including two Olympic gold medals.
The panel discussion featured Walsh-Jennings and Sanders talking about their lives and loves and was veritably overflowing with bonhomie and good cheer. Walsh-Jennings, aptly nicknamed "Six Feet of Sunshine," was eight months pregnant at the time, but this minor fact seemed to have little to no bearing on her energy level or enthusiasm. When introduced to the audience, she gaily bounded across the stage, ear-to-ear grin on her face, and proceeded to give a most rousing and uplifting talk.
Similarly, Summer Sanders, the most decorated American swimmer at the 1992 Barcelona Olympics, was just as upbeat, sweet, and inspirational, regaling the audience with tales of how she woke up at 4 a.m. every morning during high school to fit in swim practice before classes started. Now since retired from swimming, Sanders has parlayed her Olympic success into a thriving career in TV and sports broadcasting and somehow still manages to run and vigorously work out every day.
As I listened to these elite female athletes speak, I couldn't help but be struck by how vibrant, cheerful, and just plain happy they seemed. They were truly oozing positivity from their pores! And as a psychiatrist, it really got me thinking about the link between exercise and mental health. If there ever was a testament to the power of physical fitness on the mind, it was right here in front of me, evidenced by these women, who despite hectic work schedules, child care obligations, and numerous other responsibilities, seemed to have boundless energy, perpetual twinkles in their eyes, and genuine smiles on their faces. Such a contrast to the forlorn, fatigued, and drawn-out countenances so common in psychiatrists' offices across America. So what can we regular mortals learn from these Olympians? And how can we realistically incorporate exercise into our lives for better mental health?
Well, if we've heard it once, we've heard it a million times. Exercise is good for you. A sound mind in a sound body. The mind-body connection. Walking is man's best medicine (that last one's from Hippocrates over 2,400 years ago). As a society, we've been practically inundated with these concepts for years, and yet many of us (myself included) consistently fail to make physical activity a regular and enjoyable part of our lives. Perhaps we physicians are partly to blame for this national slide into sloth as we're often quick to prescribe pharmacological and surgical interventions instead of stressing the importance of movement on mental and physical well-being. And since May is "Exercise is Medicine" month, as designated by the American College of Sports Medicine, now would be the perfect time for us to reopen a dialogue on the subject and increase national awareness.
Going back to our Olympians for inspiration, both Sanders and Walsh-Jennings stated that they perform rigorous aerobic exercise on a daily basis, which numerous studies have shown positively impacts mental health. Depression, anxiety, chronic insomnia, even symptoms of panic disorder can be alleviated to a certain extent with the addition of moderate aerobic exercise to our weekly schedules. Just walking briskly for 30 minutes each day, three to five days a week, can substantially improve mood and mental functioning by elevating levels of serotonin, norepinephrine, and dopamine in the brain (coincidentally, the same neurotransmitters that antidepressants work to influence). Neurobiological studies also indicate that exercise increases the generation of new neurons in the adult mammalian brain -- a concept that I find fascinating considering antidepressants have been found to do the very same thing.
Walsh-Jennings also highlighted the fact that she strives to live a whole and balanced life, making time for her family and faith, in addition to her rigorous volleyball training schedule. Before each game, she repeats the mantra given to her by her coach -- "breathe, believe, and battle" -- and believes that champions are first made in the mind, that the psychological training is the hardest, whereas the "physical stuff is easy." Similarly, I imagine for many of us, getting motivated to get off the couch and make it out the door is where the real struggle is, not necessarily the actual act of walking or biking or hiking.
A case in point: Sanders believes without a doubt that "getting her run on" makes her happy and contributes to her overall level of well-being. She took up running after retiring from swimming and "runs like she used to swim," by creating a schedule and setting concrete goals. As a busy working mom, she strives to fit her workout into the smallest amount of time possible and always makes physical fitness a top priority for not only herself but for her children as well.
So what can we non-Olympians do when we're sitting on the couch, mopey and sad and stressed and not at all motivated to exercise? Many of us seem unnaturally overwhelmed by even the thought of physical activity. We either feel obligated to go all out to make it even worth it (e.g., run so hard and for so long that we are huffing and puffing and about to collapse). Or we exercise religiously for two months straight and then fall off the map for another six months before taking up the cross again. How would it be if we took a calmer, kinder, more even-keeled approach?
In my practice, I encourage patients to start walking for five minutes a day. Literally set a timer for five minutes and try to walk somewhere during that time. That initial five minutes usually turns into more, but the length of time spent walking isn't even the point. The point is to start being proactive about your mental health in small, sustainable ways. I also do longer walking psychotherapy sessions with patients who can tolerate that level of exertion and most clients find it quite enjoyable. I honestly can't fathom a single downside to walking in a beautiful garden or peaceful park for a little while each day. In fact, on a personal level, I've canceled my fancy gym membership and now just get outside as often as I can. I also accept that I can't always exercise to the same extent every day of the week due to work obligations. And that's okay. But I keep a list and check it twice. Did I at least go for a 30-minute walk a few times this week? Did I take time out to stretch, meditate, and do the things I most enjoy? Am I making my mental and physical health a priority?
With 1 in 4 American adults suffering from a diagnosable mental disorder in a given year, it would behoove us as a nation to use whatever remedies work, both pharmacologic and non-pharmacologic. Aerobic exercise is free, fun, and can bring rapid rewards if done right. We can't all be world-class swimmers or volleyball players and studies have (thankfully) shown that we don't need to be for better mental health. All it takes is some brisk walking or moderate aerobic exercise most days of the week. And that's something almost all of us can do if we really try. No Olympic pedigree required.

So what are some of your own personal experiences with physical fitness and mood? I would love to hear your inspirational stories!
Related