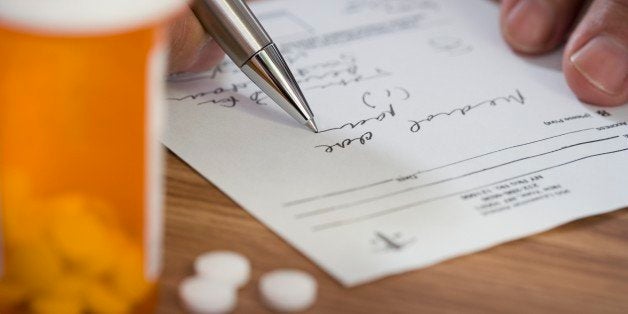 Let's be honest. When we go to the doctor, most of us want to leave with a prescription. Not all the time, but certainly when we have a cough or worsening allergies. If we don't get one, we sometimes feel disappointed.
In many ways, we feel the prescription validates the concerns we had about our symptoms, and it also underscores the importance of treatment. Although I know patients sometimes don't fill prescriptions, and may not even always take the medicine, writing a prescription sends an important message -- "This is a serious problem, and you need to do something about it!"
Can you imagine having diabetes, high blood pressure, or heart disease, and just talking to the doctor about your condition? Some of you would likely switch to another doctor. Clearly, there is a role for discussion -- and I'm a big proponent of open dialogue with patients, but sometimes the prescription pad has even more weight than "chat." And speaking of weight (no pun intended), if we really want to combat obesity, we need new strategies. And a recent strategy has been a push for doctor to start writing exercise prescriptions.
What's that? Well, just as I might write to take a pill once a day, I now might write "do 30 minutes of cardio exercises like brisk walking three days a week and 30 minutes of resistance exercises like pushups two days a week." The premise is that if a physician writes a prescription to exercise, patients are more likely to do it.
I do see a couple of problems with this approach. Most of my physician colleagues aren't interested in issues of lifestyle/physical fitness, and they are not trained in exercise science. And many of them are overweight themselves and have a way to go in getting fit. So they're not exactly role models.
Notice that my prescription example is specific -- most doctors simply say "you need to exercise." What is someone to do with that? Most patients need a documented plan of action to increase their fitness level.
This doesn't mean physicians shouldn't write exercise prescriptions. Instead there needs to be a comprehensive approach that's not just focused on physicians. Simply writing a prescription isn't going to solve the obesity problem.
We can take a page from the playbook of a Canadian medical student and fitness professional Aric Sudicky. (It's often medical students who aren't yet jaded and come up with innovative ideas!) Instead of just focusing on the role of physicians, soon-to-be Dr. Sudicky focuses on the whole community and even public policy. The program is called "Take Prevention Rx," and it has four components:
1.Prescription: Written nutrition and exercise advice in bite-sized pieces by family doctors and nurse practitioners using a customized prescription pad for prevention.
2.Referral for nutrition: Using a formal prescription to increase referral to allied health professionals, specifically dietitians within group practices such as family health teams.
3.Community integration and incentives: Patients who present to local food merchants and recreation facilities with a doctor-signed Prevention Rx prescription receive discounts for services. For example, discounts on meals identified as heart healthy and discounted gym memberships. Thus, the program rewards patients for making healthier choices.
4.Influencing community and medical culture: Each region agreeing to implement Prevention Rx pads will be coached through a systematic approach to improve community and public health policy advocacy efforts.
Now I know people like to say health care is different in Canada than it is in the United States. But in terms of using a community approach, it's not different, and Aric is on the right track. So let's go ahead and start having doctors write specific exercise prescriptions, but let's expand it to include a whole community approach.
Related