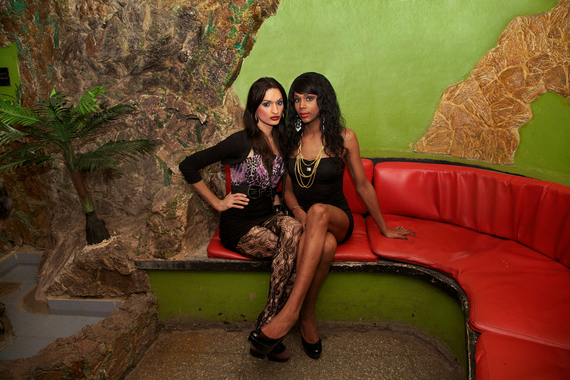 From TransCuba, Lady and Laura at the Las Vegas Club in Havana by Mariette Pathy Allen. Courtesy of Yeelen Gallery.
President Obama announced in December diplomatic relations between the U.S. and Cuba would begin to thaw. The Cuban flag was raised at the country's embassy in Washington, D.C. on July 20 the first time since 1961. And, the U.S. embassy in Havana reopened on August 14.
"I think the thaw will ultimately decrease discrimination against trans people," New York-based artist and photographer Mariette Pathy Allen said. "Initially, it will make them richer because there will be more customers for sex workers. Then, as new relationships develop, they'll be exposed to new ways of thinking about relationships, and finally, become more political."
I had a conversation with Allen who explored gender issues in the Cuba while participating in a conference with members of "The World Professional Association for Transgender Health" invited by Mariela Castro through Cenesex, an educational organization.
She captured the transgender community through her photography over the course of visits made in 2012 and 2013 resulting in TransCuba, her third book published in April 2014.
At a time when Cuba is embarking upon historic changes, Allen believes the subjects of her photography metaphorically represent the island:
I see transgender Cubans as a metaphor for Cuba itself; people living between genders in a country moving between doctrines. As restrictions decrease, discrimination against people who are gender nonconformists is becoming less prevalent. A lot of credit for making their lives easier belongs to Raúl Castro's daughter Mariela, a sexologist. She is making her own revolution by revitalizing Cenesex, creating anti-discrimination campaigns and celebrations, and working to remove laws that forbid changing birth names and employment limitations.

Miami, only about 90 miles away, has one of the largest constituencies of Cubans and Cuban-Americans in the country. This is one of many reasons Karla Ferguson, owner and director of Yeelen Gallery in Miami's Little Haiti neighborhood said she selected Allen's work for an exhibition opening Saturday, Oct. 17. TransCuba, a solo exhibition will feature 30 of Allen's photographs.
Last year, I wrote about the Yeelen, which I enjoy visiting as it features artists who embrace and celebrate diverse cultures. I always learn something new there. It's a good fit for Allen's vivid and fascinating photos.
"We're thrilled about this compelling body of work by Mariette Pathy Allen in
TransCuba -- both in our aim to foster relationships with the surrounding neighborhood, and in presenting content that expresses the diversity of our city," Ferguson said.
Her work focuses on the details of the everyday lives of transgender women, engaging with family and friends and the community at large in Cuba, which she said revealed growth, visibility and acceptance.
Allen has been documenting transgender culture in the U.S. for more than 35 years. Her previous photography books include "Transformations: Crossdressers and Those Who Love Them" and "The Gender Frontier." Allen's life's work is being archived by Duke University's Rare Book and Manuscripts Library, and the Sallie Bingham Center for Women's Studies.
This year, Barack Obama was the first President to recognize transgender people in a State of the Union address. It is estimated that 700,000 or more transgender people live in America.
As the relationship between the U.S. and Cuba continues to evolve, Allen is ahead of the curve in documenting and comparing how both societies represent transgender people.
"The [Cuban] government will come to agree to make the changes needed when trans people become bolder; less fearful of repercussions," she said.
If You Go:
What: TransCuba, a solo exhibition by Mariette Pathy Allen
When: 7-9 p.m., Saturday, Oct. 17 opening reception and artist will be present for book signing; exhibition runs through Nov. 28, 2015
Where: Yeelen Gallery, 294 N.W. 54th Street, Miami, FL 33127
RSVP: Email: rsvp@yeelenart.com
Gallery Hours: Wednesday-Saturday 11 a.m.-4pm or by appointment
For more information, call: (954) 235 4758.
Calling all HuffPost superfans!
Sign up for membership to become a founding member and help shape HuffPost's next chapter