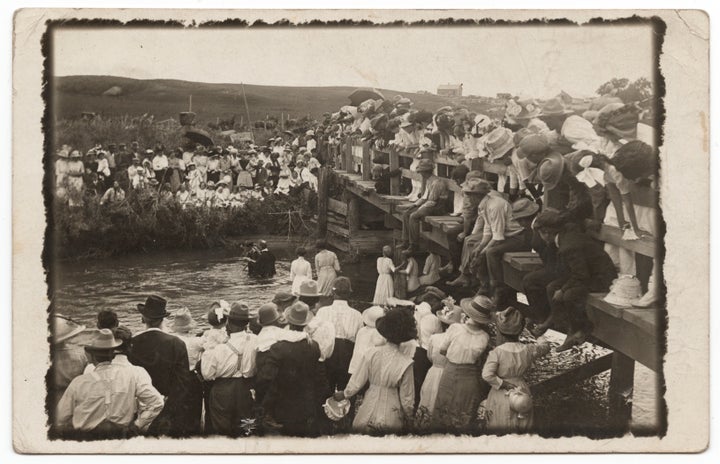 By Chris Herlinger
Religion News Service
NEW YORK (RNS) Religious rituals once shrouded in mystery are becoming less private -- more open to photography, video, even tweets from the pulpit.

An exhibit at New York's International Center of Photography reveals a similar "opening up" a century ago as photographs of river baptisms began appearing on mass-distributed photo postcards.

"Take Me to the Water: Photographs of River Baptisms," drawn from an archive of photographs of river baptisms donated by collectors Janna Rosenkranz and Jim Linderman, is a revealing exhibit both about the rituals themselves and how they were portrayed.

The photographs -- all but one on postcards -- chronicle an era of rapid transformation. While city growth and waves of immigrants changed the face of industrialized urban America, economic depression and religious revivalism marked life in the predominately Protestant South and rural Midwest.

Immersion baptisms became public events -- practiced by a number of denominations but most often associated with Baptists who, while mocked as "dunkers or dippers," were effective proselytizers, ICP curator Erin Barnett writes in her introductory text.

As part of this revivalism, rural pastors encouraged "outdoor communal rites" that became public displays of Christian faith, often witnessed by dozens, even hundreds, of people.

"Media-savvy preachers promoted mass revivals and encouraged a dialogue about religion in popular culture and media," Barnett writes.

While the postcards predate Facebook or Twitter, they share a similar strain of publicizing events and rituals in the public sphere, she said in an interview.

The need to promote "the Word" was no more obvious than in Liberal, Mo., a community founded in 1880 as a "town free of churches." Though town fathers tried their best to keep Christian influence at bay, baptisms on land near the town were photographed and placed on postcards as evidence of Christian success.

The rites shown in the exhibit were "presented as an important, dignified, and solemn occasion, a traditional and visually stunning ritual in a changing world," Barnett writes.

"These postcards were mementos of participation in or observation of an event of personal significance, and served as touchstones for stories about the believer's life-altering experience."

The fact that baptisms were preserved on postcards is also revealing.

Photographs of baptisms were taken by professional and amateur photographers alike, but the advent of home photography and postcard-making resulted in a boom of millions of postcards throughout the U.S. in the early 1900s.

As the exhibit of about 50 works shows, there was also an underside. Some of the postcards were intended for northerners visiting the South and display a view of African-Americans that was often racist, using typical racial epithets of the time.

One of the milder comments on one of the cards entitled "A Typical Negro Baptizing," said: "You would think they would at least change to bathing suits, wouldn't you?"

Barnett said the exhibit makes no attempt to sanitize the impact of the postcards, or what she called the "horrifying" racist messages that accompanied them.

The exhibit is divided between photographs showing predominately white and African-American baptisms. The largest single image -- and one that's not on a postcard -- depicts a baptism preformed in August 1919 in Indianapolis by the Rev. Alexander Willbanks.

Barnett noted that in that image, as well as others, whites can be seen gawking at the African-American baptisms -- a reminder of America' racial divide, even (or especially) in religious matters.

"You have one faith tradition, and those in the photographs are celebrating the same thing -- a religious ritual of great importance," she said. "But there's absolutely no integration. I find that both amazing and disturbing."

"Take Me to the Water: Photographs of River Baptisms" is on display at the International Center of Photography in New York through May 8.
Photo appears courtesy of the International Center of Photography.
Popular in the Community