"Emphasizing the polarities inherent to the Saturnalia and Christmas traditions, and underscoring the contradictory nature of a contemporary ritual in the making," curator Simon Castets has put together an impressive summer show at the Yvon Lambert Gallery titled, aptly, "Christmas in July," including work by John Baldessari, Lynda Benglis, Michael Brown, Heman Chong, Alex Da Corte, Elmgreen & Dragset, Douglas Gordon, Christian Holstad, Jonathan Horowitz, Matt Keegan, Keegan McHargue, Marepe, Kris Martin, Aleksandra Mir, Sarah Ortmeyer, Ariel Schlesinger, Roman Signer, Katja Strunz and Nick Van Woert. I sat down with Castets to talk about a few of the works in the show.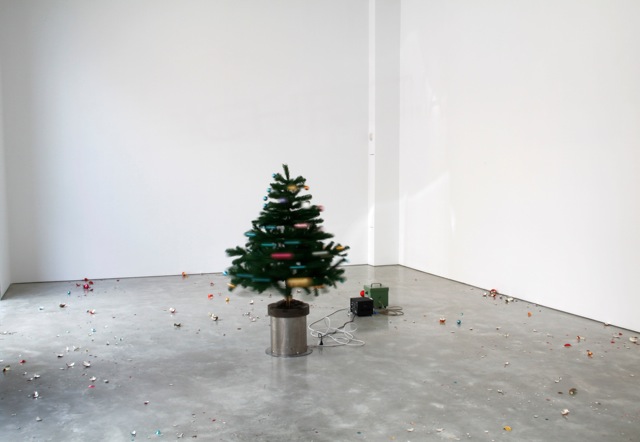 Roman Signer, Zimmer mit Weihnachtsbaum (Room with Christmas Tree) , 2010, installation, dimensions variable. Courtesy of the artist, Yvon Lambert, New York, Galerie Martin Janda, Vienna, and Hauser & Wirth, Zurich.
MC: Swiss artist Roman Signer's gags -- literal explosions, use of scientific practices, and installations where visual art meets performance -- predates artists like Martin Creed, who use humor in their work and emphasize time and place. Do you consider his work conceptual or minimalist or art in situ, or none of the above? Where does this particular work fit into his dynamic practice, i.e. are there particular qualities that one will recognize, 50 years from now, as belonging to a certain moment in his career?
SC: The work was created recently for the Kunsthaus Graz and shortly after I saw images, I thought of putting together a group show relating to the celebration of Christmas and the kind of visceral feelings most of us have about it. Signer's work qualifies as conceptual, though it is almost systematically self-explanatory. It has an immediacy, which extends its appeal beyond the art enthusiasts. It is a perfect piece to have in the window of the gallery, behind Matt Keegan's sign painting of the show's title with the color gradation corresponding the temperature increase. You feel the heat.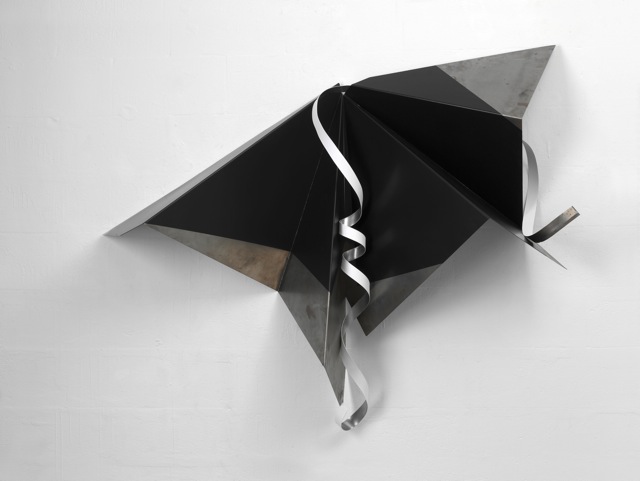 Katja Strunz, Untitled, 2007, steel st37, powder coated, varnish, 3 parts, 59.84 x 75.59 x 21.85 in (152 x 192 x 55.5 cm). Courtesy of the artist, Yvon Lambert, New York and Galerie Almine Rech, Paris.
This work seems very delicate, like paper origami, but yet it is made from steel. Does this relate to those dualities you mention, referring to Saturnalia and the duality between religious and secular, celebration and angst, temporary gift economy and such--something that seems one way but might be deceptive?
Absolutely, it is both fragile and aggressive, frail and almost dangerous. It looks like something between gift wrap and a car crash, in line with the dueling aspects of the Christmas ritual -- forced happiness, etc.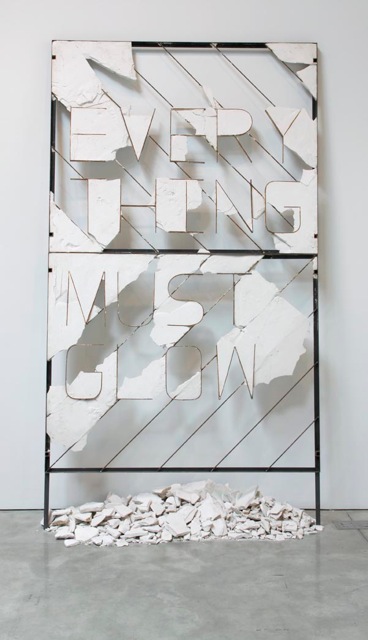 Nick van Woert, Everything Must Glow, 2009, plaster and steel, 108 x 60 in (274.3 x 152.4 cm). Courtesy of the artist, Yvon Lambert, New York and Grimm Gallery, Amsterdam.
It looks like Van Woert had fun making this work--building it and then chipping it away, almost referencing the art form that was predominant in the ancient Roman days of Saturnalia. Can you tell us how you came across this particular work?
I saw it first in a great group show that was organized last summer by my friend Scott Keightly in an empty storefront on Broadway. I met Nick later on and he showed me more of his work, and I decided to include two existing pieces in the show, both of them are equally joyful and decaying (the other one, Wheat Thin, 2008, is a crumpled emergency blanket wrapped in a metal structure). They are inspired by billboard structures. Everything Must Glow was built in such a way that every time it moves, some of the plaster falls to the ground, increasingly revealing the metal structure.

Douglas Gordon, Bad Faith, 1994, 2 Beta NUM transferred to DVD and cut vinyl letters, 45'10'' (Left Window film), 65'37'' (Right Window film) and variable dimensions. Courtesy of the artist and Yvon Lambert, New York.
Good and bad, saved and damned, right and wrong, light and dark--those elements have always informed Gordon's work. (I read that this may be because the Scottish artist grew up a Calvinist and then his mother became a Jehovah's Witness.) I must admit that the video component went over my head. Can you tell a bit about how the text and video components of the work piece together or inform one another?
The videos are bland documentations of the weather in Stuttgart on Dec. 25th, 1994. The text is the artist's proposal to Ute Meta Bauer, who invited Douglas Gordon for a show at the Künstlerhaus Stuttgart. Gordon offered to give the entire budget he was allotted to a betting agency in London, to gamble on whether it would snow on Christmas day in Stuttgart. If he had won, the budget for the exhibition would have been much higher. As he didn't, which he expected, the people of Stuttgart simply experienced "a true cultural tragedy": no snow, no show.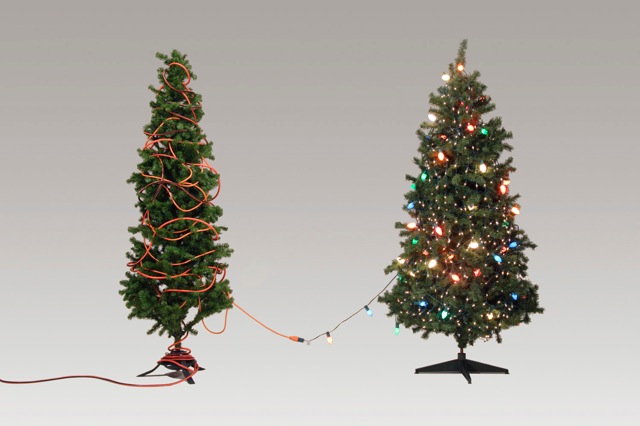 Alex Da Corte, Loved Despite of Great Faults, 2008, artificial Christmas trees, lights, extension cords, tree stands, 7 ft x 8 ft x 3 ft (213.4 x 243.8 x 91.4 cm) overall. Courtesy of the artist and Yvon Lambert, New York.
I'm really interested in the title of this work. Do you know more about why the artist chose this title? Is it that tension again between loving and hating Christmas and/or the winter holidays--gift buying, family, travel, all those things associated with the highly marketed holiday it has become?
Alex borrowed this title from a Blonde Redhead song. I believe that the pathetic skinny tree with no lights is Loved Despite of Great Faults.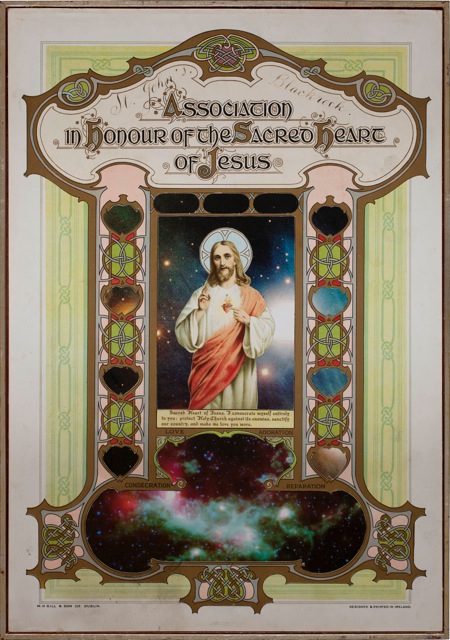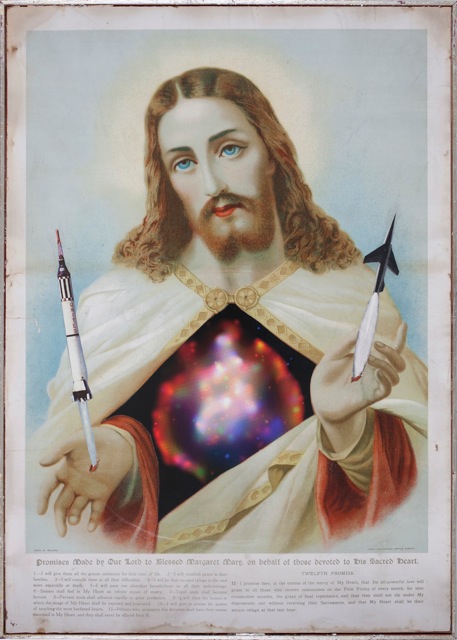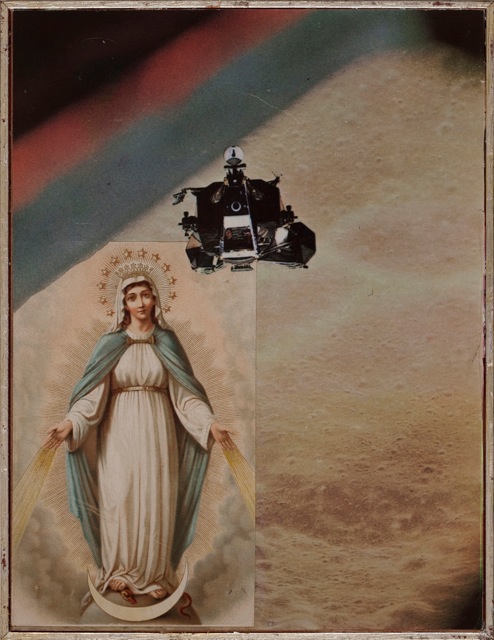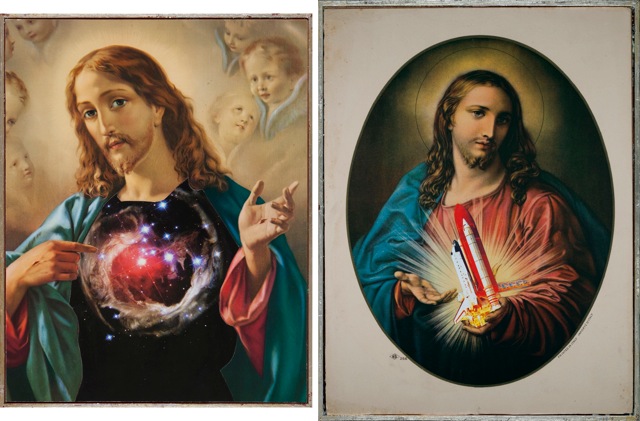 Aleksandra Mir, The Dream and the Promise series, 2008-2009. All collage on board with gold leaf frame. All courtesy of the artist and Yvon Lambert, New York.
These are beautifully intricate works that hold a lot of weight, though Mir's work, or projects, tends to deal with the weight of religious or cultural icons and social anthropology, creating bridges between cultures and peoples. How do these collaged Jesus and Mary Magdalene works fit into her oeuvre to date?
They are part of an ongoing series mixing religious imagery and the exploration of space, two different kinds of popular opiate and both recurring motifs in her work.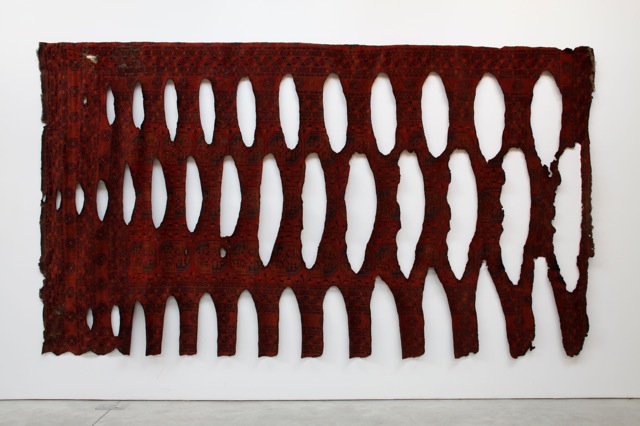 Ariel Schlesinger, Untitled (Burned Turkmenistan Carpet V), 2010, carpet, approx 114 x 196 in (290 x 500 cm). Courtesy of the artist, Yvon Lambert New York, and Galerija Gregor Podnar, Berlin/ Ljubljana.
Carpet weaving is a rich and deeply embedded tradition in Islamic societies. In many Muslim cultures, the carpet is the center of the house. It is the place where people sleep, eat, speak and pray. Does this history related in any way to Schlesinger's work and perhaps his comment on religious differences that are so prevalent today?
Being Israeli, Ariel's work is often read as political and even though it is a legitimate reading, I was hoping to show the work in a context where it would be seen more as part of the "Christmas party aftermath" feeling creeping through the show.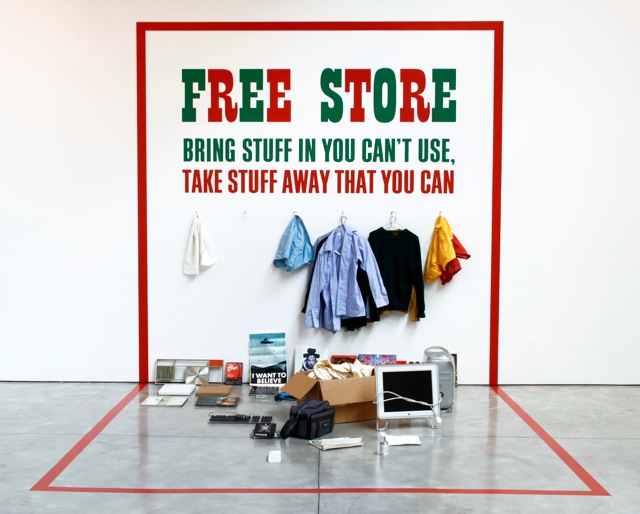 Jonathan Horowitz, Free Store, 2009-2010, painted wall and floor graphic, hooks, stuff, dimensions variable. Courtesy of the artist, Yvon Lambert, New York and Sadie Coles, London.
I love this work. It reminds me somewhat of Rob Pruitt's Flea Market at the Gavin Brown Enterprise booth at Frieze a few years back. Is this a prototype from the Sadie Coles "Free Store" show last year? Can you tell me more about this work, and how this one was commissioned for the show? Do you see a lot of the items actually coming into and out of it, or are viewers afraid to engage with it?
It's a Christmasy version of the work he showed at Sadie Coles last year. Instead of having the objects placed on pedestals, they are on the floor within a delimitation, and the text is painted in red and green. Jonathan posted an announcement on Craigslist and several "freegan" websites, and the gallery is getting a huge number of phone calls. People are very specific, asking what they can bring, if they will find queen size sheets, if there will be food, etc. The reaction is incredible. Someone no one we know or had seen before spent the whole evening of the opening being the free salesperson of the Free Store, arranging goods giving advice. Now you can find everything -- records, art books, razor blades, hot dog buns, etc. Unexpected people come, unexpected objects arrive and are found. In my view, the work takes on a special meaning as part of this show, it is a like a "Christmas in July" sale at the Free Store, it is going full circle.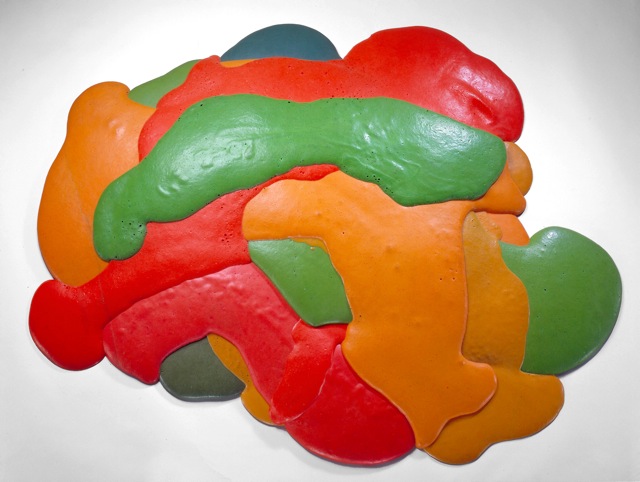 Lynda Benglis, Night Sherbet A, 1968, pigmented polyurethane foam, 5 x 48 x 60 1/2 in (12.7 x 121.9 x 153.7 cm). Courtesy of the artist, Yvon Lambert, New York and Cheim & Read, New York.
Though the material has been around since the 1940s, Benglis was really ahead of the curve experimenting with polyurethane foam in her works from the late 1960s. These works ultimately influenced other artists and designers for decades to come. I think the beauty has a lot to do with the material's uncontrollable, messy, expansive mass. It's more or less random, poured or "fallen" paintings. Do you think Benglis's works are characterized by her relationship to the materials, revealing both her process and philosophical pursuit?
Benglis has been using a wide array of media including lead, ceramic, bronze, plaster, etc. Her use of polyurethane foam for this piece resonates with its title Night Sherbert A. It is a drooling, melting thing, a major poured floor piece that somehow acts as an anchor for the exhibition.
MC: Yes, I can't wait to see more of her drooling, melting works at the New Museum show in February. Thanks, Simon.
REAL LIFE. REAL NEWS. REAL VOICES.
Help us tell more of the stories that matter from voices that too often remain unheard.