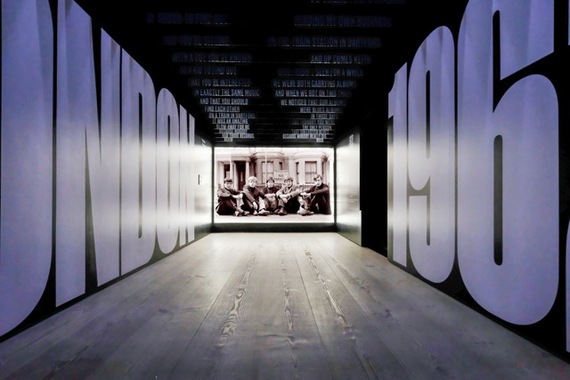 By Mercedes Vizcaino, ZEALnyc Contributing Writer, December 19, 2016
What milestone is left to achieve for the most influential rock n' roll band with a career spanning over 50+ years? Create an interactive and immersive retrospective exhibit in their honor? That's precisely what iEC Exhibitions, led by curator and native New Yorker, IIeen Gallagher did for the Rolling Stones with Exhibitionism. Debuting in London earlier this year, the New York City version took almost 4 weeks to construct with complete collaboration from Mick, Keith, Ronnie and Charlie. Rolling Stones fanatics and music lovers alike will implode with excitement after touring this exhibit.
As you enter the Industria warehouse in New York's West Village, which houses the exhibit, your attention is drawn to the ticker on a large red screen rapidly spewing digital facts on the number of concert tours and countries the Rolling Stones have performed in around the world, from 1962 - 2016; nearby is a jumbo wall with multiple screens showing concert footage of fans and the band throughout the years. Their longevity is quite a feat--really. As you walk through the swirling maze, the recreation of their 1962 Edith Grove, London flat is striking with its varying rooms. Dirty dishes piled high in the sink, beer bottles everywhere, and soiled clothes strewn throughout the bedroom. Yes, it's gross at first glance - but interestingly, among the heaping mess, there are blues records dating back to the Stones early musical influences from Muddy Waters and Buddy Guy. This is where the band's journey began. Recordings of Mick Jagger and Keith Richards via loudspeaker are heard saying how they would steal food and go back to their tiny apartment and rehearse.
Past their apartment are artifacts lent to the exhibit by members of the band: rare guitars belonging to Ronnie Wood and Keith Richards that are in mint condition, with an adjacent room allowing visitors to use a mixing console to altar The Stones' popular songs--one of the true gems in this exhibit. Then there's Mick Jagger's harmonica collection, which he admittedly had a hard time learning to play, followed by display counters filled with Keith Richard's personal diaries and handwritten lyrics by Mick Jagger from "Miss You," "Hey Negrita," and "Worried About You." Vintage tour posters from their first British and North American tours promoting acts like Chuck Berry and Smokey Robinson, all on the same bill.
When you reach the second floor, you're greeted by the Rolling Stones' larger-than-life iconic tongue and lips logo structure, spinning with psychedelic patterns. Throughout the exhibit's walls are written text and quotes from the band and the people they worked closely with, notably the logo's designer, John Pasche, describing the story behind it. There are numerous colorful concert tour posters representative of the band's Voodoo Lounge and Sticky Fingers tours (artwork by Andy Warhol of Mick Jagger), and their breakthrough contributions to concert stage design.
The room with the Rolling Stone's costumes is mind-blowing. Here you have the evolution of the band's wardrobe from the 60s to present day. A photograph from 1963 shows the band dressed by their manager, Andrew Long Oldham, in matching dogtooth jackets - a look they quickly abandoned in favor of bad-boy rebellion and what became their signature trademark for breaking boundaries in fashion with the infamous white dress worn by Mick Jagger's Sticky Fingers 1971 album cover.
One noteworthy room has clips of Martin Scorcese's 2008 Shine a Light concert film depicting the band's performances and emphasizing the joy of making music and the camaraderie they share as a group, as well as the director's insights for making it. Towards the end of the exhibit, visitors see a recreation of a backstage area with equipment and gear in tow, just to get a sense of what it feels like to hang out with the band before they head to the stage. You are handed 3D glasses and you are able to witness Mick Jagger performing in one of his stadium shows.
Exhibitionism--The Rolling Stones is not just for their fans. If you have a penchant for design, fashion, music and the cultural influences this band has had over these genres, then this exhibit is for you. For more information on schedules and to purchase tickets, click here.
__________________________
Mercedes Vizcaino, a Contributing Writer with ZEALnyc, writes about lifestyle and cultural events in and around New York City.
For all the news on New York City arts and culture, visit ZEALnyc Front Page.
REAL LIFE. REAL NEWS. REAL VOICES.
Help us tell more of the stories that matter from voices that too often remain unheard.