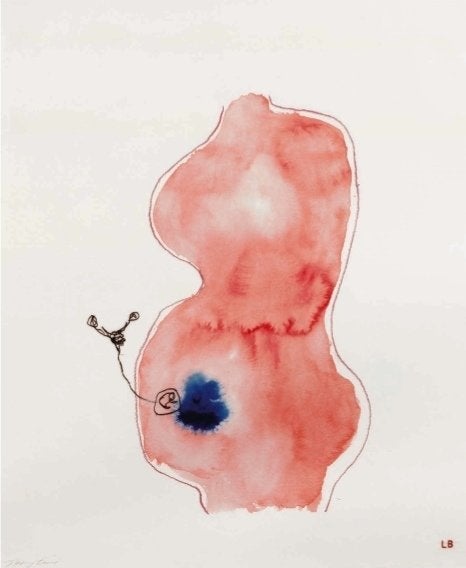 Before her death recently at the age of 98, Louise Bourgeois had just finished work on a series of prints with Tracey Emin, which they had collaborated on during the last two years of the artist's life. Bourgeois had composed a series of 16 profiled torsos in gouache and Emin had 'responded' by adding drawings over them with text and ink.
Their work together began when Ms. Bourgeois had agreed to meet Ms. Emin at her request. Despite Ms. Bourgeois' reputation of being a formidable woman, according to Emin, they had got along well and had agreed to take part in a drawing project. Ms.Bourgeois had always been surrounded by young people, and in spite of the age difference they found their work had many themes in common.
Louis Bourgeois had once declared, "Art is the experience of, the re-experience of trauma," and much of Emin's work revists the past. When I interviewed Emin just a few months before Ms Bourgeois's death, we spoke of her relationship with the elder artist and I had suggested to her then that Ms. Bourgeois' work was interior like her own, revolving around ideas of wombs and wounds.
"We both work with recurring themes as well. Things that come again and again in our life, that don't go away. The damage may be done and you forget it, then it comes back again," she said.
"Reliving one's painful past" Emin continued, "is pretty healthy. You're not holding it inside you; you are letting it go into the ether. "
The show of their collaboration opens at Carolina Nitsch gallery entitled, Do Not Abandon Me, 2009-2010, and a book is published of the works in a limited edition of 1,500

Louise Bourgeois and Tracey Emin - "When My Cunt Stopped Living" Do Not Abandon Me, 2009 - 2010, Courtesy of Carolina Nitsch Gallery
All images Courtesy of Carolina Nitsch Gallery
Carolina Nitsch Gallery, Do Not Abandon Me, 2009-2010, September 9 - November 13, 2010, Carolina Nitsch Project Room, 534 W. 22nd Street, New York City, Opening September 9, 6-8pm
Hauser & Wirth, London, 18 Feb-22 March 2011
Related
Popular in the Community