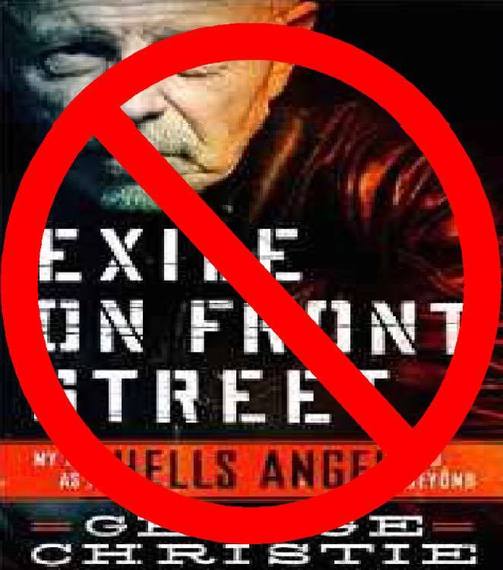 "Folks don't like to have someone around who knows more than they do." ---Harper Lee, To Kill a Mockingbird
Too bad for George Christie. His delusional memoir might be half believable, if there weren't so many people alive who actually know the truth.
Starting with Sonny Barger...
Sonny is undoubtedly an iconic figure, a founding member of the Hells Angels Motorcycle Club, considered by millions to be a man of legendary status.
Enter George Christie and his obsessive decades of jealousy.
So, it's no surprise that as follow-up to Christie's History Channel debut, George has written a book. And just last week, I scored a pre-released review copy of that memoir, (It pays to know folks in the publishing industry).
The very next morning, I headed to the Barger Ranch, so I could spend the day hanging out, and, in preparation for this article, reading the manuscript.
Grasping the inevitable: I brought a bottle of wine.
As I settled in on their patio, I opened the book and poured myself a glass. A really big one.
Hey, I'm an Italian girl. I have incredible childhood memories wearing galoshes--while stomping grapes from my grandpa's vineyard--to make homemade wine. And from the time I was knee high, I was allowed a small glass with dinner. Don't judge me, people. It's a cultural thing. But, for all these years, my claim to fame has always been: I've never been drunk.
Never.

That is, until I read George Christie's pre-released memoir. As I foraged through the chapters, I was compelled to pour glass after glass. And while I didn't get officially sloshed (hence my never-been-drunk record still holds) I do have to admit: I got just a bit tipsy. Let me make this perfectly clear: I'm not talking about falling down intoxicated, just drunk-enough-to-get-through-George-Christies-creepy-book, intoxicated.
Fair Disclosure: One might think I'm predisposed to dislike George's memoir, because I've been close friends with Sonny for over 30 years. However, the truth is: Sonny and I often disagree. About a lot of things. However, he's a strong individual, one profoundly able to accept our differences, without being compelled to control my thoughts.
And let me assure you: we're as different as night and day. While Sonny attends club meetings, he refers to as "church," I attend a more traditional version of church--the kind where I show up with a Bible and sing about Jesus.
Yet, despite our contrasts, I know Sonny as a man of honor and a person I can trust to tell me the truth, even when that truth is not always what I want to hear.
Lastly, anyone who knows me is keenly aware: I'm a strong-willed individual, fully capable of thinking for myself, doing extensive research, and coming to my own conclusions.
The bottom line is: As fair as I tried to be, George's story just doesn't add up.
The Blah, Blah, Blah Publicity Pitch: Oddly enough, the publisher referred to George as Yin to Sonny's Yang. Seriously? While, the two men are clearly opposites, unlike the metaphoric Yin and Yang, they are certainly not equals. George Christie will never be Sonny Barger's equivalent. Not in intellect. Not in loyalty. Not in reputation. And certainly not in honor.
Delusionary Statements: To give the author an air of false power, George, in all his bravado, actually crowned himself the former "International Spokesman for the Club." A claim that is ludicrous, at best.
General Lack of Logic: Throughout the manuscript, George implies he was the unofficial peacemaker for the Hells Angel's Motorcycle Club. In example after example, he paints himself with almost messianic imagery -- riding in to save the day, offering goodwill for all mankind. Yet, records show: this is the same individual who was indicted, and pled out, to the fire-bombing of a competitor's tattoo parlor. Way to keep the peace, George.
Motives: George's book appears little more than an attempt to benefit financially from his former club's status. Christie's often claimed that Sonny did the same, when he wrote his memoir years ago. However, there's a huge difference: Sonny Barger remains a solid member in good standing. And while he shared his life story, he also received permission from the club, and paid them a royalty, for the use of their name and logo.
George, on the other hand, is an ex member, in bad standing, who has not received permission for any of his club related projects. In addition, Christie continues to profit from the club's name and reputation. These are huge problems for the book's credibility.
Reality Check: The most accurate part of George's entire memoir was his recollection of Sonny's wife, Zorana, as an attractive blonde. Z, who I consider a good friend, is just that and more.
However, that's about the extent of the book's apparent authenticity. Christie goes on to imply that, years ago, his former employee, Zorana, cost his tattoo business a tax audit which led to more federal investigations, ultimately getting him arrested and held on a million dollar bond.
Throughout the manuscript, George comes across as a man utterly incapable of taking personal responsibility. The reality is: that attractive blonde was not the one signing the paychecks that caused the audit--because they were actually signed by the owner of the company-- none other than George himself.
In addition, he omitted an important fact: Zorana also went to jail, and was, in turn, held on a million dollar bond. I know, George. Minor details, right?

First Documentary Attempt: Nick Mead's a British film maker, living in Southern California. A couple years ago, he directed, produced and promoted a documentary about Christie, before he sensed George's credibility was unraveling.
Once Nick--who is a principled man-- caught wind that George might not be who he claimed to be, Mead cancelled the movie. This was a film in which Nick invested close to $100,000 of his personal time and money.
Mead initially had doubts about George's story when, despite his best efforts, he couldn't get a straight answer to the simplest question. Then, there was the ticket sale money that Nick suspected never made its way to the intended charity. Ultimately, Mead realized the club had not offered its blessing on the film, as George had previously insisted was the case.
So, when Nick Mead put the documentary on ice, George Christie--who was yearning for fame and fortune--was furious.
In the book, Christie suggests Nick terminated the movie, because the club intimidated him away from the project. Nick's assured me that just wasn't the case. He said the club members were always perfect gentleman, and that the only intimidation he ever received was from Christie's lawyer (who also happens to be George's daughter) when she threatened to sue him if he didn't turn over the rights to the film.
As for Sonny and Nick's scary meeting? I was actually hanging out at the Barger Ranch when Mead drove from Southern California to Arizona to gain a better understanding of the truth. I even cooked dinner (A delicious Almond Encrusted Halibut. Feel free to message me for the recipe). But if there was any intimidation going on that night, film or otherwise, I certainly missed it with all the laughter, cheerful conversation and pleasantry.
Vietnam: The 1 Percent Biker Sub-Culture is filled with highly patriotic individuals, many of whom are veterans. In an odd reversal of "know your audience" philosophy, Christie's memoir discusses his tactics to evade active duty, ultimately granting him a discharge from the Marine Reserves, before he could be deployed overseas. And in the book: George appears rather proud of the fact that he managed to pull it off.
I was so stunned by this admission, that I poured another glass of wine, and read the paragraph out-loud.
Sonny calmly stood up from the table and led the conversation in a different direction. Then, beaming with honor, he told me a story: "You know, Candy. Whatever the reasons for Vietnam, the reality is: we were there. I've always supported our troops. In fact, a Richmond Hells Angel--who was so influenced by my respect for our military's men and women--enlisted at the height of the Vietnam War. Unfortunately, just 4 days before coming home, he was killed in action. In contrast to George's cowardice, that Angel was a true hero."
Mysteries in a Supernatural Time Warp: The book unveils another story about a member who was visiting the United States. Christie claims the individual told him that when he went to Sonny for vital assistance, he was turned away, because helping the Angel offered no personal benefit.
That's just not the Sonny I know. He's a man with a good heart, who I can't imagine treating anyone, let alone a club brother, the way George described. So, I did a bit of checking. Not only does this Angel claim the incident never happened, Sonny was actually in prison at the time of the member's international visit.
Unfortunately for George, to make this story credible, it would have required Sonny to break out of an Arizona federal penitentiary, discard his prison garbs, steal a bike, ride like the wind to Oakland, just in time to meet this man, heartlessly turn him away, then return to the pen before the guards missed him for morning roll call.

Do you understand why at this point in the book, I was compelled to pour myself yet another glass of wine?
Out-Bad Verses Casual Retirement: Christie continues to claim he simply retired from the club because it no longer fit his lifestyle. Then, afterward, he implies, Sonny pressured the charter to change his status to Out Bad: No Contact. (A form of dishonorable discharge).
Sonny claims that just isn't the case. And to validate his point, I've read a historic letter to Christie, written by a club member. In it, the Angel told George that he believed he'd been debriefing to law enforcement, in order to save his own skin. The member made it clear that since Christie couldn't be trusted, he should resign from the club.
Shortly after that letter arrived (a message, George claims in the book he received, but never read), Christie walked into the Ventura club house and offered up his resignation for "personal" reasons.
According to the book, four days later, his charter informed Christie he'd been voted Out Bad: No Contact.
In retrospect, a wise decision--especially after the suspicion he'd sold members out, to save his own legal skin, began to glow in the dark. Additional clarity arrived when George--who was facing the rest of his natural life in prison-- miraculously had his sentence reduced to just a year in a minimum security correctional facility.
While the manuscript depicts members shocked and saddened over George's decision, an individual from Ventura remembers things quite differently: "Candy, I can tell you, I was there the day George resigned, and I was happy to see him leave. He was like a cancer in the room."
To this day: George's version of his resignation, as well as blaming Sonny for his Out Bad status, significantly differs from his former brothers. And reality.
Sonny has publicly offered Christie a lie detector challenge. People are still waiting, George...
So, there you go: I could continue with this review, but why? In essence: the inconsistencies, apparent fabrications, blatant jealousies, and attempts to create an aura of self-importance were so prevalent in George Christie's self-serving memoir that for the first time in my life, with glass in hand, I actually teetered away from a table.
So please, save yourself: Don't waste your time or money on this book. The amount of wine required-- to make Christie's story appear even remotely believable--will put you under for days.
Fair Warning.
***
Candy Chand is a writer living in Cave Creek, AZ. She's been interviewed on Fox & Friends, PBS and NPR. Message, and follow, her on Facebook @ Candy Chand-Writer

Calling all HuffPost superfans!
Sign up for membership to become a founding member and help shape HuffPost's next chapter