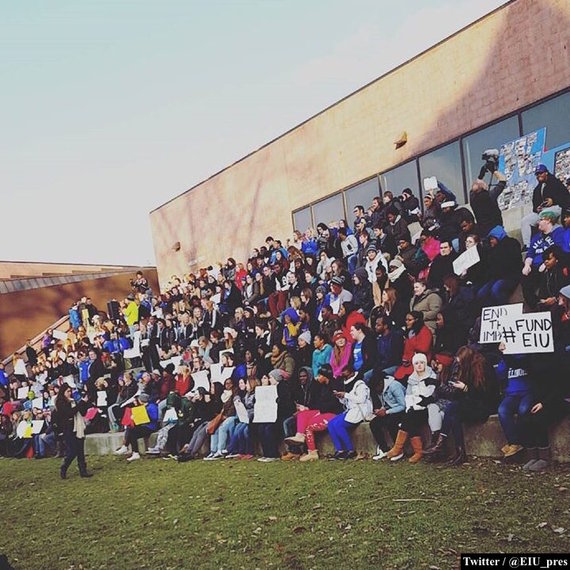 Reports from credit ratings agencies on local governments don't normally make for thrilling reading, but a Feb. 5 report from Moody's Investors Service on Illinois' public colleges has the makings of a real-life cliffhanger.
Though it contains the standard jargon you expect in a Moody's publication, the new report is noteworthy because it forecasts trouble not just for Illinois' public universities' finances in the short-term, but for their very existence going forward:
Beyond the current financial challenges, the state budget crisis will have negative longer term effects on Illinois pubic universities' credit quality, impairing reputation and competitiveness as students make enrollment decisions. Several public universities were already confronting enrollment declines based purely on lower numbers of graduating Illinois high school students. These declines will be exacerbated as some students increasingly consider more financially stable universities, either private colleges in state or alternative out of state options.
The Moody's report arrived just after Chicago State University last week declared a state of financial emergency, which will allow it to take extraordinary cost-saving measures like laying off tenured faculty. Chicago State, which has 4,500 students, earlier had warned that it would have to close, possibly next month, because the state budget impasse has left it with no state funding since July 1.
It was the kind of move ratings agencies usually love because it means an entity is getting serious about fixing its finances and meeting its credit obligations. But Moody's sees no such silver lining here. As long as the state budget standoff starves public colleges of state funding, the pressure that forced Chicago State's emergency declaration will only increase and, inevitably, spread to other schools. From the report:
The longer the budget crisis continues, the greater the likelihood that additional Illinois public universities will declare financial exigency to address costs.
All of which comes back to the damage, mentioned in the earlier quote, to the universities' "reputation and competitiveness"as prospective students weigh their college options.
Also damaging on that front, Moody's notes, is a Feb. 4 letter from the Higher Learning Commission, the regional accrediting agency for Illinois public universities, to Gov. Bruce Rauner and members of the General Assembly...

REAL LIFE. REAL NEWS. REAL VOICES.
Help us tell more of the stories that matter from voices that too often remain unheard.