Here we go again. What is journalism? Who is a journalist? How do you educate journalists?
It's an existential question that's becoming more pertinent as academics, media firms and "hacks" themselves grapple with an increasingly foggy landscape where ordinary citizens, technological advances, and the general context take on dizzying proportions on a non-stop treadmill.
He wrote a scathing piece for the Nieman Journalism Lab calling on digital natives to make the status quo uncomfortable for professors who won't change and to refuse to work on old school student media
I realize now that change in journalism and communications education is like climate change, chock-full of deniers. The digital deniers say journalism's fundamentals have not been upended. Some go so far as to claim that bad leadership alone, and not a sea change, cost America a third of its daily paper newsroom workforce. They claim journalism education stays abreast of any important developments. They caution against caring "too much" about technology.
Professors are supposed to know things. So how do we tell some of them they don't know what they are talking about?
To Newton, journalism is about facts, honesty, staying current, reaching people their way, reality, work and innovation.
So how does one go about educating journalists?
The Atlantic's global editor, Olga Khazan, was more specific. She and colleagues who write, edit and analyze data pointed to subjects they wished they had learned in journalism school before entering the job market.
A key course is statistics, she said.
It's remarkable the number of times I've wished I knew how to perform a regression analysis. I took some economics and statistics in college, but it was barely mentioned in j-school, even though most journalists have to analyze numbers and determine whether and how to report on them.
Other subjects she deemed vital are data analysis, studies (reports, surveys), pitching stories, civic issues, online writing, and, the Internet--and why things work the way they do.
Helpful answers to this recurring question can also be found in a very useful report unveiled at a conference I attended that was organized by the Columbia Journalism School in New York.
Authors Jean Folkerts, John Maxwell Hamilton and Nicholas Lemann, former dean of Columbia's Journalism School, where the program is aimed at graduate students, argue that j-schools must orient themselves toward both the university and the profession, that research is crucial, and that understanding is as important as presentation.
"Journalism education is more out there as a discussed topic than it was 10 years ago when I first came here," said Lemann. "I think that's partly because...journalism itself, the world of practice, is in crisis."
Add to that the cultural divide between academics who lean heavily in the direction of research and professionals who teach journalism and insist on practical skills to better align with job market needs.
The authors counseled a solid wedding of the two streams of thought within the academy and proposed the following objectives for M.A. journalism programs: mastering skills, developing high levels of analysis, gaining historical knowledge of journalism education, understanding the theoretical underpinnings of content, understanding diversity, recognizing the legal ramifications of journalistic work and understanding the rapid changes affecting journalism to better sustain it.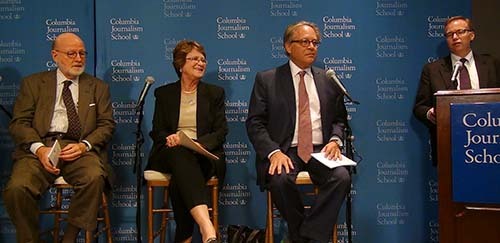 Columbia Journalism School dean Steve Coll, right, opens conference on
educating journalists (Abu-Fadil)
I modestly proposed to the panel that in an increasingly globalized world, journalists should also be multilingual to better understand what they see and cover and to better convey the message.
Which brings me full circle to "Existential Journalism," John C. Merrill's reissued classic that he so graciously gave me in 1999.
Merrill, who passed away last year and taught journalism for decades at the University of Missouri, nailed it when he wrote: "Existentialism demands that a journalist push forward, experiment, explore, take chances, and try to make a difference in the world."
Even then he lamented the indoctrination that had replaced liberal education as a goal in most journalism schools and departments.
"Concern with the 'right way to do things' is replacing a lively regard for experimentation, free-ranging intellectual curiosity, and a concern for and questioning of, established doctrine," he said.
Thomas Kent, the standards editor of The Associated Press, argues that the debate on who's a journalist is getting more urgent, adding that "a set of basic ethical tests, applied to a person's body of work, could build on the idea of journalism as a service and help supplement the definition of a journalist for shield law purposes."
His definition springs from the argument surrounding the U.S. Senate's tackling of a draft media shield law to protect journalists' confidential sources.
But can journalists today protect their confidential sources given governments' relentless efforts to snoop on their emails, phones and all forms of communication and should they just toe the line?
Merrill wrote prophetically in his existential treatise: "In the face of a pessimistic future for journalism where conformity and depersonalization is growing and freedom is dying, the individual journalist must wage continuous and personal war against the beguiling pressures to conform."
Calling all HuffPost superfans!
Sign up for membership to become a founding member and help shape HuffPost's next chapter