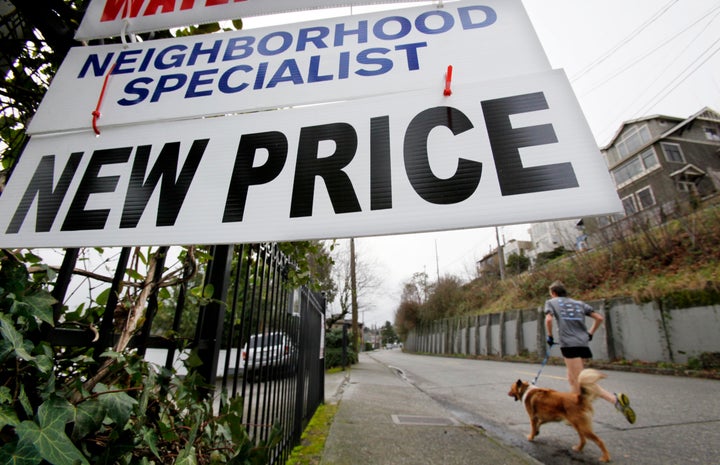 Sales of previously owned U.S. homes fell sharply in February, after several months of increases, according to a report released Monday, in an another blow to a sagging housing market that may have further to fall.
Existing home sales dropped 9.6 percent from January to February to an annual rate of 4.88 million units, according to the National Association of Realtors, an industry group. Compared with the same period last year, sales fell 2.8 percent. Home prices fell to their lowest in nearly nine years.
Although economists expected a decline from January's annual rate of 5.36 million units sold -- economists polled by Reuters expected February sales to fall 4.0 percent -- the steepness of the drop came as a surprise. The last several months of housing market data from NAR showed glimmers of recovery, but many analysts now feel that the downward trend is clearly reasserting itself.
"Expectations had looked for a decline, but a much more modest decline than what we saw," said Miller Tabak economist Dan Greenhaus. "I think what we're seeing is a complete and total reversal of any strength we saw as a result of the first time homebuyers credit."
In a March 15th statement, the Federal Reserve acknowledged that while the "economic recovery is on a firmer footing," the housing market "continues to be depressed."
Home prices have fallen 31 percent since peaking in 2006, according to the Case-Shiller 20-city index released in February. (For the past several months, Case-Shiller has indicated that home values are dwindling in nearly every American market.) Last year, nearly 2.9 million homes received foreclosure notices -- a 2 percent increase from 2009 -- according to data collected by RealtyTrac, an online foreclosure market. More than a quarter of all U.S. home sales last year were of foreclosed properties.
"This decline basically wiped out about half of the gains in home sales that were made in the previous 3 months," said Celia Chen, an economist at Moody's Analytics. But, Chen went on, if you look at the broader trends, there are some encouraging signs. "The pace of sales over three months is over 5 million," Chen said. "So that's better than the pace that occurred in the second half of last year."
For Greenhaus, the report suggests that not only is a double-dip in the housing market at hand, but that there never really was a bounce to begin with.
"What the report does do is reinforce the housing weakness story," Greenhaus said. "With each new housing report, we're getting further corroboration that there really is no strength whatsoever in the housing market."
The one bright spot Greenhaus sees in the report is the absolute number of homes available for sale, which peaked in July of 2008 and has been steadily moving lower.
"At the end of the day the weakness in the housing market is at its core a supply and demand problem. We are working through that inventory, and that's a good thing," Greenhaus said.
At Moody's Analytics, economists remain optimistic about a recovery, despite the harsh February drop.
"Yes there are many risks out there," Chen said. "But our baseline outlook is that sales will pick up this year. And what's driving that outlook is our expectation that job growth is going to continue picking up as well. And jobs are of course very important for driving demand for homes."
According to the Bureau of Labor Statistics, In February the unemployment rate hovered near 9 percent with 13.7 million Americans officially out of work.
"I think there is sort of a general thougtht that the housing market is turning: it's gonna turn, it's gonna turn, it's gonna turn," Greenhaus said. "And with each passing month that turns out not to be the case. The insistence that the housing market is just about to turn has led to more incorrect than correct forecasts."
REAL LIFE. REAL NEWS. REAL VOICES.
Help us tell more of the stories that matter from voices that too often remain unheard.