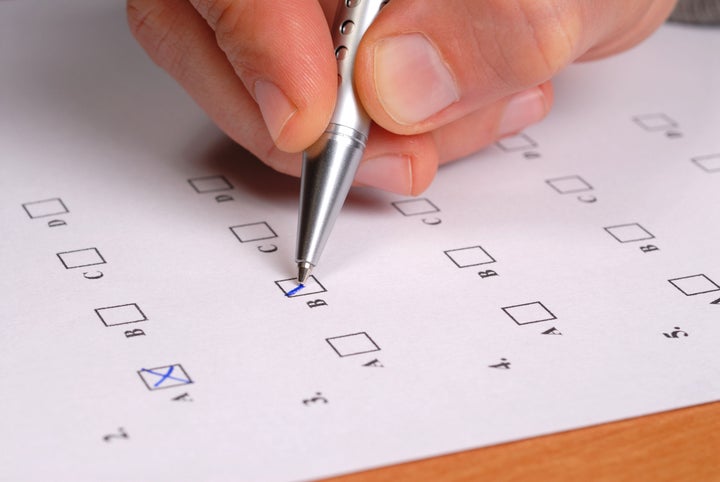 Fewer states are requiring students to pass high school exit exams to graduate, but more states are increasing standardized testing in college- and career-readiness assessment efforts, according to a report released Thursday.
The state figures equate to 65 percent of all public school students nationwide required to take exit exams for graduation in the 2010-11 school year, compared to 74 percent in 2009-10.
But as states are shying away from traditional exit exams, the trend is moving toward more testing tied to national standards that aim to prepare students for college and careers.
Of the 31 states that have or plan to implement exit exams, 27 are participating in national guidelines tied to the Common Core State Standards, and 16 of those states plan to replace their current exams with assessments tied to the Common Core.
"But it's not clear whether they will attach graduation-related requirements to these new assessments," Shelby McIntosh, CEP research associate and author of the report, said in a statement Thursday.
The report also found that 11 states require students to take the ACT or SAT college entrance exams while in high school, but don't mandate a passing standard, and 16 states offer tests that aim to assess college- and career-readiness.
While the exams are intended to examine a student's preparedness post-high school, just one state -- Georgia -- actually uses high school exit exams in employee hiring and higher education applications, and few recognize that they administer standardized exams for the explicit purpose of assessing readiness.
Such a shift toward greater emphasis on college- and career-readiness reflects response to a federal impetus for preparation and advancement assessment. The White House and U.S. Department of Education have long stressed improved preparedness among the nation's high schools, and have implemented programs and incentives that encourage schools to push for higher standards. Last month, the Education Department awarded $4.8 million to northwest Denver schools as part of its Gaining Early Awareness & Readiness for Undergraduate Programs to do just that.
In 2006, when the College Readiness Standards were created, 40 percent of Texas college students weren't prepared. Last year, 48 percent of those entering community college and 14 percent of incoming college freshmen needed remedial courses in at least one subject, and the gap is growing.
Popular in the Community