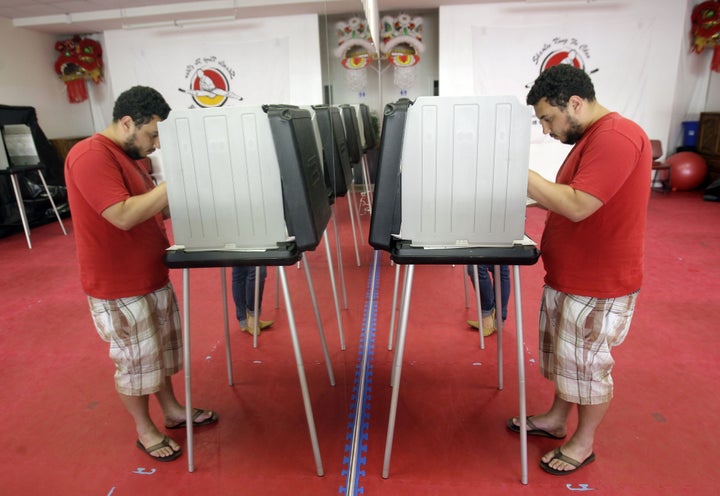 See exit poll reports below, or scroll down for a guide on how to read them (and why to treat them with great skepticism)
WASHINGTON – Voters were intensely worried about the future of the economy Tuesday and unhappy with the way President Barack Obama and Congress have been running things. They didn't hold a favorable view of either the Republican or Democratic parties, according to an Associated Press analysis of preliminary exit poll results and pre-election polls. Overwhelmingly, people at the polls were dissatisfied with the way the federal government is working, and a fourth said they're angry about it.
"I've never felt so much despair as I do right now," said John Powers, a Bayville, N.J., retiree who voted Republican out of animus toward Obama and House Speaker Nancy Pelosi.
The economy eclipsed any other issue.
Almost everyone surveyed — more than 80 percent — expressed worry about the direction the economy will take over the next year. Still, a majority said their own family's financial situation was the same or better than two years ago, when a recession-plagued nation swept Obama into office and strengthened the Democrats' congressional majorities.
The four out of 10 voters who said things for their families are worse now favored Republican House candidates.
About a third of voters said their household suffered a job loss in the past two years. Those setbacks didn't give their votes a clear direction — the group divided over which party to support in House races.
Only about a quarter of voters blamed Obama for the nation's economic troubles. Voters overall were more likely to point the finger at Wall Street bankers.
"We were definitely dipping down long before Barack ever came into office," said Steve Wise, 28, a teacher voting mostly Democratic in Miami's Coconut Grove neighborhood. "If anything, he righted the ship and started bringing us back up."
Asked about Obama's policies overall, about half of voters predicted he would hurt the country.
This view was especially strong among voters who support the tea party — about four out of 10 of those who came to the polls. They overwhelmingly voted Republican. Almost all of them want Congress to repeal the new health care law. They also were focused on reducing the budget deficit, followed by cutting taxes.
In contrast, voters who said they cast ballots for Obama in 2008 mostly stuck by the Democrats and still back the president on health care and the economic stimulus package.
The preliminary results are from interviews that Edison Research conducted for The Associated Press and television networks with more than 11,000 voters nationwide. This included 9,525 interviews Tuesday in a random sample of 268 precincts nationally. In addition, landline and cellular telephone interviews were conducted Oct. 22 to 31 with 1,600 people who voted early or absentee. There is a margin of sampling error of plus or minus 1 percentage points for the entire sample, higher for subgroups.
In just a few moments, exit polling data will start percolating through news sites and blogs. Before looking at the data, what should you know before consuming exit poll data?
When will the exit polls tell us who won?
The exit pollsters release no data to the networks that pay for it until 5:00 p.m. Eastern time, and the networks do not report full tabulations until the polls close. However, certain pieces of data such as the results to issue questions could start to be reported on air at that time, and results about who is ahead or behind often leak before that time. However, you won't see an officially tabulated exit poll result until after the polls close in any given state. And as Mark Blumenthal wrote in 2004, "those leaked exit polls really don't tell us much more about the outcome of the race than the telephone polls we were obsessing over just a few hours ago. Even if we wanted to call a race on unweighted, unfinished, mid-day exit polls alone (something the networks will not do), we would need to see differences of 10-15 points separating the candidates to be 95% certain of a winner."
Where can I find early leaks of exit polling data?
Because early results have been leaked in the past that turned out to be misleading, everyone with access to exit poll data will be in "quarantine" until after 5:00, so anything you see before then is unlikely to be real exit poll data. Even if it were, the data being reported at this point only represents partial counts that are unreliable at best for predicting vote outcomes.
At 5 p.m. when exit pollsters emerge from quarantine to share their numbers with subscribers - including The Washington Post - the data will include interviews only through the afternoon. In the case of California and other West Coast states, only morning interviews are included. Also, until results start to pour in after the polls close, exit polls are closely linked with pre-election surveys. If those surveys prove valid, there might be little issue. But if they don't, watch out.
Why do exit poll results change over the course of the night?
As Mark Blumenthal explained in 2004, several different stages of exit poll results are reported to the networks -- several waves of interviews are reported throughout the day -- the last wave of results is reported about an hour before the polls close in any given state. However, as the night goes on the exit poll data is first combined with actual results in order to make projections, and then weighted to the final results, so that the final numbers reported on the networks will match the actual results. In theory at least, this makes the final crosstabulations more accurate.
Robin Sproul of ABC News explains that before reporting results, news organizations "compare results to pre-election polls, past precinct voting history, and have statisticians and political experts carefully review the data."
How are exit polls used to call elections?
As Michael McDonald noted in his post on election-day myths, exit polls are generally not used to "call" results:
The primary purpose of exit polls is to help explain why people voted the way they did. If an exit poll confirms pre-election polling predicting a wide victory margin for a candidate, they may sometimes be used to call a race at poll closing. For any of the competitive races, actual election results are used to call the election outcome.
Look for New York and North Dakota to be called early on -- Nevada or Colorado, not so much. If there's any doubt, they won't call it.
Who conducts the exit polls?
The exit polls are conducted by Edison Research for ABC News, Associated Press, CBS News, CNN, Fox News and NBC News. Edison hires interviewers at pre-selected representative precincts to give questionnaires to voters as they come out of their polling places.
Where will exit polling be conducted this year?
Edison Research, the company that conducts the exit poll, has released a list of states where exit polling will be available. These include a national exit poll and individual exit polls in 26 states, including almost every state with a competitive (defined loosely) Senate or Governor's race. Notably absent is Alaska, where the Senate race has become unexpectedly competitive after Lisa Murkowski entered the race as a write-in -- in addition to the inherent difficulties of conducting an exit poll in Alaska, the added complication of a write-in candidate would make Alaska a difficult state to interpret.
According to Edison Research, phone interviews with early voters are combined with election-day interviews in the results reported to the networks.
So what does all of this mean?
Be careful when reading the exit polling data! While the data facilitates analysis of who's voting and why, projecting outcomes in close states from early results is a formula for disaster.
Popular in the Community