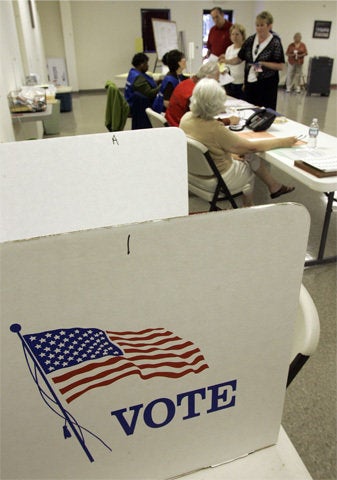 UPDATE, 6:05 PM: Another round of exit polls has better results for Obama (who generally overperforms in exit polls):
Indiana

Obama: 50.5%

Clinton: 49.5%
North Carolina

Obama: 60%

Clinton: 38%
Here's a glance at the first round of exit polls, which are notoriously unreliable:
Hillary is up by a margin of 5 in Indiana

Obama is up by a margin of 12 in North Carolina
The Associated Press has released information on early exit polls:
The economy was on voters' minds in Democratic primaries in Indiana and North Carolina. Two-thirds of Democratic primary voters in Indiana and nearly as many in North Carolina said the economy is the most important issue facing the nation. That's more than have said so in 28 previous competitive Democratic primaries with exit polls this year.
Only about one in five in each state said Iraq was the top issue, and even fewer picked health care from a list of three issues.
Four in 10 Indiana Democratic voters said the current recession or economic slowdown has affected their family a great deal. Nearly as many said that in North Carolina.
Indiana's Democratic primary was open to all voters. About one in five said they were independents and one in 10 identified themselves as Republican. North Carolina's Democratic primary was open only to voters registered Democratic or unaffiliated; nearly one in five voters in that contest called themselves independents.
The exit poll estimated blacks made up about a third of voters in the North Carolina Democratic primary, about one in seven in Indiana. More than half of voters in both states were women, which is typical for Democratic primaries. About one in seven voters in Indiana and slightly fewer in North Carolina were under age 30; about a quarter in North Carolina and somewhat fewer in Indiana were over age 65.
In Indiana where African-Americans made up 14 percent of the voters, Obama won 92 percent of that demographic while Clinton only got 8 percent. That compares to 13 percent of the African-American vote Clinton won in Ohio and the 10 percent she received in Pennsylvania two weeks ago.

Clinton's African-American support was even less in North Carolina. There Obama received 91 percent while the New York senator only received 6 percent.
Forget the horse race numbers for a moment: if the surveys are accurate, the polarization within the Democratic Party has reached critical levels. Nearly six in ten Obama supporters in Indiana say they would be dissatisfied if Clinton were the nominee -- that's (I believe) the high percentage of Obama supporters who have ever said that.

In both IN and NC, two thirds of Clinton supporters say they'd be dissatisfied if Obama were the nominee -- I believe that's the highest number recorded for that question, too.

The percentage of Clinton voters who say they'd choose McCain over Obama in a general election is approaching 40% in Indiana. Put it another way: in North Carolina, less than HALF of folks who voted today for Hillary Clinton are ready to say today that they'd definitely vote for Obama in a general election.
Clinton Viewed As Attack Dog: CNN reports that exit polls show Clinton is being viewed as having attacked Obama unfairly:
Voters in both states were asked if they thought either candidate has attacked his or her opponent unfairly.

In Indiana, 63 percent of Democratic voters said Clinton attacked Obama unfairly. That compares 43 percent who said Obama attacked unfairly.

In North Carolina, two-thirds of Democrats say Clinton attacked unfairly whole 40 percent of Obama did.
Popular in the Community