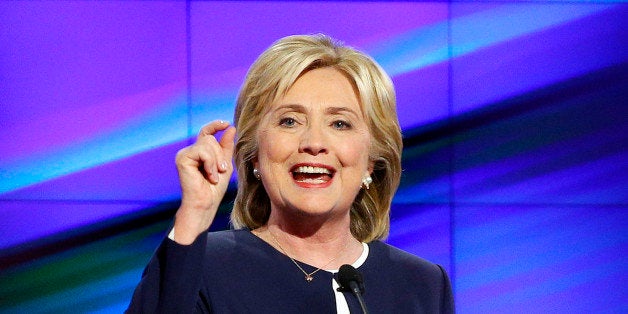 For all the handwringing by Hillary fans, the first Democratic debate must surely have been a sorely needed boost. With high expectations and a base looking for a sign, the message delivered in Las Vegas couldn't have been clearer: "I hear you, I'm one of you, and let's be perfectly clear. I am going to be the next president of the United States. Get on board."
In hindsight, none of this should have been terribly surprising. For all of her flaws -- perceived or real -- her strengths were always there: Hillary Clinton is smart, tough, and battle-tested. No candidate, on either side of the aisle, has been through more than Hillary Clinton. What we saw in the first Democratic debate was the culmination of nearly all of her strong points; a portrait of a woman who is the right person in the right place for a job that no other candidate is better prepared for. Somehow, the Democratic base was sufficiently distracted to forget these things, and Hillary Clinton came to the debate with the express goal of reminding everyone who was watching why she has been the presumptive nominee from the very beginning.
The addition of Bernie Sanders to this race has done what many political professionals had hoped: it has sharpened her positions and her delivery, bringing to light each of the skills that makes her such an impressive person, regardless of whether or not she becomes president. Anyone who watched that debate couldn't have come away feeling better about a "President Hillary Clinton," from her policy acumen to her ability to show self-effacing humor, to her ability to take subtle openings or digs and turn them into points (thank you Martin O'Malley).
There's no question that Hillary Clinton wasn't the only strong presence on the debate stage in Las Vegas, but for many of us, watching the back and forth between Hillary and her competition, and Bernie Sanders in particular, served as a stark reminder that when the general election campaign starts, the Democratic nominee will be ready for whoever the GOP will throw at her. Or him. But probably her.
REAL LIFE. REAL NEWS. REAL VOICES.
Help us tell more of the stories that matter from voices that too often remain unheard.