Ever since it was released last year, the documentary film Exit Through the Gift Shop has proven fertile ground for controversy and discussion. There's the ongoing drama over the film's director, street artist Banksy, who keeps his real identity closely guarded. There's speculation about whether the film's central character, Thierry Guetta, is a real person, a character created by Banksy, or even Banksy himself. There's a law suit by a videographer who claims he is not given credit for his part in making the film. There's lots of Oscar buzz.
Most of all there's a terrific film, a highly entertaining and illuminating look at hype, branding and marketing in the contemporary art world.
The unlikely hero of the film is the whacky mutton-chopped Frenchman, Thierry Guetta, who obsessively videotapes everything that happens to him. His life takes on new meaning when he tags along to film his cousin, street artist Space Invader, on his clandestine nighttime adventures.
Guetta turns his obsession to filming street artists at work. He convinces everyone he is producing a documentary when in reality the boxes of tapes pile up in heaps. He works his way up through the ranks until he is finally filming two of the most notorious street artists, Shepard Fairey and the elusive Banksy himself.
Banksy ultimately calls Guetta's bluff on the documentary. The resulting film, Life Remote Control, is declared "unwatchable" by Banksy, who then convinces Guetta to leave the tapes with him in London, go back to his Los Angeles home, produce some street art and have an exhibition.
Their roles completely reversed, Banksy turns the cameras on Guetta.
Guetta goes back to LA and takes on the street moniker Mr. Brainwash, or MBW for short. He eventually hires a crew of 20 to work around the clock making "art" largely appropriated from Pop and his fellow street artists' work. He rents an empty CBS studio to stage his exhibition. Throw in some savvy marketing, an L.A. Weekly cover, et voilà, people are lining up to buy MBW's work, sight unseen, for extravagant amounts of money. By mid-afternoon on opening day, at least 2,000 people are waiting to see the spectacle. The exhibition, "Life is Beautiful," which was scheduled to run for only five days, ran an extra two months, and purportedly sold a million dollars worth of work.
By the end of the film both Fairey and Banksy are hedging on the quality of MBW's work and what it takes to become an artist.
The Oscar nominations will be announced on January 25. If the film is nominated, expect a deluge of controversy and speculation. Stay tuned!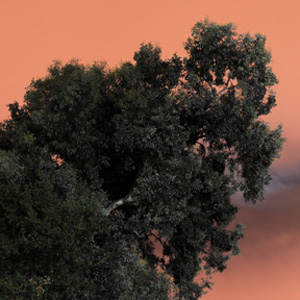 Anita Bunn, Ambient #1, 2010, archival digital print, 40" x 40"
In her second solo show at Offramp Gallery, The Sun Tells Quite Another Story, photographer Anita Bunn presents a new series of works that continue her exploration of the act of noticing as well as the temporal nature of the still and moving image. In addition to five stunning new 40" x 40" archival digital prints that are exhibited in the Main Gallery, Anita has worked with two master printmakers to explore traditional photographic printmaking techniques. By printing the same image four ways -- as a halftone photolithograph, continuous tone photolithograph, photogravure and salt print -- the subtle shifts and changes that occur through these varied processes become evident. A continuous loop video, the mesmerizing Measure, made by Bunn in 2008, is on display in the Guest Room. The exhibition runs through February 6, 2011.
Calling all HuffPost superfans!
Sign up for membership to become a founding member and help shape HuffPost's next chapter