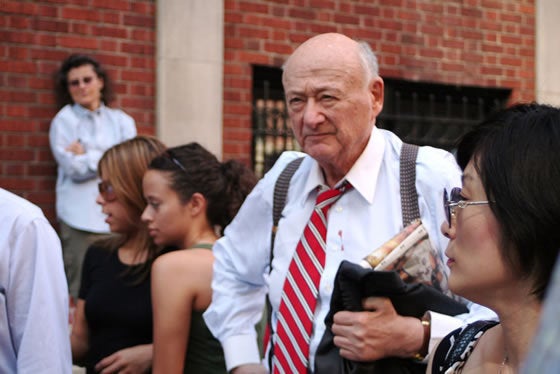 Republican presidential candidate Rudy Giuliani acted improperly and appeared to be covering something up when he charged the cost of his and his girlfriend's security detail to obscure New York City agencies, former mayor Ed Koch told the Huffington Post.
On Wednesday, the Politico reported that in 2001, Giuliani transferred tens of thousands of dollars in security costs to non-related city organizations such as the New York City Loft Board and the Office for People with Disabilities (both of which, ironically, Giuliani once proposed for elimination). The costs were for trips Giuliani made to the Hamptons, presumably to visit his then-mistress Judith Nathan.
"There is something improper about charging costs to a department other than the NYPD," said Koch. "They are the ones who are supposed to pick him up no matter where he is whether or not it's in the city."
Koch, who served as the mayor of New York City from 1978 to 1989, said that the episode gave off the appearance that Giuliani, who was at the time married to his second wife Donna Hanover, was trying to hide his affair. He also argued that providing Judith Nathan her own personal protection (when she was not a member of the first family) constituted an even more flagrant misuse of taxpayer money.
"I found it strange that his lady friend was given protection," said the long-time New York politico. "That was bizarre. She's not the city's responsibility. Rudy is the city's responsibility. Your wife and his children get protection, and that's understood. But certainly not your lady friend."
Koch, a Democrat, supported Giuliani's campaign for mayor in 1993. But he later soured, writing a series of columns for the New York Daily News in the mid-1990s that criticized Giuliani, as well as a 1999 book titled "Giuliani: Nasty Man." As for Giuliani's current run at the White House, Koch is not a fan.
"I'm just amazed that Giuliani is doing as well as he's doing," said Koch. "He doesn't deserve it."
Describing an anecdote from former NYPD commissioner and Giuliani pal Bernard Kerik's book -- in which Kerik was appointed First Deputy Corrections Commissioner by Giuliani (despite suspect qualifications) and was subsequently greeted, one-by-one, with kisses on the cheek from the mayor's aides -- Koch scoffed at the mafia-like atmosphere of Giuliani's inner circle.
"When I saw that [Kerik story], I said I don't want that happening in the White House," said Koch. "Giuliani is tough on the mafia but he is obsessed by it."