There is certainly no shortage of comedy clubs in NYC. Uptown, Midtown, and the Village are all hosts to a slew of venues, places where you have to pay a hefty ticket price just to be admitted down the stairs to these dungeons of fun. Once there, there is a double-drink minimum cover charge to contend with, which typically doesn't leave one very amused. The comedians heckle and harass their audiences and anyway, would have to be so incredibly amusing to make up for the $50 bucks per person you just dished out that it typically proves an impossible feat.
Then there's a different kind of comedy: the Upright Citizens Brigade Theater, founded by Matt Besser, Amy Poehler, Ian Roberts and Matt Walsh, who brought this unusually inexpensive kind of laughter to NYC from Chicago in 1996 and opened the first UCB Theater in 1999.
Jump to a dozen years later and the UCB Theater has become an epicenter of comedic culture, with its own method of improvisational acting, taught and performed there, the refreshing policy of cheap tickets with no drink minimums and a sister location in Hollywood, CA. The UCB Theater is also known to give comedians a break and has seen passing through its doors writers and performers who today form the crème de la crème of comedy on TV, film and the stage. If you watch 30 Rock or The Daily Show, you have been touched by the UCB magic.
On Thursdays, the UCB Theater hosts a series called SPANK, which features two to three new solo or sketch shows, each no more than 30 minutes long. In their own words, courtesy of the UCB website, "It's comedy just out of the womb." This week, the series will feature three pieces: "Very Important Art Film," "From Reuben To Clay" and the one-woman act "Exotic Observations," by an actress whose career I've followed and delighted in since first watching her play the best mother in the world in Sooni Taraporevala's beauty of a film Little Zizou.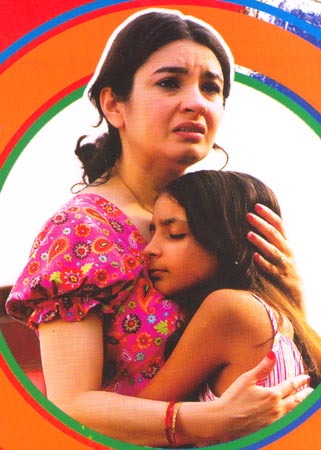 For those to whom the Taraporevala name resonates familiar, she's written the screenplays for such Mira Nair gems as Salaam Bombay and Mississippi Masala, and the coming of age Little Zizou was her directorial debut. While searching for her leading lady -- a Parsi woman from Bombay who would be equally at home being a caring mother and dancing a mean Rumba -- she was connected with New Yorker Zenobia Shroff, who at the time was visiting her family in Bombay. That was the start of a beautiful friendship, one that would bring to the public's attention a delightful, pretty actress, one who is also uproariously funny.
In "Exotic Observations," Shroff talks about her misadventures in dating as a foreign woman in NYC, the politically incorrect statements people never think twice of making in her presence and the lack of geographical knowledge everyone seems to display when talking with her: "Are you from India? I have a friend from Peru!" is just one example.
Shroff admits that presenting "Exotic Observation" at the UCB Theater is a dream come true, since Poehler is one of her comedic idols. She also confessed that she first had the idea of submitting the piece to UCB when she was coming out of a down period -- "one with a capital D." But now that she's on the eve of performing it she is "excited, nervous and ready to give them hell!"
If you are in the mood for some laughter (we're all in deep need these days!) check out the show this Thursday. Tickets for SPANK are $5 and can be reserved on the UCB Theater website.
Photo from Little Zizou by Aparna Jayakumar @2011, used with permission

REAL LIFE. REAL NEWS. REAL VOICES.
Help us tell more of the stories that matter from voices that too often remain unheard.