By Kirsten Lodal and Paul Monteiro

Service is an essential part of our nation's DNA. Throughout our history, volunteers across the country have stepped up to fill a range of critical needs. Whether in support of our returning veterans and their families or providing after school tutoring to young students, Americans have always answered the call to serve our neighbors in need.
Named in honor of Sargent Shriver, one of the original architects behind President Johnson's War on Poverty, Shriver AmeriCorps Fellows will work to address one of our nation's most pressing challenges: helping the 38 million American households who are living paycheck-to-paycheck achieve their dreams of economic stability.
Launching this month, 20 young, service-minded Shriver AmeriCorps Fellows will be placed at LIFT sites in Boston, Chicago, Los Angeles, New York, Philadelphia, and Washington, D.C. LIFT will deploy these young leaders alongside its work to ensure that all families have the personal, social, and financial foundations they need to get ahead.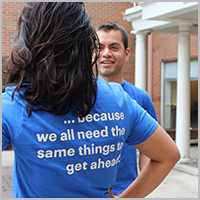 Julie Jimenez is one such leader.
Julie, a first generation Mexican-American, grew up in an urban working-class neighborhood in Los Angeles. She credits her strong support system for not only challenging her to be her best, but also for lifting her up along her journey to graduate from the University of California, Santa Cruz in 2013. It is that network of friends, family, and community that inspires her to return the favor by advocating for others who don't have the same support network that she did.
For Julie, the attraction to serve as a Shriver AmeriCorps Fellow is two fold. Not only will she be able to give back, but she will also grow as a leader. "In my experience of serving dozens of community members in South LA already, I've actually learned more from them than they've learned from me," she said. "I've also learned that poverty is not solely defined by race, socio-economic status, or your zip code. It can happen to anyone. I will take this experience with me into my future career and pass on a legacy of service of my own."
We are tremendously proud of young people like Julie who make a commitment to serve others. We are also proud that CNCS is investing $1 million to launch this new initiative and the Bank of America Charitable Foundation for providing $500,000 in launch funds to see this initiative off the ground. Through the Shriver Corps, young people across this country will have the opportunity to fulfill Sargent Shriver's vision of engaged communities of service and plentiful ladders of opportunity for striving Americans.
Service is an opportunity to live a life of purpose. We hope you will join us in the important work of spreading our nation's spirit of national service and volunteerism.
Learn more about the Shriver Corps at http://bit.ly/ShriverCorps
-------------
Kirsten Lodal is the CEO and co-founder of LIFT. Paul Monteiro is the director of AmeriCorps VISTA.
Related
Popular in the Community