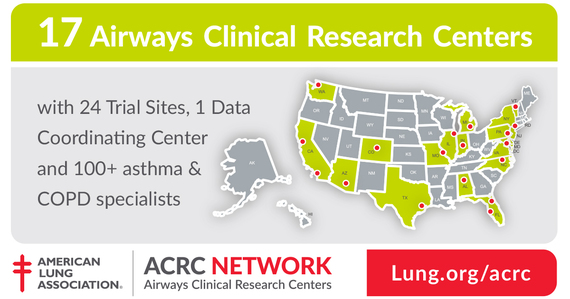 Breathing is essential to life. While breathing might seem like a simple act, it can be a daily struggle for those with lung disease, including the 30 million Americans with asthma and chronic obstructive pulmonary disease (COPD), two of the most prevalent chronic diseases in the United States. Research is key to discovering new and better treatment options, and through a network of clinical research centers, the American Lung Association is dedicated to making an impact in the lives of these Americans.
The American Lung Association Airways Clinical Research Centers (ACRC) network - the nation's largest not-for-profit network of clinical research centers - conducts asthma and COPD treatment research, and attracts some of the best investigators nationwide. Today, we announced that our ACRC network is increasing its impact by adding five new centers and expanding partnerships and expertise within existing centers, all to advance research to improve the quality of life for those living with COPD and asthma.
The ACRC network is a key component of the American Lung Association Research Team. It conducts large clinical trials that directly affect patient care for those living with COPD and asthma. Clinical trials are research studies that enlist volunteer participants to explore whether a treatment, device or medical strategy are safe and effective. Clinical trials are essential for improving patient care, and the ACRC network's trials are exceptionally effective because the network can draw upon a large, diverse, nationwide population sample for its studies, and has a history of successfully recruiting diverse participants for each study.
Because of this continued success, our ACRC network has been expanded and strengthened across the board, with all investigators and centers undergoing a "re-competition" process to earn a place in the network. The network now consists of 17 clinical research centers with 24 sites across the country, and a data-coordinating center managed by a team at Johns Hopkins University. Five new research centers have just been added to the ACRC network:
University of California, San Francisco, San Francisco, Calif.
University of Washington, Seattle, Wash.
Temple University Health System, Lung Center, Philadelphia, Pa.
University of Alabama at Birmingham, Birmingham, Ala.
University of Michigan, Ann Arbor, Mich.
New geographic areas that did not previously have a research center will now be represented, and, many of the current centers in the network have expanded the reach and effectiveness of the network by extending their relationships with other hospital's academic and research institutions.
Research centers that are continuing with expanded experts, as part of the ACRC network include:
Baylor College of Medicine, Houston, Texas
University of Arizona, Tucson, Ariz.
University of California, San Diego, San Diego, Calif.
National Jewish Health (Denver, Colo.) and Mt. Sinai Icahn School of Medicine (New York, N.Y.)
Nemours Children's Health System, Jacksonville and Orlando, Fla.
The Illinois Consortium: Northwestern University, Rush University, University of Chicago, University of Illinois at Chicago, Chicago, Ill.
New York Consortium: Columbia University, New York University Medical Center, Weill Cornell Medical College, New York, N.Y.
Washington University at St. Louis, St. Louis, Mo.
Duke University Medical Center, Durham, N.C.
St. Vincent Hospital and Health Care Center, Inc., Indianapolis, Ind.
University of South Florida, Tampa, Fla.
University of Vermont and State Agricultural College, Vermont Lung Center, Colchester, Vt.
The ACRC network was originally known as the Asthma Clinical Research Centers, and focused entirely on asthma. We saw the need to better support the millions of Americans suffering from COPD -- the third leading cause of death in the United States -- and expanded its research scope to include COPD. Around 8.5 million Americans are diagnosed with COPD, and another 9.5 million may have the disease without even knowing it.
Since its inception in 1999, the ACRC has made many important, real-world contributions to the lives of people with asthma, improving their lives each and every day. These breakthroughs include determining that the flu vaccine is safe for people with asthma; finding that soy isoflavone -- a common nutritional supplement -- does not improve the health of people with poorly controlled asthma; confirming that a simpler regimen of a once-a-day drug is just as effective as a twice-daily treatment for patients with mild persistent asthma, and much more.
ACRC research has also helped save an estimated $4 billion per year in health care expenditures. By adding COPD as a focus, and expanding the network to include additional research centers and respected Principal Investigators, we will have an even greater impact on the lives of lung disease patients nationwide.
The American Lung Association is dedicated to saving lives by improving lung health and preventing lung disease. Visit Lung.org to learn more about our work and the full American Lung Association Research Team.